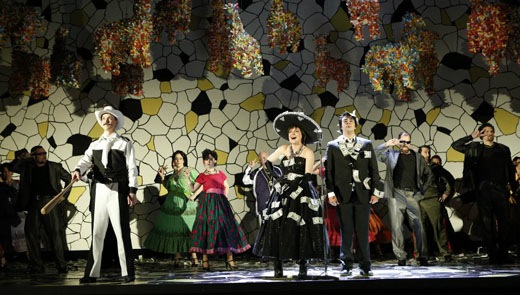 With the Oct. 3 announcement that New York City Opera is filing for Chapter 11 bankruptcy, the city and the entire country are losing a major cultural institution.
When the company was founded nearly 70 years ago, then-Mayor Fiorello LaGuardia promised it would provide "cultural entertainment at moderate prices," in contrast to the Metropolitan Opera, which served a predominantly upper class audience.
And though it often faced financial difficulties, the company lived up to that role, offering innovative performances and providing launching pads for some of the finest U.S. opera singers, including soprano Beverly Sills and tenor Placido Domingo.
In recent years the opera's difficulties had become especially acute, resulting in a season once featuring as many as 130 performances slashed to just 16 last year.
In 2011 Artistic Director George Steel moved the company out of its longtime home at Lincoln Center, a move intended to save money, but sharply criticized by the unions representing singers, instrumentalists, directors and stage managers as contributing to further deterioration in the company's financial situation.
Tino Gagliardi, president of American Federation of Musicians Local 802, which represents NYCO's orchestra musicians, blamed the move from Lincoln Center and the decision to slash the season for the company's financial crash. He pointed out that though they strongly disagreed with the move, the "devoted musicians made great sacrifices in wages and benefits to keep the Opera afloat," including accepting replacement of the former 29-week guaranteed season with payment by rehearsal and performance.
"Lamentably," Gagliardi said, "due to egregious mismanagement and a paucity of vision, instead of reaping the benefits of a strengthening economy, this most storied of cultural institutions now lies in ruin."
Gail Kruvand, assistant principal bass player with the opera's orchestra and an ex-officio member of NYCO's board, told the Village Voice that at Lincoln Center the company had "everything under one roof" – offices, rehearsal space, costume and wig shops as well as a theater – for $4.5 million a year.
After the move, she said, "We have no home. We have no sets … They were sold. Our music library was destroyed in the Superstorm Sandy flooding. The company has been systematically dismantled."
Kruvand said the opera musicians "look forward to playing opera together again," though she did not know how that might be possible.
The city's current mayor, Michael Bloomberg – a billionaire who has supported City Opera in the past, cynically told reporters that neither he nor the city would help in the present situation because NYCO's "business model doesn't seem to be working."
The opera performers' difficulties have been shared in recent years by musicians throughout the country, who have fought bitter labor struggles against pay cuts, cutbacks in the size of ensembles and length of seasons, and attempts to classify them as "independent contractors"
Photo: NYC Opera via Facebook