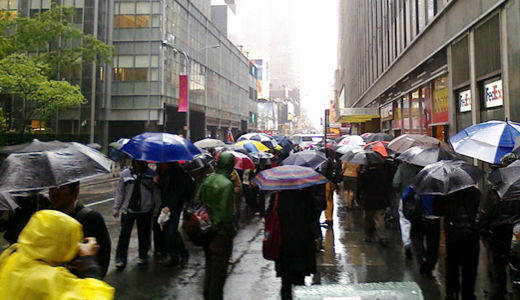 On the rainy afternoon of May 18, hundreds converged in front of the Manhattan office of the Puerto Rico Federal Affairs Administration (PRFAA), The group, made up of political, student and community representatives, came to demonstrate against the budget cuts to the University Of Puerto Rico, a public university, and against the massive wave of lay-offs which workers are currently suffering in Puerto Rico.
The rally also honored UPR, a public university, as an example of a most productive higher education system which contributes to the social, scientific and economic development of Puerto Rican and US societies.
Public school teacher Norma Perez declared, "The decision of the Luis Fortuño government to continue the wave of massive lay-offs and budget cuts to public education is a social and economic act of barbarism adding to the deepening crisis, increasing the process of basic services' privatization". She added that the students in Puerto Rico "are getting a raw deal as the university administration tries to eliminate the tuition exception for athletes and artists, among other students of high academic achievement." Perez is an alumna of the UPR who received a sports scholarship to help pay for her studies. Eric Ramos, a representative of the Partido Independentista Puertorriqueno (PIP) in NYC, declared, "We live in times of economic crisis in the colony as well as in the US. Instead of imposing taxes on domestic and foreign corporations the government administration prefers to eliminate public services to the people." According to Ramos, this only makes things worse when "the authorities prefer evasive styles and punishment instead of dialogue with negotiations."
Marisel Hernandez, representative of the Latino and Latin American Students Organization in NYC declared, "The students present clear, precise democratic demands, however the government resorts to intimidation." Hernandez denounced the mobilization of the Police Special Forces, the eviction of the students in university residencies and the denial of water and food to the students inside campuses.
The demonstrators distributed information to people coming out of their work places in the area. The Network in Support of Workers in Puerto Rico from NYC petitioned the government to return to the table for dialogue and negotiation to reach agreements that will satisfy the UPR students in order to end this conflict at the most prominent academic institution in Puerto Rico.
At the end of the day, Perez remarked, "The students of the UPR with their actions present Puerto Rico's best face to the entire world."
The Network in Support of Workers in Puerto Rico/La Red de Apoyo a los (as) Trabajadores (as) en Puerto Rico is a coordinating body of political, community, students' groups and individuals concerned about conditions in Puerto Rico today.
Photo: Network in Support of Workers in Puerto Rico/La Red de Apoyo a los (as) Trabajadores (as) en Puerto Rico