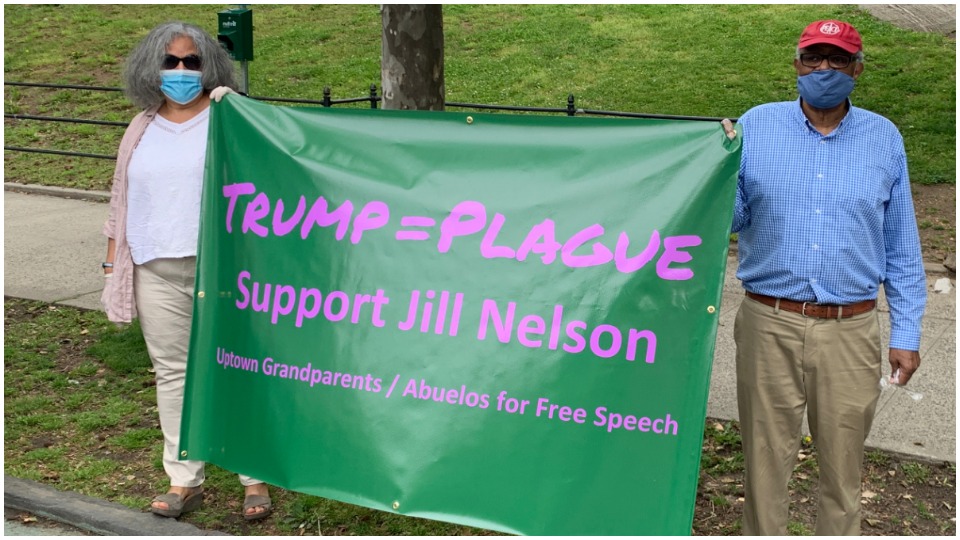 NEW YORK—On Memorial Day this past Monday, members of the New York District Communist Party USA, along with activists from the Black Radical Congress and the Riverside-Edgecomb Neighborhood Association, rallied in support of Washington Heights' "Graffiti Grandma." Jill Nelson, an activist, author, and journalist, was arrested on April 16 for chalking "Trump = Plague" on the wall of an abandoned storefront in Upper Manhattan. Nelson, a 67-year-old African-American grandmother, was promptly handcuffed and forcibly searched by four young police officers. When asked if she was armed, Nelson replied, "Are you kidding? No, my weapons are my words."
Forty-five fellow activists, neighbors, friends, and comrades of Nelson showed up on Monday at the 33rd Precinct police headquarters where she was held for hours in a tiny cell with access only to a dirty bathroom. "She was denied the right to speak to her husband on the phone for more than 15 seconds!" one of her neighbors exclaimed. "Her husband did not even know where she was." Nelson was arrested for defying local laws against defacing public property with graffiti, even though she wrote with pink washable sidewalk chalk.
"I know Jill, she always walks with that same sidewalk chalk and a little pin that says 'I can't breathe' on it," reported Nelson's friend, Terria Joseph. "She's an elder and a prominent writer and activist in the neighborhood. Why throw her in jail?"
"Jill is a friend of mine and an associate activist," stated Evelyn Neil, a neighbor of Nelson. "This was an excessive amount of abuse for a 67-year-old Black grandmother, and the chalk was easily erasable. It's not even there now because the rain washed it away! But you see real graffiti everywhere. Look around the corner, why don't the police take care of that graffiti?"
Mary Louise Patterson, daughter of the late Communist Party leader William L. Patterson, who famously "cried genocide" in defense of African Americans in the U.S. South, went "toe-to-toe" with an NYPD officer in front of the jail where Nelson was held on West 170th Street and asked, "How would you feel if your grandparents were handcuffed by four police officers for using pink chalk? You don't have anything better to do? Why not go clean real graffiti?"
Patterson maintained six feet of physical distance when addressing the police officer, then turned to the crowd of protesters and stated, "The Manhattan district attorney said that they would drop the charges if she would take a resiliency course for anger management as if she were the one with behavioral problems and improper training!"
Jarvis Tyner, the New York State district organizer of the Communist Party USA, held a green banner with his wife, Lydia Basset, which read "Trump = Plague" in pink to symbolize the color of the storefront upon which Nelson wrote with the exact color of chalk. Basset's mother, Priscilla Basset, came to the protest on the day of her 92nd birthday. "Around this time nearly 72 years ago, I was at my first protest in Times Square and a police horse came right at me. I thought for sure I would be trampled and die. When I heard about Jill's arrest, I thought it was outrageous how four young police officers arrested this elderly woman because they had nothing else to do, just as the police officers used to come after us for preaching the truth when we were campaigning for Henry Wallace's presidency in 1948."
Nelson's ridiculous arrest reminds us again of why the very institution of policing, as we understand it under capitalism, must be abolished. This 67-year-old grandmother was not defacing public property (the storefront was abandoned), but rather used a children's outdoor recreational tool to speak the truth about the coronavirus pandemic and our government's inadequate means of dealing with it.
"Jill Nelson's arrest is a symbol of the wider struggle against racism and the extreme right politics we see coming out of the Trump administration," Tyner said in his address to the protesters. "Cops are shooting young, unarmed African-American men in the backs and now they are locking up an elderly woman we all know in this community."
If they lock up a grandmother for speaking the truth with chalk, what will they do to the children daring each other to write profanities on the sidewalk when their parents aren't looking? Will they lock them up for hours too and deny them phone calls to their parents? The actions of police departments in this country will never act in favor of working people, particularly people of color. We must collectively unite and fight to end racist police brutality and the extreme right rhetoric which fuels its fire.