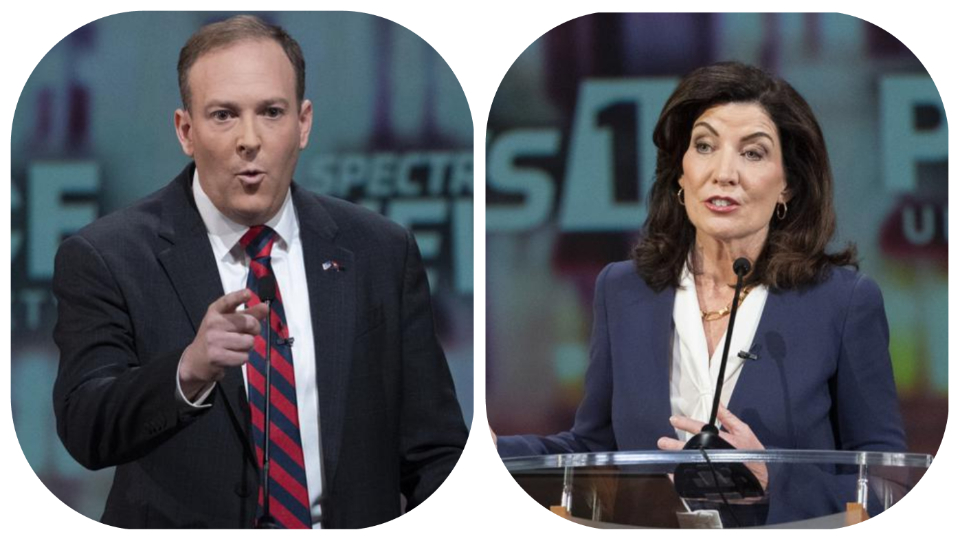 Education. Voting and abortion rights. Distribution of federal welfare and benefits. Crime and punishment. Marriage and divorce. All of this, and more, is set at the state level. Not the federal. Accordingly, state elections often have the greater impact on people's lives.
Like voters in 35 other states, New Yorkers will soon choose their governor. Probably most people vote mainly for this office, then head down ballot. So turnout for the governor's race can push, or not, turnout for House and state legislature elections.
The importance of a friendly executive
If New Yorkers elect the incumbent, Democratic Gov. Kathy Hochul, the bill-signing pen remains in an overall friendly hand. Vital momentum of progressive lawmaking, built since Democrats captured a genuine majority in the Senate in 2018, will continue.
Hochul signed numerous bills into law this past legislative session (January through June). Most dramatic were abortion rights and gun control. In early May, a future Supreme Court ruling to overturn Roe v. Wade was leaked. In quick reply, Hochul enacted legislation protecting those seeking abortions and their providers.
After the mass shooting at the Tops Friendly Markets supermarket in Buffalo's East Side in mid-May, Hochul signed a gun safety reform package. The measures comprise making ammunition more easily traceable, requiring special licenses for semiautomatic weapons, raising the minimum age to own an AR-15-style rifle, and closing loopholes on the definition of "firearm." Thanks to the legislation, guns may even be confiscated in extreme cases.
Further gun safety measures were passed after the late-June Supreme Court overturning of NYS laws limiting the carrying of handguns in public. Those countermeasures are tied up in the courts.
There has been other progress. In June, Hochul signed the John. R. Lewis Voting Rights Act of New York. This expands and codifies protections for voters and promotes accountability of elected officials.
In October, Hochul announced some $30 million in funding assistance to municipality infrastructure in the Mohawk Valley, North Country, Western New York, and Long Island. This will upgrade water and sewer systems, reduce water pollution, and safeguard drinking water.
Of course, there have been disappointments. Most stunning was the $1 billion state and local giveaway for a new Buffalo Bills stadium, owned by billionaire couple Terry and Kim Pegula. Slipped into the budget days before its deadline, mainstream newspapers and the progressive movement blasted the deal. Challenger Rep. Lee Zeldin, R-Long Island, has recently claimed he will tear up the agreement and be a tougher negotiator. Laughable, given the Republican Party's never-regulated love affair with the one percent.
The danger of a hostile executive
If the Trump-endorsed Zeldin pulls an upset, Democratic supermajorities in the state Assembly and Senate will have to override guaranteed vetoes of liberal and progressive legislation. Zeldin will plant dreadful appointees throughout agencies and departments.
The vital momentum of progressive lawmaking built since the 2018 and 2020 Senate elections will end. Claiming that if it can happen in New York, it can happen everywhere, Republicans will beat their chests until the 2024 elections. Trump and Steve Bannon should be writing checks to activists who are saying Hochul isn't good enough or that she and Zeldin are equal.
Hochul's polling advantage has been slipping; one poll even has Zeldin ahead. The gubernatorial election is closer than it has been in decades. Reflecting national trends, Black and Latino voters, and women of all racial and national groups, favor her by landslide margins. Zeldin finds solid strength only with white voters (but of course not all of them).
Not taking this development lightly is the Working Families Party, which has cross-endorsed Hochul and her running mate, Lt. Gov. Antonio Delgado.
"Our party is working hard in the final weeks to turn out the vote for our WFP champions, Gov. Hochul and Lt. Gov. Delgado," WFP N.Y. Director Sochie Nnaemeka told People's World. "With a right-wing insurrectionist on the ballot for governor, our efforts to defend our freedoms and create a vibrant multiracial democracy have never been more important."
The WFP must capture 130,000 votes, or 2% of all votes cast, whichever is higher, in order to retain its "permanent" ballot status. Falling short means intensive signature gathering to place its candidates on the ballot in the future. Due to the state's electoral fusion law, votes for Hochul on the WFP column are added to her tally on the Democratic line. Virtually every union and social change organization in the state endorses Hochul.
Her victory seems contingent on the turnout of the more advanced voting blocs, such as Black Americans, Latinos, and trade unionists of all races and nationalities. A recent ad of hers seems to acknowledge the racial enthusiasm gap—only Black and Latino people appear. The problem stems back to the primary season, when especially African American elected officials were worried about her outreach to racial and national minorities.
She was previously lieutenant governor and ascended to the governorship after former Gov. Andrew Cuomo resigned in August 2021 over multiple charges of sexual harassment. Perhaps another reason Hochul is not coasting to victory is because too many men still seem unwilling to vote for women leaders.
Zeldin's website does not list endorsers, only including a form to become one. The Conservative Party has cross-endorsed him and faces the same ballot status hurdle, on the other side of the forward-backward fence. Zeldin's attempt to also appear on the Independence Party line failed. One out of four petition signatures gathered for that effort were found invalid. This from the man who voted to decertify the electoral votes of Pennsylvania and Arizona the night of the Jan. 6, 2021, coup attempt.
New York's first female governor, Hochul has set a state campaign fundraising record of nearly $46 million. Zeldin, the New York Post, and other conservatives lament that some or much of it is from individuals and groups with business before the state. Some progressives also cry foul.
The worst example? Digital Gadgets won a no-bid $637 million contract for COVID-19 testing, and it charged New York double what California paid for the same test. In return, the company, its leader Charlie Tebeble, and his family have donated some $300,000 to Hochul's campaign.
Terrible. But voters must ask, what about Zeldin? Estée Lauder cosmetics heir Ronald Lauder funds two Republican super PACS, Safe Together and Save our State NY. Combined, they have injected nearly $5 million in recent weeks to Zeldin. Trump and Florida Gov. Ron DeSantis hosted lucrative fundraisers that have fueled television advertisements.
A sensible democratic reform would be to bar campaign contributions from businesses with state contracts. However, our current Supreme Court would rule that as a violation of "free speech." Until otherwise, this undemocratic situation remains. Voters must compare the choices and go with the least worst.
"Soft on crime"?
Zeldin and the state Republicans are not running on an offering to voters. Instead, the mantra of the Party of Trump's is fear of crime. Because the issue is largely steering the election, it deserves detailed discussion.
Right-wing obsession over crime is, in part, code-speak to white voters. But it is more than that. In some polls, voters identify crime as their major concern.
Republican ads will not let viewers forget about it. And local television news has always been preoccupied with it. Placing the ads in between local news' police blotter reports is highly effective. On the other hand, crime rates have risen the last couple of years, and they are not the result of too much publicity. To claim voters would not be anxious were it not for the GOP campaigns too easily dismisses too many voters' apprehensions.
Governors do not control crime any more than presidents control gasoline prices. But when you occupy the executive office, you get blamed for everything. The ads from Zeldin and many other Republicans imply that crime is at an all-time high. The claim is utterly false.
As the three graphs show, of the seven major felonies committed in New York City, only burglary decreased from 2020 to 2021 (though it increased the prior year).
However, only two of the seven offenses are close to what they were in 2000. Grand larceny in 2021 was 82% of its 2000 level. Felony assault was 88%.
Three of the seven are small fractions compared to 21 years ago. Robbery is at 42% of its 2000 level, burglary is 33%, and grand larceny of motor vehicles is 29%. Interesting fact: In 2000, the state had a Republican governor (George Pataki) and the city had a Republican mayor (the bombastic Rudy Giuliani).
This is not to belittle the uptick in these most serious crimes. Yes, one murder (or robbery, or grand larceny, etc.) is one too many. But the GOP playbook does not discuss individual crimes. It is agitating about all of them, the general trend.
Cash bail was eliminated for most misdemeanor and non-violent felony charges in 2019. It was modified in 2020, allowing for cash bail for more offenses and under more conditions. Most violent crime rose from 2019 to 2020, again in 2021, and again this year. Zeldin and the Republicans claim that the revisions are causing the increase. I have talked to Black, Latino, and white voters who believe it, perhaps because the crime spike followed cash bail reform. Just because one event follows the other does not mean the first causes the second.
"There is no clear connection between recent crime increases and the bail reform law," argues the Brennan Center. Crime rose throughout the country, not only in NYS, which passed bail reform. If bail reform is the reason for the increase, then crime should have decreased in states without bail reform. It did not.
The Times Union of Albany studied the problem. Between July 2020 and June 2021, in nearly 100,000 cases, the person charged with a serious offense was released before trial because of the bail law reform. In 2% of these instances, the person was re-arrested for a violent felony. In 20% of the cases, the person was re-arrested for misdemeanors or nonviolent felonies. Yet the Zeldin ads show only violent felony acts.
Republican television commercials state that violent criminals are being arrested, released, and then committing additional violent felonies. This is the rare example.
Is one instance too many? If we answer "yes" and reinstitute across-the-board cash bail, then we continue to let those with the money to pay it and be free until trial. Those without the money will not be able to pay it, so they will be imprisoned until trial. This violates the concept of "innocent until proven guilty" based on the Constitution's 5th, 6th, 8th, and 14th Amendments. And since wealth and income are so intertwined with race and nationality, we are then saying that Black, Latino, and Native Americans are especially guilty before proven innocent.
Zeldin isn't reasonable. He pledges to upend these democratic reforms via executive orders, though that would be unconstitutional.
And crime and guns? Hochul and the Democratic legislators passed gun reform (though the courts are pushing back on some of it). In contrast is Zeldin's reckless firearms record. He even voted against an inquiry on violence against police forces at the Capitol on Jan. 6.
The other statewide offices
Letitia James, New York's first African American attorney general and statewide officeholder, is running for re-election, as is Tom DiNapoli, the state comptroller. The labor movement and the WFP endorse both of them. The New York Political Action Network, an Our Revolution affiliate, endorses DiNapoli, too. The Republicans, Michael Henry for attorney general and Paul Rodriquez for comptroller, are also endorsed by the Conservative Party.
James has been the overwhelming favorite in her race, though the Trafalgar Group's most recent poll had Henry ahead. Perhaps reflecting this possible change, she has recently run television ads. Progressive and liberal voters must remember that Black elected officials are usually not shoo-ins for re-election. Four years ago, DiNapoli won by 34 points, and his contest is quiet.
Bail reform. Legalization of marijuana. The end to locking up so many Black and Latino youth over possession. Sensible gun reform. The right to abortion guarantees. Without Democratic control of the executive, and the growing numbers of progressive legislators, these and other reforms would not be. To lose it after only four years would be shameful.