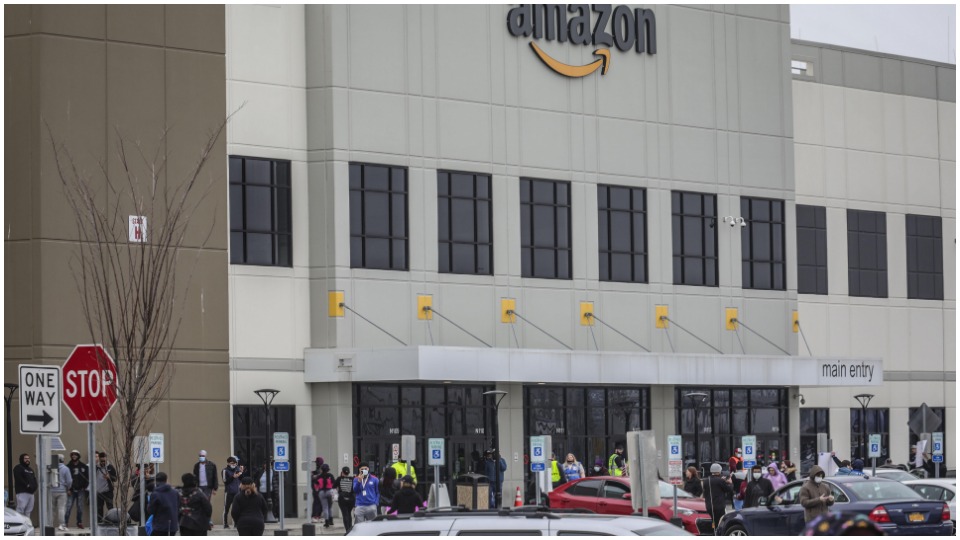 NEW YORK—Amazon's arbitrary firing of Christian Smalls, the worker who led a walkout from the monster retail distributor's Staten Island, N.Y., warehouse over the coronavirus threat to himself and his colleagues, has drawn both union flak and a potential investigation by state Attorney General Letitia James.
Smalls raised concerns about exposure of himself and his colleagues to another worker who tested positive for the coronavirus, officially known as COVID-19. He cited Amazon's "lack of safety protocols" for the workers at the warehouse.
"We're not asking for much. We're asking the building to be closed and sanitized, and for us to be paid," Smalls told CNN before the walkout from the firm's JFK8 warehouse. He called it a "virtual breeding ground" for social transmission of the coronavirus.
When Amazon responded with vague statements dismissing the workers' concerns—even though New York City, including Staten Island, is the current U.S. epicenter of the coronavirus pandemic—Smalls, a 31-year-old processing assistant, led more than a dozen colleagues in the March 30 walkout.
Aggressively anti-union Amazon, owned by Jeff Bezos, one of the three richest people in the U.S., responded by accusing Smalls of "violating social distancing guidelines and putting the safety of others at risk" himself, a charge Smalls denied on his Twitter feed. Then Amazon arbitrarily—and on the face of it, illegally—fired him that afternoon.
Amazon also claimed it's cleaning the Staten Island warehouse but refused to close it. It had no response to a petition signed by 7,053 warehouse workers—and counting—nationwide, demanding strong worker protections against the virus's spread. Including the Staten Island worker who tested positive, at least 13 other Amazon warehouse workers have contracted the virus, Forbes reported.
Smalls's firing angered Stuart Appelbaum, president of the Retail, Wholesale, and Department Store Union, a UFCW sector, and prompted New York AG James to both demand the National Labor Relations Board launch a labor law-breaking—formally called an unfair labor practices—investigation and start one of her own.
"Workers should be protected when speaking out about safety conditions during this crisis. They are performing a public service. It is unacceptable that Amazon has terminated Chris Smalls for doing that today rather than addressing their serious COVID-19 safety problems," Appelbaum said.
James was even more pissed off. So were commenters, including ex-Amazon customers, who responded via Twitter to her statement.
"It is disgraceful that Amazon would terminate an employee who bravely stood up to protect himself and his colleagues," James said. "At the height of a global pandemic, Chris Smalls and his colleagues publicly protested the lack of precautions that Amazon was taking to protect them from COVID-19. Today, Chris Smalls was fired."
"In New York, the right to organize is codified into law, and any retaliatory action by management related thereto is strictly prohibited. At a time when so many New Yorkers are struggling and are deeply concerned about their safety, this action was also immoral and inhumane. The Office of the Attorney General is considering all legal options, and I am calling on the National Labor Relations Board to investigate this incident."
The NLRB couldn't comment; the coronavirus threat forced closure of its Manhattan regional office, which covers Staten Island.
The Amazon walkout was one of a series that began last week by fed-up and scared warehouse and other low-paid workers, angry that their firms—including two delivery services and Purdue Farms—did little or nothing to protect them against "community spread" of the coronavirus. Almost all of them sought hazardous duty pay, too.
"Job actions by workers at Whole Foods, Amazon, and Instacart will save lives," said Jessica Martinez, co-executive director of the National Council for Occupational Safety and Health. "We strongly support front-line workers who are taking collective action to win protections for themselves, their co-workers and their families—and for all of us who depend on safe distribution of the food we need to survive."
Even before the Amazon walkout and Smalls's subsequent firing, 15 other public officials, led by Sen. Bernie Sanders,  Ind-Vt., and Rep. Ilhan Omar, DFL-Minn., wrote a strong letter to Bezos on March 27 demanding details of how his firm would protect its workers against the coronavirus and reminding him that firing workers who spoke up to protect themselves breaks labor law.
They said the company knew of health threats at the warehouse before the protest, yet did little. Among other problems, it noted Amazon warehouse workers lack protective masks—there or elsewhere—and it asked whether they're given time off to thoroughly wash their hands as the federal Centers for Disease Control recommends. And the lawmakers questioned whether there are enough sanitizers in warehouses.
It also said there's no detailed response plan at the New York warehouse and asked if other Amazon warehouses have such plans.
"You recognized the critical work they are doing. You encouraged your employees to take care of themselves, yet you failed to recognize the vital role that Amazon plays in guaranteeing their safety. In fact, workers at Amazon warehouses worldwide continue to raise concerns that their employer is not doing enough to protect them from exposure to COVID-19," their letter said. It also noted the workers seek "a more comprehensive response plan, increased protections, hazard pay, and changes to productivity-based performance metrics."
"Even prior to the dire global health crisis, these facilities have a proven record of high health and safety standard violations, and Amazon has failed to provide any substantive response or solutions to those violations," the lawmakers wrote.
Since Amazon plans to hire 100,000 more warehouse workers due to a large spike in demand for coronavirus protection products and other goods it stores and institute mandatory overtime, "We are growing more concerned that Amazon does not possess an adequate internal pandemic preparedness and response plan. Recent statements made by Amazon do not include sufficient detail and use vague terms such as 'often' and 'increasing,' instead of providing specific data."
Twitter bristled with criticism of Amazon and support for Smalls. Lynn Celarek's comment "I love my Amazon, but I may have to rethink this," was one of the milder ones.  "Why can't they be awesome and take care of their employees? WTF#Amazon," Laura Neil tweeted. "@JeffBezos DO BETTER FOR HUMANITY."
"Well, they won't be getting my $$ anymore…And isn't that a privacy act violation 4 disclosing termination reasons?" asked tweeter D.Y. Sefton.
So, after the workers at that warehouse tested positive, Amazon did not close and clean," a tweeter styling herself as Lizerenity wrote. "Isn't that putting workers at risk?"