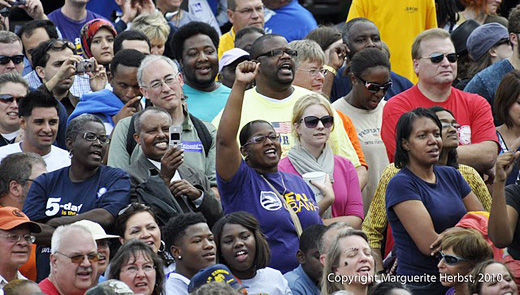 NEW YORK — Based on the mobilization in New York alone, it appears likely that the One Nation rally in Washington D.C. on October 2nd which will call for jobs, better public education and a fix to the nation's economy, could be an overwhelming success.
According to Cheryl McCants, spokesperson for this city's rally organizing committee, "Here in New York State alone we're mobilizing over 1,000 busloads – that we know of."
Given an average of 40 or 50 people per bus, that estimate would mean at least 40,000 to 50,000 people – from only one state and only one form of transportation. In addition, says McCants, there are other buses coming from around New York that are being organized by local groups or individuals and aren't known to the organizing committee.
"And," she continued, "there are going to be several thousand folks who are going to be traveling on their own as well, whether by plane, train or automobile as well as the buses, so there will be a huge contingency and a very large representation of New Yorkers."
The rally, which is being organized by a coalition of labor and community organizations both national and local, has received support and assistance from a number of political leaders, including City Council members filling their own buses.
On September 2, the organizing committee held a major rally on Wall Street against unemployment. Hundreds of people turned out. Rep. Charles Rangel, D-N.Y., the New York NAACP's Hazel Dukes and other representatives of labor and community organizations spoke.
Rangel told the crowd that those attending the march would remember it, that it would be something about which they told their grandchildren, and compared "One Nation" to the famous civil rights-era march from Selma to Montgomery.
"What made America great are jobs and dreams and aspirations, not just for us, but for our children," Rangel added. "People come from all over the world, because they know what we got is pride, self esteem, paying rent, paying mortgages, sending our kids off to school." He said the "One Nation" was part of the fight to bring back that spirit.
Dukes said that the extreme right had been doing all it could to stop any progress being made in the fight against poverty and joblessness. That, she added, is a main reason why Rangel has been under fire. She called on those gathered to go back to their communities and tell people, "America will stand, black and white, brown and yellow; all of us will stand together."
McCants says that the organizing committee is planning a host of events, including an outreach specifically to young people at a downtown pub. There, elected officials, including Bill DeBlasio, the city's Public Advocate, will speak.
"This is a true grassroots movement from all walks of life, regardless of your race, your ethnicity, your religious beliefes, your sexual orientation, your gender identity," McCants said.
Related articles:
https://www.peoplesworld.org/naacp-takes-lead-on-oct-2-jobs-march/

https://www.peoplesworld.org/gop-says-no-to-jobless-benefits-groups-plan-d-c-march/

https://www.peoplesworld.org/new-uaw-president-vows-social-justice-unionism/

https://www.peoplesworld.org/cwa-takes-sober-look-at-labor-s-challenges/

https://www.peoplesworld.org/business-campaigns-against-efca-in-fall-contests/

https://www.peoplesworld.org/unions-shape-missouri-senate-race-gop-wall-street-vs-everybody-else/

https://www.peoplesworld.org/teachers-union-endorses-oct-2-one-nation-jobs-march/

https://www.peoplesworld.org/glenn-beck-rally-sound-and-fury-signifying/

https://www.peoplesworld.org/naacp-tea-party-shirley-sherrod-and-racism/

https://www.peoplesworld.org/trumka-the-elections-will-define-who-we-are-as-a-nation/

https://www.peoplesworld.org/union-delegates-resolve-to-build-record-voter-turnout/
https://www.peoplesworld.org/labor-joins-one-nation-coalition-to-reorder-nation-s-priorities/
https://www.peoplesworld.org/thousands-nationwide-to-rally-for-jobs/
Photo: Marguerite Herbst