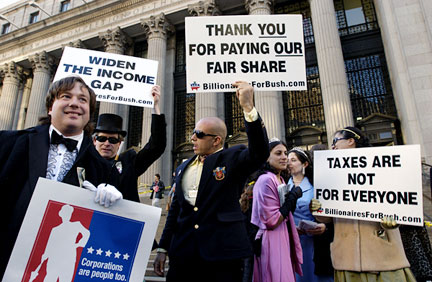 BROOKLYN – The most important criterion for judging the New York City mayoral candidates is who are the social forces behind them. (See "With unity, New Yorkers could elect mayor for the 99 percent" for an overview of the candidates.)
In the case of Christine Quinn and Anthony Weiner, this is clear: of the Democrats, they are the preferred candidates of big capital. Quinn will also have some special support from women and gay people. Those two and Bill DeBlasio will likely divide up the bulk of the white vote, with DeBlasio getting more of the liberals. DeBlasio also has been endorsed by SEIU 1199, the city's biggest union, and could garner some additional big union endorsements and of the Working Families Party.
Bill Thompson will have the overwhelming vote of the African American and the Afro-Caribbean community, where his roots are. He has strong ties in Brooklyn where both he and his father had long political careers, and has been endorsed by Bronx Congressman Jose Serrano, state Senator Jose Serrano, Jr., Bronx Borough President Ruben Diaz Jr., and the Bronx Democratic Party. That gives him a leg up on the city's Latino vote. As well, Thomson has the endorsements of a growing number of African American elected officials, including Manhattan Democratic Party leader Denny Farrell, State Assemblyman Karim Camara, Congressman Greg Meeks and the Rev. Floyd Flake.
Thompson also is endorsed by Merryl Tisch, the head of the State Regents and by former Lieutenant Governor Richard Ravitch, who is in charge of the campaign's team dealing with budget and finances. And Thompson has a shot at some labor endorsements, especially from unions that backed him when he ran in 2009. It is expected that racially oppressed voters will go for Thompson, assuming that John Liu's numbers do not improve. Thompson has had strong ties to the Jewish community that may produce some results
Weiner is a wild card with his late entry into the race, but is still polling second behind Quinn, and with a very large campaign war chest.
The real question is who come in second after Quinn in the Sept. 10 primary. Can DeBlasio or Thompson defeat Weiner, so that the Sept. 24 run-off does not end up being between two white and more conservative candidates? Given the demographics, it is very possible that the runoff will be between Quinn and Thompson.
In such a scenario, there is a real possibility that Thompson, with the support of the racially oppressed, labor and liberal white vote, and could beat Quinn and then Lhota in November. Such a result would clearly change the character of city government in a big way, with new policies that would range from somewhat better than Bloomberg's to considerably better.
In the race for public advocate, progressive Tish James has many endorsements from labor, including one of the major unions, 32BJ, from a number of Black ministers, the Working Families Party, and from the Latina city council members, but she cannot match State Senator Daniel Squadron in money. In addition, there are two additional African American women running for the position, neither of whom has a chance to win but can take votes away from James, helping Squadron, whether they wish to or not. Robert Jackson, another Black progressive, has a good shot at Manhattan Borough president. The City Council Progressive Caucus is supporting six candidates for city council for open seats. For information on which seats and the names of the candidates, they may be acquired from the Progressive Caucus or from this writer. In addition, the caucus offers a good platform on issues for the election.
Photo: "Billionaires" thank the 99 percent of New Yorkers for paying taxes – so billionaires won't have to (Fred Askew/billionairesforbush).