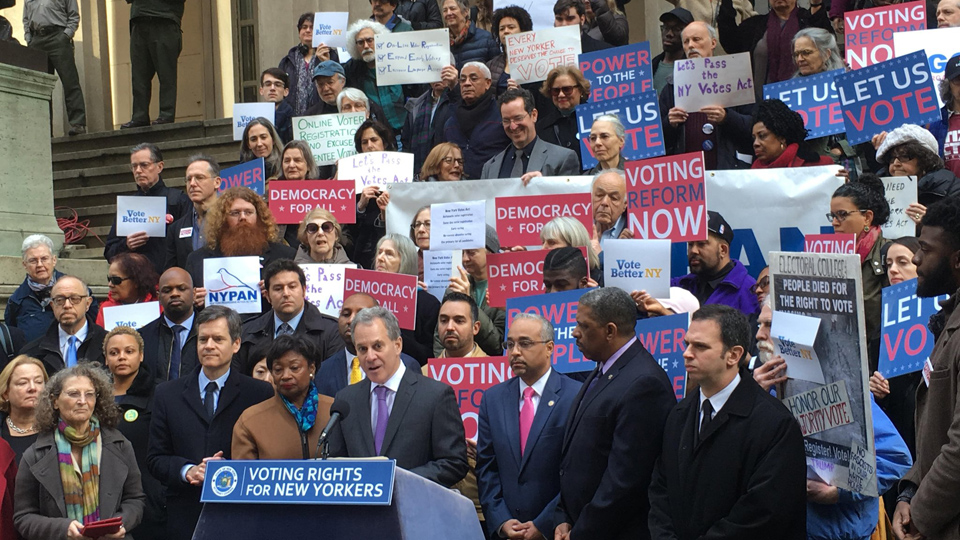 NEW YORK CITY — On February 6, there was a meeting of representatives of New York City chapters of New York Progressive Action Network, or NYPAN. The meeting was held in a large conference room at United Automobile Workers Union Local 2325 in lower Manhattan. There was a discussion with Letitia "Tish" James, the Public Advocate of New York City, the second highest elected official in the City. She was elected in 2013.
Most of NYPAN's city representatives are backers of James, and many of them campaigned for her in 2013 and earlier when she was elected to the New York City Council on the Working Families Party line, beating a Democrat and a Republican.
The discussion covered topics such as how to fight back against the Trump Administration and the Republican Congress. There was a discussion of the 2017 New York City elections, focused on making sure that De Blasio fulfills his proposed programs that helped him win the 2013 elections. The fight-back against the Trump ban on immigrants was also discussed as were many questions regarding affordable housing. It was noted that Governor Cuomo has blocked some of the programs De Blasio proposed, and that for programs which require authorization from the state, the Republican dominated state senate was a frequent obstacle.
The role of the Independent Democratic Caucus (IDC) in the State Senate was discussed. It sometimes sides with the Republicans on legislation, and, in return, IDC members get to chair some of the senatorial committees.
The discussion with James also included the role of Marisol Alcantara in the IDC caucus. Alcantara, from her background fighting rent increases and in the labor movement, as well as her work in the Dominican Republic, makes her one of the most progressive state senators in New York. She says that she joined the IDC caucus because they gave her money to advertise her campaign, money she says she was unable to raise elsewhere. Unfortunately, much of the IDC caucus' money comes from tainted sources such as the powerful real estate industry and charter school millionaires.
Progressive activists and tenants in Alcantara's district have worked with her in the past. She has promised never to turn her back on the tenants in her district in the west side of Manhattan from the northern tip south to Midtown, no matter what the IDC does. James told NYPAN that she trusts Alcantara, but James admits that she doesn't know what the IDC will do. Alcantara is now the chair of the Senate Labor Committee, where she could be a good friend of labor. The mood at the meeting was to wait and see.
NYPAN plans to have a big role in the 2017 New York City elections for Mayor, Public Advocate, City Comptroller, seats on the New York City Council, and borough presidents.
NYPAN will endorse candidates after interviews with candidates and reviewing candidates' answers to written questionnaires. Members of NYPAN chapters will campaign for the best candidates. NYPAN expects to work for De Blasio and James, but will pressure De Blasio to increase affordable housing.
Making it easier to vote in New York
The meeting also decided to back New York State Attorney General Eric Schneiderman's  legislation to reform New York's election system, centered around making it easier to vote. Schneiderman's plan includes automatic voter registration of all people eligible to vote who have any governmental contact, such as applying for welfare, applying for public housing, applying for a driver's license, etc. Registration will be permanent, in that the legislation would abolish New York's rule of canceling the registration of anyone who moves to another county.
Schneiderman's legislation would legalize online registration. Voting could take place not just on election day, but would start days before. In some rural areas in New York, polling places are only open for a few hours, depriving many workers of the ability to vote. In the new legislation, voting hours would be standardized in the entire state.
Under Schneiderman's plan, registration or re-registering for a different party could be done by mail 30 days before an election, or ten days before an election if done in person. This last portion was strongly favored by Sanders supporters, because under present law, someone changing parties must reregister more than six months before a primary in order to vote for candidates in that party in the primary. This restriction hurt Sanders in New York's April presidential primary, because many independent voters and young voters did not know much about Sanders until petitioning to get on the ballot for president started in late January. By then, voters could not reregister as Democrats. Many thousands of Sanders' supporters were unable to vote for Sanders in the April primary. People at the meeting were urged to go to the Schneiderman press conference two days later.
People were urged to call and lobby Governor Cuomo to publicly support Keith Ellison, a member of the House of Representatives from Minnesota and an early supporter of Sanders for President, to chair the Democratic National Committee (DNC). It is widely believed that many of the New York delegates to the DNC would follow Cuomo's lead.
Cuomo also needs to be urged to give his public support to De Blasio's reelection. The Mayor has been getting attacked by the right wing and New York City does not need another Republican Mayor.
Schneiderman gave a televised outdoor press conference on February 8th, in front of historic Federal Hall on Wall Street, to announce and describe the proposed voter reform legislation, to strong applause. Citizen Action of New York and NYPAN members were present, as well as representatives from other organizations. At one point, Schneiderman wandered off the topic of the legislation to criticize Trump's much disputed executive order banning immigration from several Muslim majority countries, including the pluralistic and secular country of Syria which has been under attack by U.S. funded right-wing terrorists.
NYPAN is a new organization formed in the latter half of 2016. It started with groups of Bernie Sanders' supporters across New York State wondering what they should do when it became clear that Sanders would lose the Democratic nomination for President.
These groups coalesced before and after the November election and decided to join together. There are now about 25 chapters of NYPAN across the state, and several affiliates from the labor movement and Democratic clubs. They held a conference on December 9 in New York City, with several speakers, including Mayor Bill De Blasio.