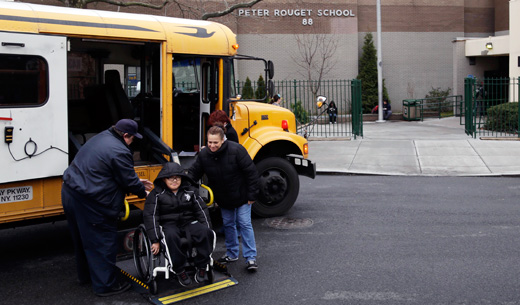 NEW YORK — It was a very cold, windy morning January 23 here in Manhattan. About a hundred school bus drivers and attendants demanded job security outside Mayor Bloomberg's Department of Education at 52 Chambers Street, located behind City Hall. (Bloomberg moved to the "Tweed Courthouse").
Mayor Bloomberg's anti-worker, anti-union bias again reared its ugly head when he and his DOE appointed head attacked school bus drivers and their union, Amalgamated Transit Union Local 1181, Bloomberg has regularly attacked transit workers, teachers, day care workers, and many others and the unions to which they belong.
The form of the attack on the school bus drivers and attendants is the City's refusal to include Employee Protection Provisions (EPP) in new contracts. Such provisions would guarantee job protections for the workers even if the city hires new or different contractors to provide transportation services.
Support for school bus workers has grown throughout the labor movement, spurred by the knowledge of how little these workers are paid — bus attendants make $11 and change per hour, The plight of low wage workers and the Mayor's lack of concern for the lives of working people has shown other workers the importance of their solidarity role.
The teachers union (UFT) Delegates Assembly passed a resolution of support for the school bus drivers the previous Thursday. They encouraged members to reach out to parents of students in their schools. Since more than 152,000 students ride school buses, the teachers' work is cut out for them.
An attendant on a Bronx bus, who has worked on school buses for 23 years, pointed out the need for public support for bus drivers and attendants. She said that the strike was not against the children, but for job security. Having experienced drivers and attendants on the buses will also benefit the children and their parents.
Central Labor Council President Vincent Alvarez skipped a speaking engagement because he was needed at the meeting with strikers that followed the picketing.
On Staten Island, Sam Pirozzolo, Community Education Council 31 president, said thousands of Island parents are coping as best they can. Mary Bretney has to take two MTA buses to get her special needs granddaughter to PS 811X in Crotona Park East, a special education school. In all, it's a three-hour round trip from her home at the Leland Houses on Story Ave. She wakes up at around 5 a.m, bracing herself for the of the travel nightmare. "Just give (the employees) what they need and end the strike, because this is too difficult. Too many people are suffering."
Pirozzolo said he is skeptical of the mayor's money-saving claims of bidding out the new contracts without the EPPs added. He said in 2010, there was a large disparity over how much could be saved by elimination of the yellow school bus service on the Island. Original reports had it around $6 million, but it was later found to be around only $1.5 million.
City officials claim the city is paying $6,900 annually per child for busing, compared with $3,124 in Los Angeles. The bids, they claim, will save the city money. "This arrogance and attitude of the mayor, this 'my way or the highway' has to stop for things to progress, for things to get better for New York City," said Pirozzolo.
Since 1979, following a 14-week bus strike, the city's bidding specifications has included the EPP clause. The Education Department has solicited bids from companies interested in transporting special-education students on roughly 1,000 routes. These require winning bidders to hire workers off a "master seniority list," meaning essentially that every bus driver and worker employed by one company today would be hired by the next winning company tomorrow.
Local 1181 argues that doing away with this provision will essentially break the union. And this will lead to an economic "race to the bottom" for the experienced drivers and matrons.
Local 1811 is understandably concerned that long-time drivers, matrons and mechanics could lose their jobs if the companies they work for do not win contracts. A new firm could hire all new employees.
The union also points out that parents and children might suddenly be served by "low paid, inexperienced" replacements. Those are strong arguments and must be faced squarely by school officials. But the union's claim that the Court of Appeals gave the department wiggle room to maintain Employee Protection Provisions conflicts with a plain reading of the decision.
The Labor Relations Board heard arguments on January 22, but no decision has been issued. If the strike is ruled illegal, the Labor Relations Board could order drivers and matrons back to work, a decision which could be enforced by court order.
Photo: New York City school bus workers help a student in a wheelchair. Experienced drivers and matrons are in danger of losing their jobs. Seth Wenig/AP