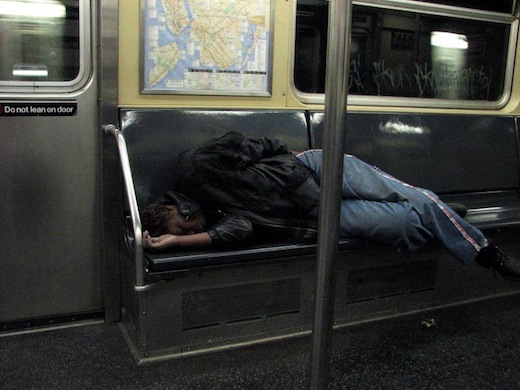 During his Jan. 1 inauguration speech New York City's new mayor, Bill de Blasio, pledged to take "dead aim" at the Big Apple's obscene wealth gap. He had called it a "tale of two cities" throughout his campaign yet reaffirmed in his speech that ending the "economic and social inequalities that threaten to unravel the city we love" wasn't just cheap talk to get elected, but the central tenet of his administration's agenda.
The city's other new top officials, Public Advocate Leticia James and Comptroller Scott Stringer, also made similar, if not more far-reaching, vows. James, the first woman of color to be elected to a New York citywide office, blasted the pro-Wall Street policies of outgoing Mayor Michael Bloomberg that have led to "a gilded age of inequality, where decrepit homeless shelters and housing developments stand in the neglected shadow of gleaming, multi-million-dollar condos."
Stringer said he would pursue a progressive and "fiscally responsible" agenda that can "lift up every New Yorker," making the point that the two are not mutually exclusive.
New York is an exceptional city, but its problems are not unique. What de Blasio described as the "quiet crisis" of wealth disparities plagues every city in America. Indeed it is a runaway train that threatens havoc not only for urban America, but for town and suburb, reservation and village alike. For this writer, coming from Chicago, where the current mayor has earned the title of "Mayor One Percent," the promise to change policies that favor the super-wealthy is music to my ears.
But the crisis doesn't look the same in every place. Detroit – a city that could also be described as singular – confronts bankruptcy brought on by years of class and racial inequalities, economic and social conditions that in fine and medium grain detail differ greatly from New York's. As different as Cadillac is from credit default swaps. Yet, all cities struggle, in one way or another, over public services, especially public education, pensions, taxes, jobs and wages, affordable housing and racial bias in law enforcement and criminal justice policies.
Residents of cities large and small see their public schools starved for funding, while corporate reforms such as private EMOs (education maintenance organizations) and charter schools siphon public monies. Low-wage jobs in food and retail sectors hold back urban economies. Mass transit systems languish and police policies that target black and brown young men for harassment continue to feed the younger generation into the "prison-industrial complex."
The unfortunate list could continue, and with each problem class and racial inequities increase and intensify. Some call this "neoliberal urbanism," in which capital markets have free reign over the local economy and with it comes social, political and ideological rule. To put it another way, the crisis of the cities is rooted in capitalism.
The struggle forward takes on many forms and takes place in many arenas with different coalitions and movements. The de Blasio victory has offered new hope that a national progressive shift on tackling the wealth and racial inequities plaguing our country's cities is in the making.
In early December, de Blasio and more than a dozen other mayors-elect were invited to the White House to meet with President Obama. Afterward, de Blasio described a commonality of interests among the mayors that could be the basis of a national movement.
"Something is going on here" when you have mayors nationwide telling the president the same thing regarding poverty and early childhood education, de Blasio said after the meeting.
"Fighting inequality is the mission of our times," he said.
Such a movement – one that combines struggles against class and racial inequities – has the corporate titans and their champions worried. De Blasio, like Obama, will be challenged by events and a fierce opposition, the far-right in the first place. Wall Street will make sure of that. Giant corporations have been feeding off the taxpayer trough for decades whether through privatization of public resources or tax subsidies and credits for the promise of jobs.
An example: recently the Chicago Mercantile Exchange – one of the largest financial institutions in the world – was awarded $15 million by the city of Chicago to pay for bathroom renovations in exchange for a few hundred jobs and a promise to stay in Chicago until 2017. In other words, the city was willing to pay the ransom after the exchange threatened to move. After public protest, the exchange rejected the money.
The progressive movement, too, will be challenged to break out of its comfort zone and build coalitions with allies, starting with the labor movement, and to go beyond its current reach. Basic to addressing the problems of inequality is to implement a new green industrial policy that is based on union wages. Rebuilding bridges, factories and providing affordable housing is unavoidable. That means national and state solutions. The 2014 midterm elections are certain to be part of the challenge. If the tea party Republicans succeed in continuing their rule in Congress and statehouses, then the renewed impetus for a national progressive movement to end poverty and racial inequities will face a much bigger mountain to climb.
Photo: Homeless man sleeps on a New York City subway train. There are some 22,000 homeless children in NYC. (Vinh-Luan Luu/CC)