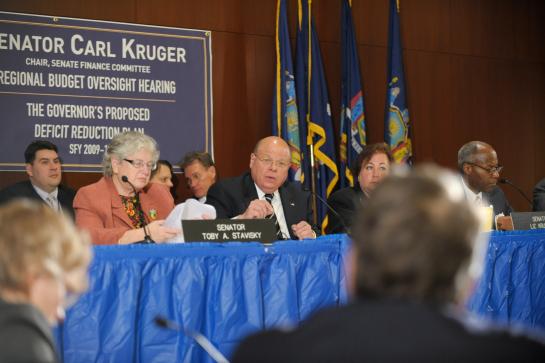 Yesterday, Gov. David Paterson made a speech before an extraordinary joint session of the State Senate and Assembly, pushing the legislative bodies to accept his plan to alleviate the state's more than $3.2 billion deficit for this fiscal year (of which, four and a half months are remaining). Included in the Democratic governor's plans are about $1.3 billion in cuts to schools, health care and municipal governments.
Many people, both inside and outside the legislative chambers, are opposed to the governor's plan – and for good reason: there are ways for the state to remain fiscally solvent without balancing the budget on the backs of working people and the poor.
Today, both bodies, which the governor called out of recess, are expected to discuss these plans. Senate Democrats have come up with an alternate deficit reduction plan that would, they argue, eliminate the need to make any cuts to services important to working people. In the plan are the restructuring of the state's tobacco bonds and an increase in the hours casinos are legally allowed open.
Others, including some in labor, have signed on to this plan. Across the state, thousands of people and organizations have been demanding that there be no cuts to health care of the public schools and universities, which are already reeling from budget cuts and tuition hikes.
The Democrats are right: there is no reason for Paterson to cut these services. But, according to the New York State Communist Party, overlooked are a number of other ways to raise revenues.
According to the organization, billions of dollars could be raised by implementing the full Fair Share tax reform that was demanded months ago (i.e. a surcharge on those making more than $250,000 per year, instead of $500,000, as was enacted). In New York City alone, there are about 60 people with an income of over $1 billion. A small one percent surtax on them would generate $1 billion dollars.
A one percent stock transfer tax on those with more than $500,000 (which would leave out virtually anyone whose retirement fund is tied up in a 401k) would raise another billion dollars.
But there is waste in the budget, says the NYSPC. There are things that can be cut – things that benefit only the wealthy and the big corporations. Ending the subsidy for industrial development zones would save $4 billion, more than the entire budget gap for this year.
Currently, there are 10,000 governmental units in the state, government bodies that overlap uselessly and serve mainly for patronage for a wealthy few. Trimming them a good deal would save another $4 billion.
Clearly, there are billions of dollars to be had. The question for the governor and the legislature is this: Will you go after the obscene amount of wealth that is being either given to or horded by the rich and super rich? Or will you put the burden on the already immiserated working people of our state?
Photo: New York State Sen. Carl Kruger, D, proposes alternatives to Gov. Paterson's budget cuts.