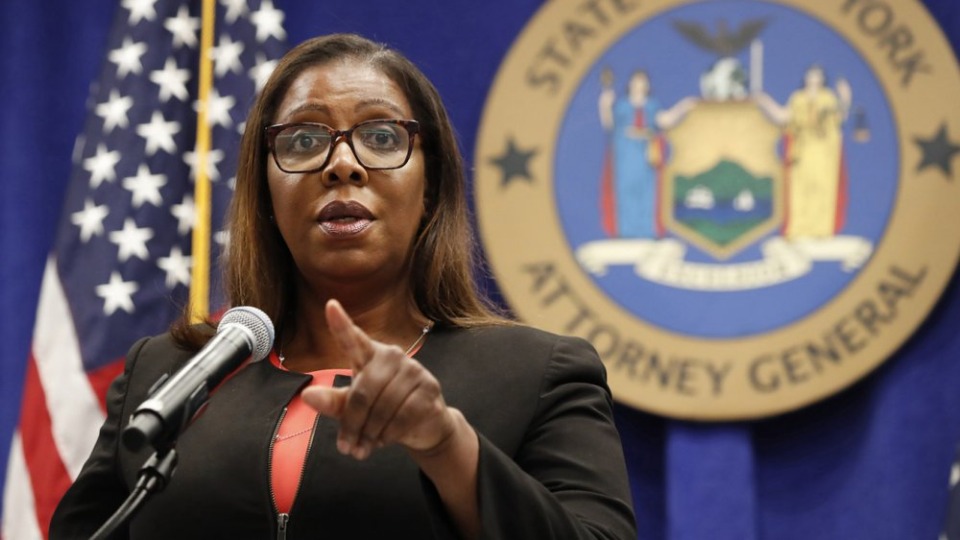 NEW YORK (PAI)—Donald Trump isn't Letitia "Tish" James's only big legal target. Neither is the notorious radical right-wing U.S. gun lobby. Now she's taking on Amazon.
James, New York state's Attorney General, is probing Trump's financial crimes committed through his private foundation. Last year, she sued the National Rifle Association and its top officers for outright fraud. The NRA tried unsuccessfully to get the case moved or thrown out. It also filed for bankruptcy.
And on Feb. 17, the section of James's office that handles labor rights issues sued the monster retailer for failing to protect workers against the spread of the coronavirus and for firing whistleblower Christian Smalls last March and disciplining fellow whistleblower Derrick Palmer. Both are Black.
All of this had a motive—higher profits for Amazon, AG James's suit declares.
Amazon's lack of protections violates state health and safety laws, the suit says. The firing and the discipline all violate New York state labor law, her court papers told the judges in State Supreme Court in Manhattan. Lack of protection continues at Amazon's warehouse in Staten Island, where Smalls worked, and another facility in Woodside, Queens, James adds.
Her case demands damages, that Amazon give up illegally gained profits, reinstatement of Smalls with backpay, removing Palmer's discipline from his records—and that Amazon clean up its act, literally, now.
"We won't let corporate bullies put New York workers in harm's way," James tweeted.
"Throughout the historic pandemic, Amazon has repeatedly and persistently failed to comply with its obligation to institute reasonable and adequate measures to protect its workers," which together employ more than 5,000 workers, the AG's suit says.
"Amazon has cut corners in complying with requirements that would jeopardize its sales volume and productivity rates, thereby ensuring outsize profits at an unprecedented rate of growth for the company and its stakeholders," it states. Though James did not say so, Amazon's prime stakeholder is Jeff Bezos, one of the three richest people in the U.S.
"Over the course of the pandemic, Amazon netted $130 billion more in profits from online sales—representing 35% growth from its pre-pandemic earnings…at the expense of its front-line workers who have experienced significant risks of infection from COVID-19 while working at Amazon."
James's suit is another black mark in relations between Bezos, his management, and the warehouse and retailer's hundreds of thousands of workers.
Others, at its warehouse in Bessemer, Ala., are so fed up with working conditions in general and lack of protections against the virus in particular that they successfully filed for a union recognition election with the Retail, Wholesale, and Department Store Workers. Mail-in voting among the 5,805 workers began Feb. 8, with results due March 29.
What got Amazon in the soup in New York—and is one of the charges in James's suit—is when the firm fired Smalls, who not only complained to supervisors about the lack of protective equipment and distancing standards but led a lunchtime walkout over the issue last March.
Amazon fired him on a trumped-up charge and disciplined complaining fellow worker Palmer a month later. Both firings chilled other workers from speaking up about lack of protection against the virus, James's suit says. That's illegal under state labor law, too.
In a statement, RWDSU President Stuart Appelbaum connected the dots between Amazon's actions which led to James's suit, and its actions which led to his union's organizing drive in Bessemer, Ala.
"This lawsuit is about Amazon's failure to protect its workforce in New York. But the story is the same everywhere Amazon operates—including in Bessemer, Ala. Amazon needs to do better for all its employees to keep them safe. It's not that Amazon cannot afford to, but that Amazon doesn't want to. Amazon has betrayed its responsibility to its employees to provide a safe workplace, and we must never tolerate that. Amazon needs to change," he said.
Among other anti-virus code violations, Amazon did not and does not "engage in adequate cleaning or disinfecting" of the two plants when it learns of a confirmed or quarantined case among its workers. It also didn't open outside doors or use ventilating fans, and only undertook preventive measures if the infected worker had been in a section of each plant "within the prior 24 hours," not the prior week health rules require. Sometimes it didn't even close that worker's section of the Staten Island warehouse.
After a suspension at the beginning of the pandemic, Amazon also went back on July 10 to enforcing its productivity requirements—rules which literally forced workers to keep toiling without washing their hands or applying disinfectants. The workers were close together and sometimes weren't separated from infected colleagues.
Amazon also didn't tell a colleague's workers when someone was infected, leaving the others open to infection, too. All that and more violated the health code.
And when Smalls brought evidence of violations to his supervisors, led the walkout, and told the press, Amazon fired him for—in layman's language—getting too close to infected workers himself. His firing, and oral and written warnings handed to Palmer, broke labor law.
"Amazon's flagrant disregard for the health and safety requirements has threatened grave harm and serious illness" to the workers, "and poses a continued and substantial danger to the public health," the suit warns.
FEB. 20 – NATIONAL DAY OF SOLIDARITY WITH ALABAMA AMAZON WORKERS

> Solidarity actions are being planned across the South and the U.S. on Saturday Feb. 20 at Amazon facilities (warehouses, distribution centers, Whole Foods, etc.). Find an action near you. 

> Download a PDF of a special People's World article on the struggle in Bessemer to print and distribute at your local action.