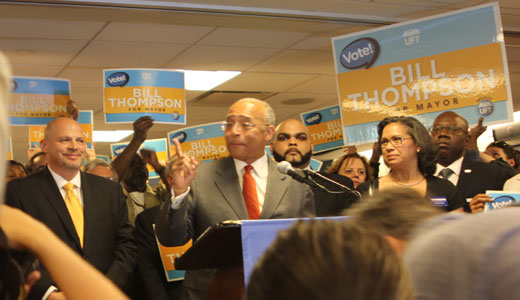 NEW YORK – This city's huge teachers' union has selected the candidate it prefers in the mayoral race now underway here.
United Federation of Teachers president, Michael Mulgrew, announced Wednesday his union's prestigious endorsement of Bill Thompson, the only African American candidate in the race. Thompson is the former president of New York City's Board of Education.
"Mayor Bloomberg has damaged the school system in this city and we need to repair it and we need a real partner to make that happen," Mulgrew declared. "The UFT is saying we need to create a city that gives the opportunity for all and not a few: a city with a school system that is supported, not attacked, a city that provides real education – not just test prep."
The UFT endorsement translates for the Thompson campaign into over 150,000 robo calls, tens of thousands of mailers and 3,000 rank and file volunteers ready to hit the streets.
Mayor Bloomberg has been quick to show his contempt for the teachers as well as much of the voting public.
"Almost the kiss of death," is how the billionaire mayor characterized the anticipated endorsement of William 'Bill' Thompson by the United Federation of Teachers in an interview before the union's official announcement on Wednesday. "I don't know what goes through voters minds, but maybe they understand that if the UFT wants it, it ain't good for you and you don't want that person."
"It is Bloomberg's last 12 years that have been the real kiss of death," said Zakiyah Ansari, a Brooklyn mother of eight public school children and leader of New Yorkers for Great Public Schools (NYGPS).
"That was smoke in mirrors because he is trying to deflect and distract NYC from real solutions," Ansari continued. "Groups like NYGPS are doing research and studies finding solutions to the crisis facing our schools They are organizing parents and community members to demand results."
NYGPS, which says "the Bloomberg education agenda is not working for our kids, notes that "only one in four of all students and only 13 percent of African American and Latino students graduate high school ready for college. Despite some increases in student performance, the racial achievement gap at all grade levels is as wide as ever and in the last decade. New York City has lost ground to other cities on the national assessments called the NAEP."
The group also notes that the 13 percent college readiness recorded for the city is a serious problem and it is starting to call Mayor Boomberg Mayor 13 percent.
"The mayor," says NYGPS, should use the remainder of his term to "make as graceful of an exit as possible."
The group admits, however, that the election battle is an uphill one. NYGPS has warned that "a coalition of hedge fund managers and billionaires has pledged to raise $50 million to preserve and expand these same policies under the next Mayor."
In contrast to the current mayor's remarks regarding teachers and their union Bill Thompson, also the son of a NYC Public School teacher, began his acceptance of the UFT endorsement saying, "This is one of the proudest moments of my life… I know she (Mom) is looking down right now with a huge smile on her face and is telling me that I had better make sure and not let the teachers down."
Thompson declared, "You can't care about education and demonize teachers… You cant care about our schools and then shut them down. That's a dangerous game I will never play in this city ever!"
"We need to involve parents in the schools," Thompson said. "We must make sure to give them a voice and together create great schools in every community."
He went on to pledge to reduce the number of mayoral appointees on the Panel for Educational Policy. In recent years the board has come to be know as a rubber stamp for the mayor's policy of school closures and colocation.
In response to the demand of the cities unionized workforce for "fair contracts now!' Thompson said, "Teachers deserve a raise and the fact that they have gone without one for four years is disrespectful."
The UFT was a main organizer of the recent Rally for Fair Contracts at City Hall, where thousands of union and community members joined city employees in their demand. Elizabeth Christian, a teacher who was at the demonstration, said afterward, "That rally gave us all such a strong feeling of what is possible when the working people of this city unite. But it can't just be protesting. We need to be united on the street and at the voting booth to turn this our schools and our city in a better direction."
Photo: AP