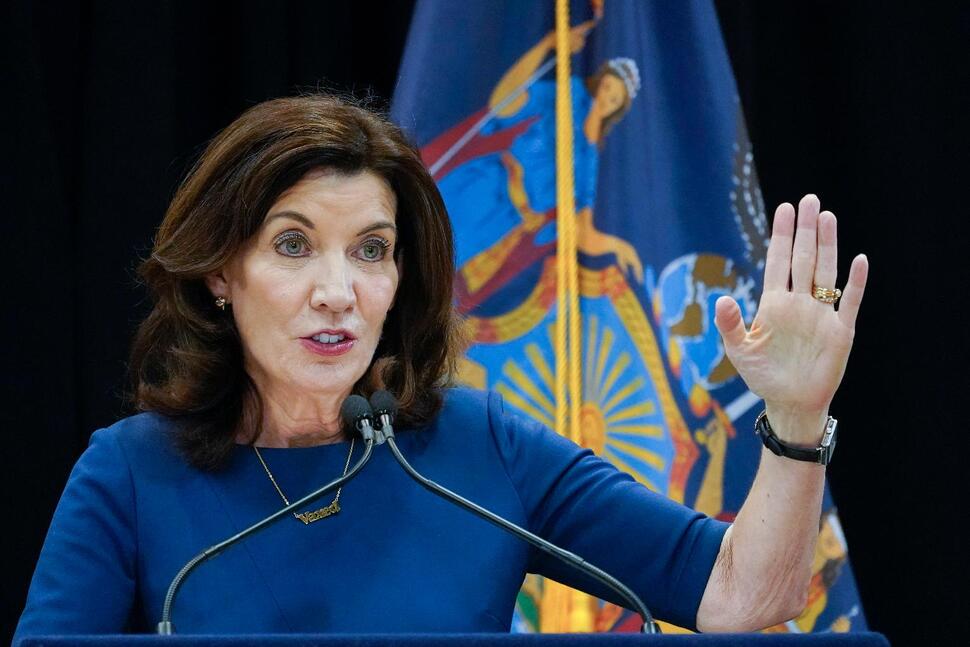 ALBANY, N.Y.—In an aggressive move to hold companies responsible when a worker dies or is severely injured on the job, New York will now fine construction contractors up to $500,000 when that occurs, Harvard's On Labor blog, The Gothamist and New York Public Radio report.
New York building trades unions supported the law, sponsored by State Sen. James Sanders, Jr., D-Ozone Park. Gov. Kathy Hochul (D) signed it just before Jan. 1.
Named Carlos' Law, in memory of Ecuadoran immigrant Carlos Moncayo,  22, who died when a 13-foot trench collapsed on him, the law leaves enforcement to local prosecutors. In the past they've been reluctant to pursue contractors, who are politically powerful in the Big Apple. And the prior maximum fine for such deaths or severe injuries was $10,000.
That may change. On Jan. 19, Manhattan DA Alvin Bragg indicted Long Island City  contractor Oneteam Restoration, owner Mario Rojas and the firm's accountant for "reporting a false workforce size" and filing false documents "to New York state's insurance carrier to save money on workers' comp premiums." The fraud, in 2019-20, cost the city $7 million.
As might be expected, even in heavily unionized New York City, all but five of the 22 construction workers killed due to bosses' negligence in 2022 were non-union. Most, like Moncayo, were immigrants, as are 53% of New York's construction workers. Non-union contractors easily exploit undocumented migrant workers in entry-level jobs via low pay and unsafe working conditions, State Sen. Jessica Ramos, D-Jackson Heights, told public radio.
The New York law is notable for another reason. With Congress gridlocked over many issues, including workers' rights, and with the Republican-run House hostile to unions and workers, the action arena for unions, workers and their allies increasingly shifts to the states.
Blue states such as New York, California and Illinois approve measures protecting workers while red states such as Texas and Florida strip rights away.
Thus while Hochul signed the law cracking down on criminally negligent contractors, viciously anti-union Gov. Ron DeSantis, R-Fla., again made his state's teachers a top target for his ire. He introduced a so-called "paycheck protection" bill, banning public employers from collecting dues and assessments workers agree to in their contracts. Unions call such legislation  "paycheck deception." But DeSantis goes farther, by cutting teachers' union leaders' pay, too.
DeSantis's proposal, expected to easily pass the Republican-gerrymandered legislature, also "orders school unions to notify members of membership costs." It says shop stewards and officers must represent their members on their own time and on their own dime. And local teachers' union officers can earn "no more than the top rate" for teachers they represent.