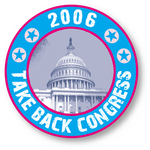 HYDE PARK, N.Y. — People have long said that New York, with at least four vulnerable Republican-held congressional seats, is a battleground state. And as national scandals continue to engulf the Republican Party, local Democrats are getting a boost.
Kirsten Gillibrand is running against Republican incumbent John Sweeney in New York's 20th Congressional District. A Siena Research poll completed just before Labor Day found Sweeney up by 19 percent. Later, a poll done by the Global Strategy Group at the behest of Gillibrand's campaign put the gap at only 8 percent. In addition, Sweeney's job approval rating has slipped five points since May.
Many who canvassed for Gillibrand recently are all the more convinced that it is possible to defeat Sweeney. Several of them told the World that they went out and had the experience of talking to people who are disgusted with the current state of affairs. The canvassers were going to people on a list of mainly Republicans and independent voters.
"We had the same kinds of response from most of the people we talked to," said Sam Montecristi, who helped canvas. "They were tired of the Bush/Republican rule and wanted to change the direction of the country."
One voter, a lifelong Republican, said she voted for John Kerry in the last presidential election and was going to vote for Gillibrand this time because she wants to see change. She said that her daughter tried to convince her to vote for Bush in the last election. She told her daughter she would if her daughter could say one good thing Bush did. The daughter couldn't, so she voted for Kerry.
Labor has jumped into the battle, both in Gillibrand's district and in the neighboring 19th CD, where Democrat John Hall is challenging Republican incumbent Sue Kelly, who many see as a rubber stamp for the Bush administration.
The labor councils in both regions set up labor walks, where union members went door-to-door talking to union families about the need to defeat the Republicans in Congress.