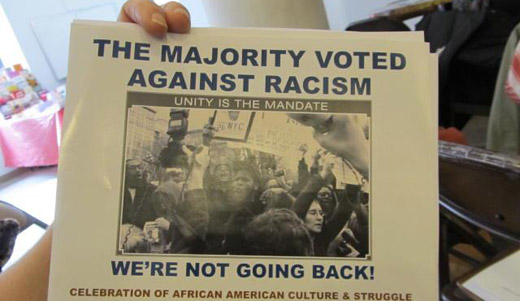 NEW YORK – It was a standing room only audience rejoicing at the wonderful program of song, poetry and inspiring speeches at the "We're Not Going Back" Black History event at Unity Center.
Minister Annie Allen, director of the Shalom Resource Center, was the emcee.
The program began with rendition of "Lift Every Voice and Sing" by Brooklyn's Peoples Choir.
Chris Owens, a member of the New State Democratic Committee and son of former Congressman Major Owens, addressed the event indicating that today in the fight against racism everything is not black and white.
"The blurring of race based social boundaries is an expression of the newer world." he said. The "younger generation seems to dismiss racism as simply baggage carried by their parents and grandparents … They don't feel the fierce urgency of now in their everyday lives." Owens called on parents to educate children to "understand and appreciate the struggle without oppressing them."
Poet Kahlil Almustafa, the author of four books of poetry and his debut CD CounterIntelligence, read one of his poems dedicated to the First Hundred Days of President Obama's presidency, "From Auction Block to the Oval Office."
Union activists Pearl Granat, of 1199 United Health Care Workers East, and a United Federation of Teachers member addressed the meeting. The teacher highlighted a complaint filed by the NAACP Legal Defense Fund against the Department of Education concerning racial bias in Specialized High School Admissions Tests. Granat talked about the union movement and importance of lifting all boats, also stressing the importance of the immigration reform movement.
Poet and activist Amiri Baraka brought the house down with his poems – some humorous, some not so – and style of delivery. "At the bottom of the Atlantic Ocean," he intoned, "is a railroad made with human bones."
Amina Baraka, singer, poet, actress and activist gave a stirring interpretation of "Strange Fruit" – the protest song against lynching made famous by Billie Holiday.
Jarvis Tyner, executive vice chair of the Communist Party, was the keynote speaker. Tyner emphasized, "The November elections show's a growth of anti-racist and pro-working class consciousness of tens of millions." This growth is basis for moving the struggle for jobs and equality to a higher level, he argued.
"We need public works jobs rebuilding ghettos and barrios making them into beautiful peaceful communities for the people living there. We need jobs, not guns and jail," he said.
Tyner referred to a recent poll that found "Socialism outweighs support for capitalism"-just 46 percent of people age 18-29 have positive views of capitalism, and 47 percent have negative views.
The celebration concluded with a foot stomping rendition of "Change Gonna Come" by Solomon Hicks on guitar.