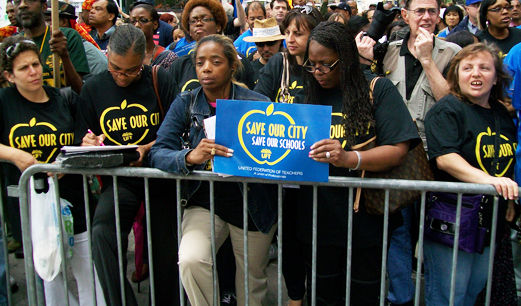 NEW YORK-Thousands of protestors descended on City Hall on Wednesday, in a crowd that stretched up Broadway, all of them out to demand that the city and state fix the budget crisis, which threatens thousands of jobs and necessary public services.
"Is this New York?" United Federation of Teachers president Michael Mulgrew asked the crowd, which responded with cheers. "Are we going to save our city? Anyone trying to break our city; what are we going to do? We're going to stand up. We always stand up, because this is our city."
New York is a place of extremes: while hundreds of thousands live paycheck-to-paycheck. The city is also home to the Wall Street firms that brought the U.S. economy to its knees and bankrupted municipal and state governments across the country. The mayor of New York is one of the 20 richest people in the world.
"We don't care about the 15 percent that they care about," Hazel Dukes, president of the New York State NAACP, said, referring to what many perceive as the Bloomberg administration's prioritizing of the needs of the superrich and Wall Street over working people. "We care about the working men and women of this city who have their children to rear, who have their households to pay."
Both the city and the state are short on their budgets. The deadline for passage of the state budget was April 1, but it has been held off as Albany has not been able to agree on how to fill a $9.2 billion deficit. The city, whose budget is due next month, faces a $4.9 billion deficit. Both Governor David Paterson and Mayor Michael Bloomberg have argued that there should be spending cuts with little done to raise revenue.
Barbara Bowen, president of the Professional Staff Congress, which represents professors at City University of New York colleges, accused Bloomberg of "disaster capitalism," in which "you wait for a disaster to come along and then you use that to sweep away public services, public workers."
The disaster, Bowen said, is being created by the mayor.
The "Save our City" rally was initiated first by AFSCME District Council 37, which represents 125,000 public workers, and the United Federation of Teachers. A number of other unions, including CWA locals, Teamsters, TWU Local 100, the firefighters union and a host of others mobilized for it. A number of community organizations, including NAACP and several religious coalitions also mobilized.
City Comptroller John Liu, who uses his elected position to advocate for working people, criticized Mayor Bloomberg's proposed budget, saying that billions of dollars were being wasted on private contractors performing tasks that unionized city workers could perform-at a lower cost.
"There are places that we can cut," Liu said, "without hurting people."
Organizers estimated the rally's attendance to be around 20,000 people.