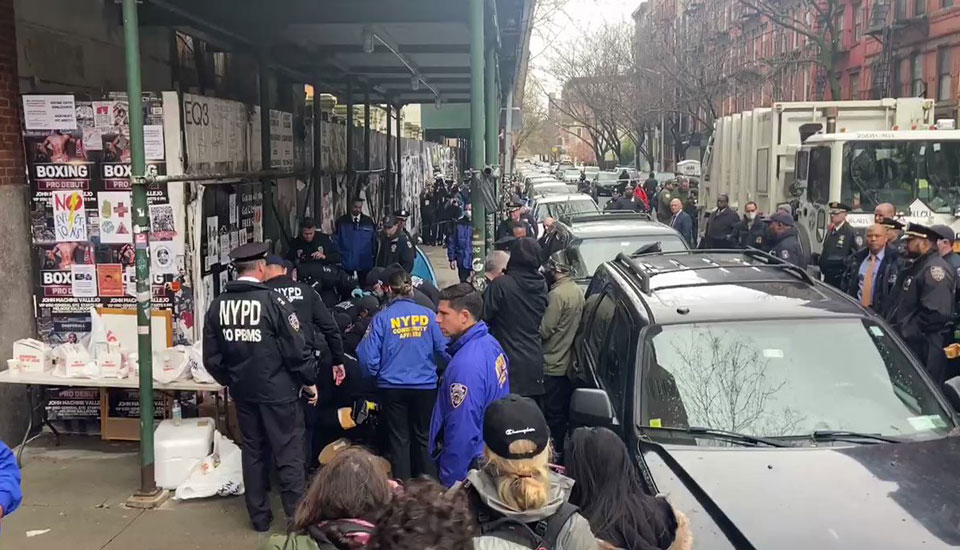 Mayor Eric Adams has begun a campaign to remove homeless encampments around the city. Over the course of 12 days, Mayor Eric Adams has removed 239 of 244 homeless encampment sites. Although he states that individuals would be safer in homeless shelters, only five people have chosen to be diverted to other services.
From new police deployment in the subways, to the removal of homeless encampments, Adams has continued to enact a policy which criminalizes poverty. But it's important to note the historical context that has led to these recent decisions. Adams did not start this phenomenon of attacking homeless and low-income individuals. There is an extensive history dating back to Mayor Rudy Giuliani and before, which used the fear of increased public crime as a catalyst for anti-homeless and anti-working-class policies.
In early March, Adams ordered that any homeless makeshift camps be cleared, with the police enforcing their removal. He has continued to try and reframe this move as a humanitarian cause, where his administration will remove homeless people from their place of residence while diverting them to services to ensure New Yorkers lived in "dignity." But this begs the question: How does removing homeless people and criminalizing poverty give one a heightened sense of dignity?
On March 29th, in response to the removal of the encampments, the mayor opened a safe haven in the Bronx, as part of his promise to provide 500 new beds for those on the streets. However, these 500 beds will be unavailable until the end of the year, with only 80 beds currently provided.
It is also worth noting that there are reportedly over 2,000 people currently living in the New York Subway system, meaning 500 planned beds will not be enough even the homeless living on trains and in tunnels. The 500 promised beds is the exact number that was already planned under the Bill de Blasio administration, showing that there's no intention to add additional support and ensure this past policy is put into effect.
The Eric Adams "cleanup" of the streets is also the continuation of aggressive policies enacted under the De Blasio Administration. Under De Blasio's leadership over 500 "cleanups" were enacted per month. With all of this evidence, it is clear that Adams wants to maintain a policy to attack people living on the street, without providing protection to ensure they receive essential services for their survival.
Of the 239 encampments removed, two-thirds were in Manhattan, but workers evaluated seven sites on Staten Island, 22 in the Bronx, 27 in Queens and 53 in Brooklyn. Although Adams stated that these removals would not lead to violence, already there has been aggressive interactions between the  homeless and the police. On April 6, seven people were arrested for protesting against the repressive policy. This not only threatens individuals living in these encampments, but maintains an overall policy of attacking poverty within the city.
Adams "subway plan" justifies police violence
However, the removal of homeless encampments is just one iteration of an overall policy to criminalize homelessness. In February of 2022, Adams and Gov. Kathy Hochul announced that homeless individuals will no longer be allowed to sleep or stay on subways, or they will be removed.
As Adams said in a press conference, the "Subway Plan," as he labeled it, is "a comprehensive civic strategy that will do more than deal with a temporary fix. You can't put a Band-Aid on a cancerous sore, that is not how you solve the problem. You must remove the cancer and start the healing process."
These are the words used by Eric Adams, current Mayor of New York City. In this statement, he referred to homeless individuals in the street as "cancerous sores" that had to be removed, before any kind of progress could be made. The decision to enact this subway plan will heighten tensions between the homeless population and repressive state forces. According to Adams, the intention is to remove homeless people in the subway and redirect them toward stable housing options. However, like many of Adams policies, his rhetoric of standing up for those most vulnerable does not match the reality of his actions.
Instead, the subway plan calls for the further criminalization of homelessness. Part of the subway plan calls for adherence to MTA rules and regulations and New York City Transit Authority (NYCTA) rules of conduct. According to the Subway plan, these rules include: "The prohibition of lying down, sleeping, or outstretching in a way that takes up more than one seat per passenger or interferes with fellow passengers, creating an unsanitary environment by spitting, littering, and more, exhibiting aggressive behavior towards other passengers, using the subway system for any purpose other than transportation and smoking or open drug use." As Adams stated later in his press conference "No more just doing whatever you want. Those days are over…the system was not made to be housing. It's made to be transportation."
These rules are being upheld through the addition of 1,000 additional police officers in the New York City Subway system. Adams repeatedly states that the officers will be delicate with homeless individuals who are ordered to leave the station, but the result have led to violent interactions with the police. Adams has repeatedly stated that there will be new outreach teams deployed; teams made up of social workers and mental health professionals, in addition to the NYPD. But the mental health teams will not be deployed until the Spring, a spokesperson for the state's Office of Mental Health (OMH) said. This will leave a half-year gap where police are the only teams responding to the homeless in the subways, which can lead to deadly results.
For the 2022 and 2023 budget Adams called for a three percent cut in departments such as Housing Preservation and Development (HPD), while the overall staffing for HPD is down 5 percent and the Office of Development, which manages affordable housing production, is down 13 percent. He also cut $615 million from the Department of Homeless Services, which is a fifth of its budget and leaves 131 positions unfilled. This money could be put toward securing safety for those living on the streets.
Below, two officers detain a homeless man on the 8th Avenue L train who is being arrested for the crime of being poor and on the street. Eric Adams states that the subways are meant to transport paying customers and not to house individuals within the subway.
The reality is that individuals experiencing poverty are being treated as criminals for the crime of being poor in the richest city in the world. Instead of using his progressive rhetoric to distract from his concrete attack on the homeless, Adams needs to concretely invest in sustainable housing for all New Yorkers.
On March 26th, 2022 Adams reported an initiative to enforce so-called "Quality of Life Matters,",calling back to the early repressive techniques under Mayor Rudy Guiliani and then police commissioner William J Bratton. These current offenses that the Adams administration hopes to curb mimic the earlier Broken Windows policy of criminalizing individuals for being poor.
According to Adams, these offenses include public drinking, public urination and "dice games that lead to disputes and shootings." This new policy also states that police will be going into neighborhoods affected by gun violence, a similar technique to surveille and arrest working class residents during the era of stop and frisk policies and the War on Drugs. According to the Times, "The new measure will initially be utilized in neighborhoods experiencing high rates of gun violence in Brooklyn and the Bronx, some of the same areas where Black and Hispanic New Yorkers were disproportionately affected by stop-and-frisk police tactics that were deemed unconstitutional."
In the end they take aim at communities of color
After the January shooting of police officer Jason Rivera, the head of New York's Police Benevolant Association' (PBA) Pat Lynch, (who had the PBA endorse Donald Trump for president in 2020), stated that the public and police must continue to unite against cop killers, in the face of danger. But the actual effect of these words are that communities of color will continue to be the subjects of police surveillance and arrests that have been going on for decades. In fact, in the area of Harlem where Rivera was killed, (the 32nd precinct), there has been intense repression and surveillance by the police. In 2023 the police budget for this area was $17,195,533, more than nearly every other police precinct in the city. These areas not only face systemic attacks through lack of funding for employment and housing protection, but are working class areas where residents have historically been attacked by the police state. This combination of media that perpetuates an environment of danger, with the exorbitant funding of the Police creates an atmosphere of needed state reinforcement instead of funding for essential services.
When Eric Adams announced his Subway safety plan in February, his presentation featured an image of hundreds of needles underneath the Brooklyn-Queens expressway. He spoke of the need for dignity and not having to live under these conditions. But he was using these images to justify his aggressive campaign. The current mayoral administration is using these images as an excuse to blame homeless individuals themselves, instead of addressing the roots of the problem.
Until there is a clear investment for community resources like public housing, medical care, job security, in addition to decriminalizing homelesness and poverty, these challenges will continue to occur. Adams needs to immediately invest in these public infrastructures and immediately take away money from the police. This stops the attack of homeless individuals that are the victims of Capitalist based poverty.
Homeless individuals are being attacked from multiple fronts. From the explicit attacks on their encampments and criminalization from the police, to more "subtle" forms of attack like policy that bans activities associated with homelessness such as public "drinking," the homeless face attacks on many fronts. All of these attacks are based in a system that refuses to care for our essential needs, which prioritizes profit over basic necessities such as housing and medical care.
Though even with these challenges, the community has shown that homeless individuals will not be attacked by police terror. Brooklyn Eviction Defense and other organizations are demanding an end to the violent sweeps and provide community controlled housing for every person unhoused in NYC. There will be a continued effort to not only ensure that every person has a right to housing, but that the system that attacks our most vulnerable inhabitants does not further victimize them through police aggression.