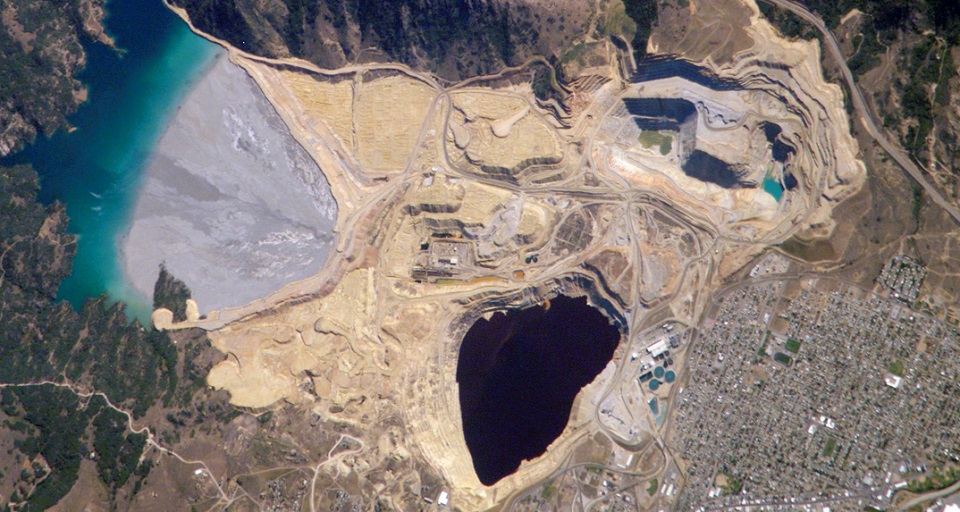 As she drove into Butte, Montana, six years ago to visit her son, environmental epidemiologist Suzanne McDermott couldn't ignore the gouged-out mountain that loomed over the town.
It's the result of decades of open-pit mining that continues to this day in Butte. McDermott was stunned at how close the mining pits were to homes and businesses. In town, she noticed parked cars with a film of dust that looked as if ash had fallen from a fire. Her son, who worked for the local newspaper, later told her of children who had developed mysterious ailments in Butte.
"It just struck me that there's something very unhealthy going on here," said McDermott, a professor at City University of New York Graduate School of Public Health and Health Policy.
Butte, a once-booming city, is home to a massive Superfund site overseen by the Environmental Protection Agency. Past mining has polluted the soil and water in and around Butte, and when Atlantic Richfield Company (ARCO) abandoned the mine in 1982, it left a pit that's since filled with water so toxic that it kills flocks of birds that land on it.
But what troubled McDermott most wasn't the poisoned Berkeley Pit. It was the active copper and molybdenum mine right next to it, operated by Montana Resources, a company owned by the richest man in the state, Dennis Washington. At the edge of town, she could look across the street and watch the dust from the mine rise into the air and drift over to people's homes.
Locals have wondered for years whether that dust carries heavy metals that may be slowly poisoning them. The EPA and health officials, however, have maintained what strikes many as two conflicting messages: One, that previous open-pit mining in Butte left behind a toxic legacy necessitating a major cleanup effort. And two, that the current open-pit mining operation is safe.
McDermott and other independent scientists have questioned that narrative through a series of small, underfunded studies in recent years. They've received pushback from the mining companies in town, ARCO, and Montana Resources.
But they've also run into a more unlikely foe: the EPA.
Emails obtained by InvestigateWest reveal a cozy relationship between EPA officials and the mining companies in Butte. Thousands of pages of documents detail how the EPA coordinated with the very companies they're supposed to be regulating to attack researchers like McDermott and smear peer-reviewed science that has raised alarms over current mining practices.
In one email, EPA toxicologists directly urged Montana Resources to fashion a response meant to pressure scientists into retracting their findings. In another, the mining company asked if the EPA could dig into the funding sources of McDermott and another researcher. In a third correspondence, the EPA deferred to a mining company official for guidance on public messaging.
The documents provide a rare, important glimpse into how a regulatory agency can fall under the influence of industry, said Christopher Sellers, an environmental health researcher at Stony Brook University who reviewed the cache of records. Sellers has studied how the EPA could side with private industry and warned of such scenarios under the Trump administration, but had never seen his concerns put into practice so clearly.
"You have it there, a paper trail — at least for this scientific sort of arena where a lot of these political battles or battles of regulation are now fought," Sellers said.
The EPA declined interview requests for this article and would not answer questions about individual emails between the agency and industry officials. Instead, spokesperson Richard Mylott provided an emailed statement stating that the EPA had a responsibility to consult with all parties in response to new research.
In Butte, the scientific battle has obscured the answer to a longstanding question: Whether the thing that's long been the livelihood in the small mining town could also be costing lives.
"There's an alliance that has developed over the years between the EPA and the mining company. It's clear as day," McDermott said. "Our government should be working for us and not some company."
Raising alarms
In 2019, McDermott and two other scientists published a study that said the current mining in Butte may be tied to a "potential public health emergency." The study compared Butte samples of meconium — a baby's first poop — to those from South Carolina where no mining operations exist. The Butte samples had metals at levels thousands of times higher than South Carolina.
The researchers originally thought of the study as a pilot and hadn't planned to publish it. But the results were so shocking that they felt they needed to make them public.
One of the other scientists in the study, however, argued prior to publication against including the "public health emergency" line. That scientist was Katie Hailer, a bioinorganic chemist at Montana Technical University in Butte, who thought the claim would strike at the heart of the town's identity.
"I knew that that sentence was going to cause issues," Hailer says. "But I underestimated the number of issues that sentence was going to cause."
Butte's always been a mining town. In the early 1900s, its underground mines — manned by some 10,000 miners — supplied the copper for the country's electrical grid, and it gave the "copper kings" of the time incredible wealth.
Today, Butte's population of 34,000 is less than half of its heyday. Abandoned mine shafts are scattered around a shrinking university and historic brick buildings. Still, Montana Resources employs nearly 400 people, and Hailer knows the current mine wields influence. Any suggestion that it might be dangerous could threaten people's livelihood. But that 2019 study wasn't the first to take aim at the mine in Butte.
Two years earlier, Hailer published a paper that found higher metal levels in Butte subjects' hair as compared to another Montana city. Notably, the Butte subjects had significantly elevated levels of arsenic in both their hair and blood. Hailer urged caution in interpreting the results, due in large part to the small sample size used in the study, and the research didn't attract much attention.
"It really wasn't talked about at all in the community for two years," Hailer said.
On the other side of the country, McDermott, meanwhile, researched Butte as sort of a passion project in her career of studying environmental impacts on human health. While she often receives federal funding for large studies, she self-funded the smaller Butte research, she says. She previously examined death data for Butte residents, finding that adults living in and around Butte had higher rates of cancer deaths and other diseases than the rest of the state. In a separate study, she also found a higher incidence of brain and central nervous system cancers in children living in and around Butte compared with other areas of Montana.
Neither study established the cause as coming from heavy metals or active mining, though arsenic and other heavy metals are known to cause cancer.
Meconium, McDermott, and Hailer thought, could potentially show how mining in Butte exposes humans to dangerous metals. For good measure, they enlisted the help of Jamie Lead, a nanoscientist in the top 1 percent of cited scientists worldwide in 2019.
In an effort to soften any possible blowback from the EPA, Hailer presented the raw data to EPA officials months before the study was published. But Hailer says the EPA was disinterested and didn't dig into the questions raised by the data.
Then the study was published in the journal Science of the Total Environment. A couple of weeks later, the local media got their hands on it. The article sent waves across the community.
Suddenly, the EPA was interested.
Siding with industry
In the weeks after the meconium study was published, toxicologists from the EPA working on the Superfund site in Butte sent a flurry of emails to public agencies, local health officials, and the Centers for Disease Control and Prevention asking for input.
But the EPA also sought guidance from Montana Resources, the mining company, and ARCO, owned by oil giant BP. In emails with those industry officials, the EPA openly coordinated strategies to rebut the study, aligned on public messaging, and discussed tracking the funding of the researchers.
McDermott, it should be noted, admits that the meconium study has its weaknesses. Looking at metals in meconium is a relatively new area of research. In fact, in an effort to finalize a methodology for future research, McDermott is now working on a large study — with a grant from the EPA — to analyze meconium in New York City.
Looking back now, she says that it was not a "good comparison" to compare Butte meconium to South Carolina. She suspects that the collection process of the samples may have differed in the two locations, and that may account for part of the vast difference between the two.
Despite the criticisms of the study, however, Hailer and McDermott maintain that the Butte samples raise enough questions for the EPA to conduct further research on the issue. The presence of arsenic alone is alarming, Hailer says.
"Every one of those samples had detectable arsenic at levels that I would say are on the higher end [compared to other published research]," Hailer says.