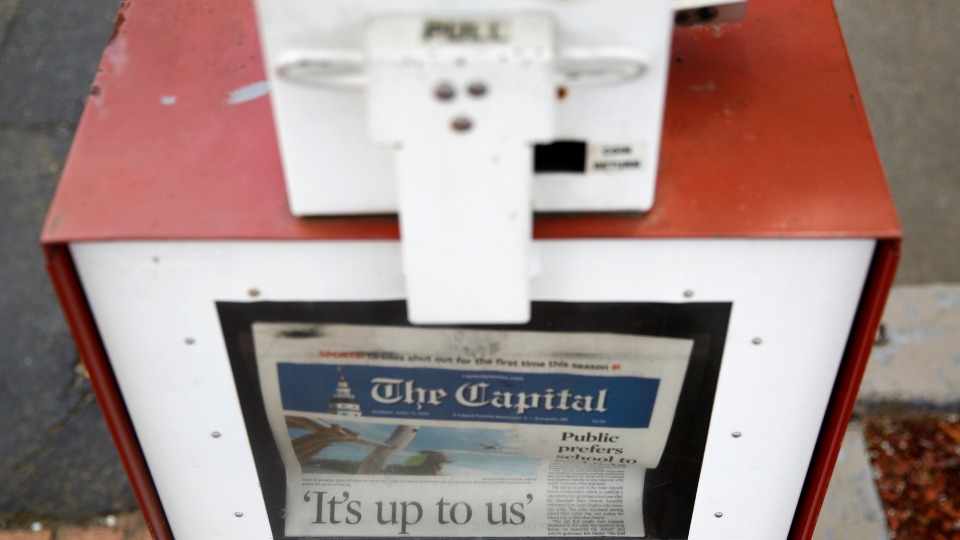 WASHINGTON (PAI)—The News Guild has gained so many newspaper members in the last two years, due to workers' decisions to battle hedge fund takeovers and mergers that have devastated the industry, that it's on the verge of representing more than half of all newspaper workers in North America, its officers reported to its convention in mid-Oct.
And that's not counting the Guild's other gains, among non-profit organizations as well as other unions' staffs, that have led it to the greatest percentage growth of any AFL-CIO union in that time, they added.
That good news led the Guild's virtual convention, now called a Sector Conference, on Oct. 15-16, which preceded the convention of its parent union, the Communications Workers.
The bad news, however, is the news industry is shrinking thanks to a combination of the pandemic, the internet robbing it of vital ad revenue, and rapacious hedge fund takeovers, led by Alden. The fund swoops in, buys newspapers, sells off their real estate, slashes staff, closes papers, and walks away with the profits, to be sent to their private, secret investors. Staffers are left without jobs, pay, or pensions, in tears, and with broken, hurting families.
As a result, "The News Guild has been at the forefront of trying to find solutions" for the industry's ills "for more than a decade," International Chair Martha Waggoner told the delegates, gathered virtually due to the coronavirus pandemic.
Those solutions include lobbying Congress for tax credits for newspaper subscribers and the Guild's long-running Save The News campaign. It emphasizes the importance of local and regional newspapers providing needed exposure and oversight of both politicians and businesses. It's also working on ideas to both help the workers and save newspapers money.
Prime among those was a new pension plan developed by New York Times News Guild members, working with analysts and experts, to retain elements of a traditional pension but at a lower cost to the company.
But often publishers, especially hedge fund-installed managers, were unresponsive or worse. So until now "the strike threat was on the back burner," said Waggoner. But 2021 has seen increasing numbers of walkouts against management, and especially hedge fund greed.
It's also seen increasing organizing and unionization in the industry, News Guild President Jon Schleuss said. He rattled off a list of new news organizations large (The Tribune Company, for example) and small (alternative papers in Florida) TNG has organized, with appropriate climbs in membership.
"The New York News Guild added 1,700, Washington-Baltimore added 887, the News Media Guild" of the West Coast "added 801," and two other locals added more than 100 each. Another victory may be on the horizon, as TNG is supporting a successful struggle in Albany, N.Y., its president reported. If it wins "and we expect we will," the number of workers it represents will double. Those gains pushed TNG far over 20,000 members, close to 24,000.
"Soon, we will represent more than half of all journalists in North America," Schleuss predicted.
And legislatively, when Congress extended the Paycheck Protection Program last December—the billions of dollars it made available to employers to keep workers on the job despite the pandemic's havoc—it added newspapers to the list of eligible employers, Executive Vice President Marian Needham said.
That doesn't mean everything is positive. "Employers are hiring union-busters left and right" to try to stop organizing drives at papers, just as they do in all other industries, she warned. And the hedge fund menace still looms.
To combat that, TNG locals have added 65 more member-organizers, and TNG added three more national level organizers, which CWA OK'd. TNG has also drawn on more than $5 million in grants from a special CWA fund dedicated to that goal, said Needham.
And the PPP money came after accelerating newspaper closures due to the pandemic's ravages. Including those latest shutdowns, the nation has lost approximately half of its journalists' jobs—and their coverage of state and local news—since 2005, mostly due to the internet's devouring of advertising, compounded by publishers' inability to adjust.
That's one big reason TNG has undertaken its long Save The News campaign with a local, rather than a national, emphasis. Staffers out on the streets have convinced subscribers, and non-subscribers, that without a local newspaper, local officials and businesses can carry out schemes and shenanigans with no oversight and no accountability.
That message is successful, opinion polls show: Readers trust local news more than national news.
Besides reports on the state of the union, and its top industry, delegates spent their time working through constitutional changes to nominations and elections, and enacting new procedures to deal with sexual harassment and intimidation when involving members of the same bargaining unit—and not bosses harassing workers.
Co-worker harassment is a thorny issue nationwide. After a harrowing sequence in its Pittsburgh local, TNG is one of the first to try to think through a plan to deal with it.  Firms, including newspapers, sometimes deal with it through anti-harassment videos.
But "those are virtually checkboxes designed to give employers cover," not handle or resolve the issue, one delegate said. "So TNG locals have to dig deep to create their own anti-harassment and anti-discrimination training on a regular basis," she added.