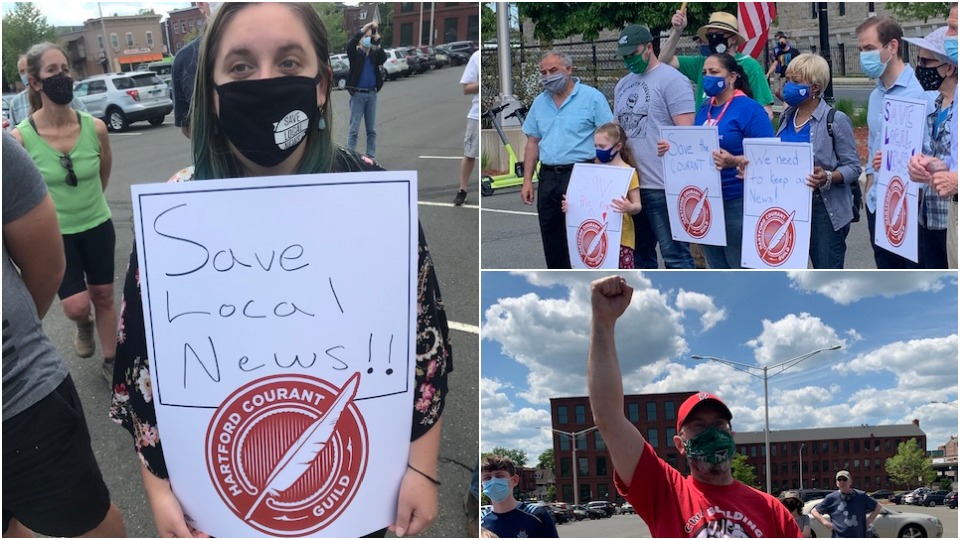 CHICAGO (PAI)—Mass rallies organized by the News Guild in Chicago, Orlando, Virginia Beach, Annapolis, Md., and Hartford, Conn., demanded the Tribune Company's board reject a $630 million takeover by vulture hedge fund Alden Global Capital.
Demanding "Save Our Sun" in Maryland, "Save Our Courant" in Hartford, and so on, thousands of people told the Tribune Company board that Alden's aims are to rip off and rip up local papers, fire staffers, slash coverage, sell off real estate, and then close the papers and walk away with the cash.
That leaves communities without papers and the oversight they provide over local and state government as well as the corporate class.
State, local, and federal officials weighed in against Alden. In Hartford, Sen. Richard Blumenthal, D-Conn., said it would devastate the Hartford Courant, generally considered Connecticut's statewide paper.
"Doubling down on quality journalism also works," Blumenthal told the Hartford crowd, the News Guild said. "There are places in the country where it has happened. People make money because it's what consumers want."
"Without a free press, there is no democracy," State Rep. Anna Eskamani, D-Fla., told the rally in Orlando, the Guild added.
And the state treasurers of Illinois, Maryland, and Connecticut wrote a joint formal letter to the Securities and Exchange Commission, to be passed on to shareholders, relating both the financial and free press reasons the Tribune Company board should reject Alden's bid. "Our communities are ill-served by dramatic cuts in news coverage," the treasurers said.
The Tribune board will vote on Alden's takeover bid on May 21. Alden already owns 31.5% of the firm, which includes its flagship Chicago Tribune, The Baltimore Sun, The Hartford Courant, the Sun's subsidiary papers, the New York Daily News, and the Orlando Sentinel, among others. All those, and others, are Guild-represented.
The rallies and the officials all concentrated on convincing other shareholders to vote against Alden's bid. So did Gregory Pratt, president of the Chicago News Guild's Tribune, who took the anti-Alden case directly to the company's #2 shareholder, Dr. Patrick Soon-Shiong, owner of the Los Angeles Times, which he bought away from Tribune before Alden took over.
"You can single-handedly keep Alden from sealing the deal. We respectfully ask you to do so. Please vote no. Alden ownership would be a disaster for Chicago, democracy, and society at large," Pratt wrote.
Soon-Shiong has the veto power because Trib board members representing a supermajority of shares must approve the sale to Alden, or anyone else. And Alden can't vote on its own deal.
The officials and the Guild also made the point that Maryland multimillionaire Stewart Bainum is assembling a syndicate that plans to outbid Alden—and he's committed to local journalism while Alden would bring in outsiders with neither news experience nor commitment.
State Treasurers Nancy Kopp of Maryland, Shawn Wooden of Connecticut, and Michael Frerichs of Illinois repeated that in their letter to Tribune's board, sent through the SEC. The Connecticut employees retirement plan holds Tribune shares.
They, like Pratt, urged the Tribune board to stall and accept Bainum's bid instead. And any new owner must agree in writing to keep staffing at pre-sale levels for five years, to keep brick-and-mortar buildings—which Alden sells off—and not to move key functions out of the states involved, they said.
"Loss of local news coverage has real impacts on the economic health of communities and the efficiency of local governments," the three state officials explained.
"Reduced local news coverage leads to lower voter turnout, increased partisanship, and less sunlight on the financial decisions made by elected leaders. Indeed, studies show that communities that lack local news coverage see higher costs for municipal borrowing.
"We have observed cutbacks and diminished news coverage in the years since Alden Global Capital began buying up news outlets," including at the Tribune papers after Alden bought its stake.
In the ensuing 14 months, Tribune closed local offices, sold off assets, and "gutted already thinly staffed newsrooms. The flagship Chicago Tribune has seen two rounds of cuts in just over a year." At one point the board also sold off Tribune Tower on North Michigan Avenue. It's now a fancy apartment building.
Pratt elaborated in his letter to Soon-Shiong, a multimillionaire business owner and orthopedic surgeon. Not only would an Alden takeover of all of Tribune be a disaster for the workers, the papers, and democracy, it would be a financial disaster for the firm, Pratt told Soon-Shiong.
"The hedge fund's bid includes the right to saddle the company with $375 million in debt to finance the purchase.
"Beyond that, Alden's reputation for dramatically cutting newspapers to wring profits is well-deserved. At 12 newspapers it owns, which range from the Denver Post to the Pottstown Mercury in Pennsylvania, Alden has cut unionized staff from 1,552 to 365—a 76% drop." And the Chicago Tribune's "own unionized staff has declined by 30% since late 2018, with much of that occurring since Alden" became the largest shareholder and claimed several board seats.
"Union members have built community coalitions, launched petition drives, sponsored community forums, written op-eds, created websites to support the campaign, encouraged the purchase of Tribune by civic-minded investors," News Guild President Jon Schleuss said in a letter to local leaders around the U.S. It also helped coordinate the rallies, he wrote.
The message: "An Alden takeover would be bad for Trib business"—and them—as well as for journalists and readers. "We're determined to stop Alden, the destroyer of newspapers."
The Guild explained Bainum would pay $18.50, which is $1.25 more per share than Alden. He'd keep the Sun and other Maryland community papers, and seek local non-profits to own the other Tribune Company papers.
Earlier this year, Bainum assembled investors to buy the Sun and its subsidiaries, then turn them over to a new non-profit foundation. Non-profit foundations now successfully run papers in Philadelphia, Salt Lake City, and Tampa-St. Petersburg.
That earlier Bainum plan, hailed by Sen. Benjamin Cardin, D-Md., a longtime backer of local journalism, fell through when a key outside investor from Switzerland backed out.
"A takeover by Alden Global Capital is a threat to the work that our journalists do for our community," said Ella Wood of Unite Here Local 737 at the rally in Orlando. "Without your work, our stories do not get told."