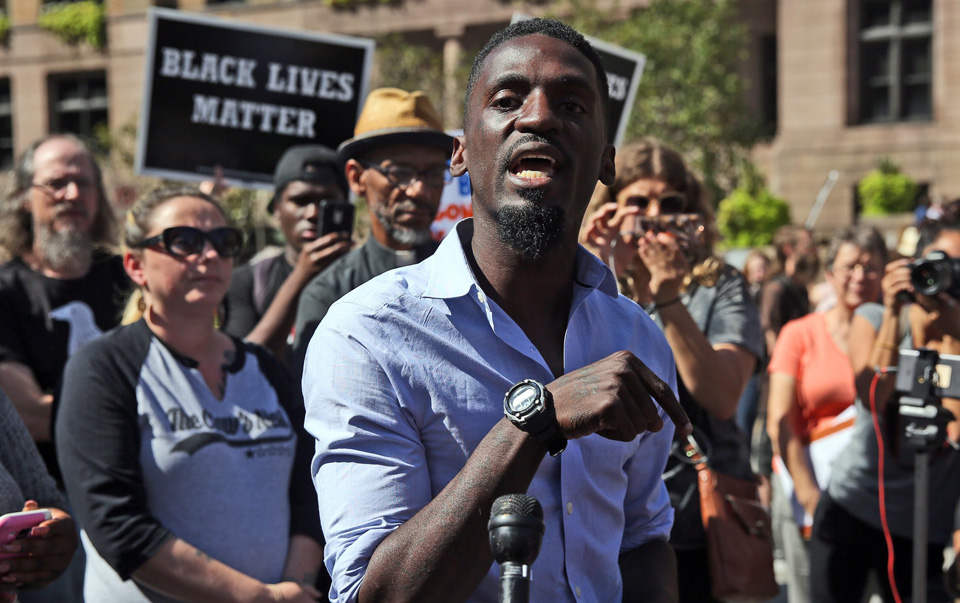 WASHINGTON—News Guild President Bernie Lunzer has stepped forward with a strong defense of his union's members, their media and their reporting in the face of continued vilification – and worse – by GOP President Donald Trump, his minions and his followers.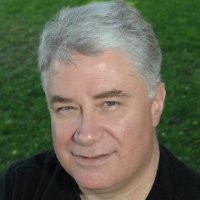 Lunzer's statement on the morning of August 16 joined a nationwide effort by more than 200 newspapers, started by another Guild-represented newspaper, The Boston Globe, to speak out in defense of themselves, their reporters, their readers and the 1st Amendment to the U.S. Constitution, which guarantees freedom of the press.
"On this day, this union of journalists stands in solidarity with all who call out President Trump for his deplorable attempts to weaken a free press and the FIRST Amendment." The capitalization is Lunzer's.
Local and national newspapers from coast to coast, large and small, agreed, including non-union papers such as the San Diego (Calif.) Union-Tribune and the Plattsburgh (N.Y.) Press-Republican. Even USA Today published an op-ed citing journalists' investigative work benefiting readers.
The united front against Trump comes after his years of hate directed at the media, both from the Oval Office and when he was on the campaign trail. Trump repeatedly denounces "fake news" – any story he doesn't like — incites his supporters to physically, verbally and electronically threaten reporters, and ducks and dodges tough questions. He also threatens retaliation.
Ironically, Trump also used and uses newspapers – notably the gossip columns of the New York City tabloids and his so-called TV "reality" shows – to publicize his name and his "brand." And Trump keeps his name before the public by ruling the news through vicious and vitriolic tweets and statements.
All that combined to produce Lunzer's statement and the nationwide editorials.
"Journalists are on the front lines in a war on freedom of the press because President Trump has taken every opportunity possible to impugn our craft, our mission, our publications – us. But he has gone beyond simply calling us names and discrediting us. Never one to know a limit, Trump's hatred and disdain, and the way he expresses them, have become dangerous," Lunzer said.
"We have believed for some time that the president's words will result in physical attacks on journalists. Words have consequences," he warned.
While Lunzer did not say so, Trump supporters have physically attacked journalists. Last year, GOP congressional candidate Greg Gianforte in Montana, now a rabid pro-Trump supporter in Congress, physically slugged a Guardian reporter who asked for Gianforte's position on GOP repeal of the Affordable Care Act. The next day, Montana GOP voters elected Gianforte.
During the campaign, Trump supporters at rallies snapped up T-shirts, later pulled from the market after protests from the Radio-Television News Directors Association, advocating lynching of journalists.
And journalists were among more than 100 people rounded up, at the orders of the Trump Justice Department, by Washington, D.C., police for allegedly rioting after protests during Trump's inauguration. Judges later threw out the rioting charges, after juries acquitted the first groups tried. Most of the rest, including the reporters, had charges later dropped.
Even before Trump, Ferguson, Mo., police arrested both a St. Louis Post-Dispatch reporter and People's World reporter Al Neal in a "kettle" during protests against ex-officer Jason Stockley's acquittal in the 2011 killing of Anthony Smith. Both wore press credentials and identified themselves as reporters.
"We are a community of serious journalists, constantly seeking truth and disclosing falsehoods," Lunzer continued. "The president doesn't share our goals and generally does everything he can not only to obscure the truth, but also to disparage the truth tellers. We believe this atrocious behavior has to be seen for what it is – reckless and endangering."
"The Boston Globe has called on fellow news organizations to speak out today. They think enough is enough. We do, too."
"This is not a political statement based on disagreements. We like a good disagreement and strong discussion. Our words are harsh but they need to be.  They reflect the hatred President Trump has fomented against us and our profession."
"We will continue to cover the news related to this president and do so in an objective, fair way. But we cannot be silent when he has dubbed us 'the enemy of the people,' a term used previously by dictators."
"We want a civil society where people receive trusted, credible news. We will continue our mission. But we all must recognize this president as the 'clear and present danger' that he is. Dictators typically attack both unions and a free press on their way to more heinous actions. On this day, Aug. 16, 2018, this union of journalists stands in solidarity against Trump's actions and threats," Lunzer said.
Trump promptly accused newspapers of "collusion" in the editorials, and editorial boards at the Los Angeles Times — now a Guild-represented paper – and the San Francisco Chronicle, citing that threat even before he spoke, did not join the others. But they were the exception.
"Reporters and editors are human, and make mistakes. Correcting them is core to our job. But insisting that truths you don't like are 'fake news' is dangerous to the lifeblood of democracy. And calling journalists the 'enemy of the people,' is dangerous, period," the New York Times, a Guild-represented paper, said.
"The president himself already treats the media as a cabal, suggesting over and over we're in cahoots to do damage to the country," the Los Angeles Times countered. "The idea of joining together to protest him seems almost to encourage that kind of conspiracy thinking by the president and his loyalists. Why give them ammunition to scream about 'collusion'?"
Like free stuff? So do we. Here at People's World, we believe strongly in the mission of keeping the labor and democratic movements informed so they are prepared for the struggle. But we need your help. While our content is free for readers (something we are proud of) it takes money — a lot of it — to produce and cover the stories you see in our pages. Only you, our readers and supporters, can keep us going. Only you can make sure we keep the news that matters free of paywalls and advertisements. If you enjoy reading People's World and the stories we bring you, support our work by becoming a $5 monthly sustainer today.