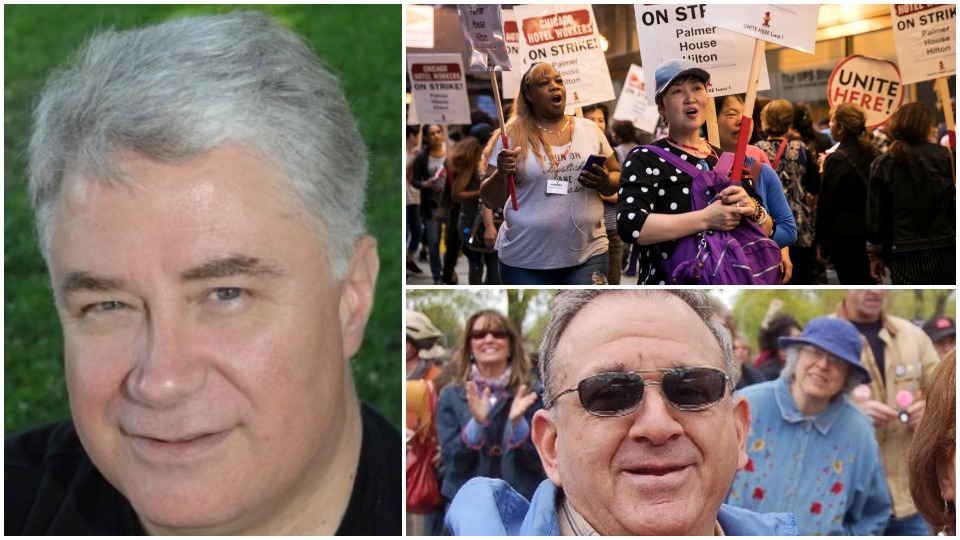 CHICAGO—On Sunday, December 2, the Illinois Friends of People's World will hold its Fundraising Gala, the organization's premier annual event. This year's featured speaker will be Bernie Lunzer, President of the NewsGuild-CWA, who will talk about the struggle to preserve freedom of the press.
People's World Social Media Editor and writer Chauncey K. Robinson will MC the event. At the Gala, PW will present the Frank Lumpkin-Rudy Lozano Labor Achievement awards to UNITE HERE Local 1 hotel workers, and to Chicago Teachers Union and community activist Lance Cohn.
In September, more than 6,000 striking hotel workers in Chicago marched on the sidewalks of the Magnificent Mile with drums, whistles, cowbells, and wooden spoons on plastic buckets chanting "No justice, no peace." One by one, hotels have settled contracts with UNITE HERE Local 1. Thousands of hotel workers are now covered by new collective bargaining agreements that guarantee their wintertime healthcare.
Lance Cohn is a retired Chicago Public School music teacher, a long-time activist with the Chicago Teachers Union, a hard-working Logan Square activist for fair housing, diversity, and social justice, and a dedicated People's World supporter.
The awards are named after:
Frank Lumpkin (1916-2010)—When Chicago's Wisconsin Steel closed without paying its workers, Lumpkin organized the "Save Our Jobs Committee." They fought back for 17 years and won settlements of $19 million. Son of Georgia cotton sharecroppers, Lumpkin became a professional boxer, construction worker, merchant seaman, steel worker, and leader of the Communist Party USA. His biography, Always Bring a Crowd! by Bea Lumpkin, tells how masses of people in action make the turning points in history.
Rudy Lozano (1951-1983)—A visionary leader of Chicago's Mexican-American community, Lozano was a trade union organizer with the International Ladies Garment Workers Union and early fighter for immigrant rights. He was unswerving in his advocacy of working class unity and political independence, critical in forging the multi-racial labor alliance that made Harold Washington's mayoral election possible, and opened the door to electing Mexican Americans to office. The seeds he helped sow then have sprouted into the new progressive trade union movement, in the fight for immigrant rights, and political independence based on progressive politics of labor and its allies.
Laura Cambron of Ida y Vuelta will entertain with songs of Veracruz and Tim Hickey's Trio will be playing jazz and blues numbers as well as protest songs.
This year's event will take place at the Polish Highlander Restaurant, 4808 S. Archer Ave., known for their friendly welcoming atmosphere, delicious food, big parking lot, and accessibility by public transportation.
As always, expect a fast-paced program, sparkling conversation, and delicious food. Meet old friends and make new ones, join us!
Get your tickets now: It's not too late to get tickets for yourselves, friends, and contacts! Order online at Eventbrite. Even if you are unable to attend, consider buying a ticket to support the ongoing work of People's World.