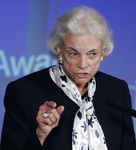 U.S. edging toward dictatorship
Retired Supreme Court Justice Sandra Day O'Connor charged that the attacks on the judiciary by Republican ultra-rightists are inching the country toward dictatorship. O'Connor addressed corporate lawyers at Georgetown University on March 9. Warning that verbal attacks, like those spewing from Rep. Tom DeLay and Sen. John Cornyn of Texas, plus physical assaults, threaten the independent judiciary, which she called the cornerstone of democracy, she said, "You have an obligation to speak up. Statutes and constitutions do not protect judicial independence — people do."
Censure resolution introduced
Sen. Russ Feingold (D-Wis.) introduced a resolution March 13 to censure President Bush for domestic spying. Feingold, the lone vote against the Patriot Act in 2001, said, "The president has violated the law and Congress must respond."
GOP leaders are foaming at the mouth waiting for any Democrat or moderate Republican to vote for the resolution so they can attack them for being "weak" on national security. But according to recent polls, some 60-plus percent of the public see Bush as weak on terrorism.
Last week, the GOP-controlled Senate caved into the White House to allow warrantless wiretaps, as the House renewed the Patriot Act with few civil liberties improvements, 280-138.
Rumsfeld profits from bird flu alarm
UK's Independent newspaper revealed that Defense Secretary Donald Rumsfeld pocketed a cool $5 million from the sale of stock he owned in Gilead Sciences, Inc., a California biotech company which developed Tamiflu, the only known treatment of the bird flu. Gilead ran at a loss until 2004 when predictions of possible pandemics came to worldwide attention. At least 60 governments began purchasing massive amounts of Tamiflu, including the UK. Profits at Gilead soared. Rumsfeld still owns about $25 million in stock and was on Gilead's board from 1988 to 2001, serving as chairman in 1997.
Carlyle Group to run ports?
What does Dubai Ports World have in common with the Bush family? The Carlyle Group, for one thing.
The Carlyle Group, one of the world's largest private equity firms, established a team to acquire "public-purpose facilities," like ports, just a day after the Dubai-based DP World said it would transfer American port operations to a U.S. organization.
The D.C.-based group was made famous in Michael Moore's "Fahrenheit 911," which revealed that both the Bin Laden and Bush families were connected to the firm, as were many of the Bush family's friends and associates.
Congress progressives: Cut military spending, cut deficit
The Congressional Progressive Caucus introduced a Common Sense Budget Act that directs $60 billion from wasteful military spending to international food aid ($13 billion), domestic health care, schools, medical research and worker training ($27 billion), energy conservation ($10 billion), homeland security ($5 billion) and deficit reduction ($5 billion).
"I think it's time for Congress and the House to talk about the huge amount of tax dollars going for weapons systems designed to fight a Cold War that doesn't exist," said Rep. Barbara Lee (D-Calif.), co-chairwoman of the 62-member Democratic group. "I don't think people realize the billions of dollars that are being wasted."