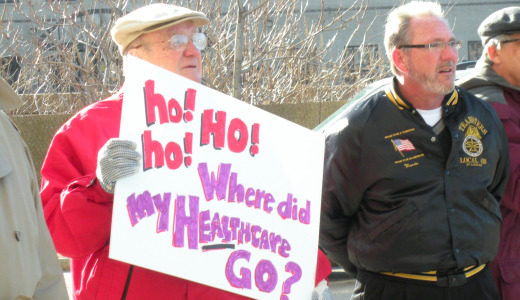 ST. LOUIS – "Lee Enterprises is cutting retirees' health care, not because they are losing money, but because they want more profits," said Shannon Duffy, business manager for the St. Louis Newspaper Guild to about 100 Guild members and supporters as they rallied outside the St. Louis Post-Dispatch building here Dec. 15.
Lee Enterprises, which owns the St. Louis Post-Dispatch, recently canceled the company-paid health insurance plan for retirees. Most retirees received notices in the mail post marked Dec. 4, just weeks before the Christmas holiday. They will lose their health care subsidy effective January 1, 2010.
"They are going after everybody," Duffy continued. "They don't care what time of the year it is. This is all about corporate greed. They are making profits off of your backs."
According to Dan Mckay, president of the Teamsters Local 600, "corporate greed is a spreading disease taking over our country. It has to stop."
Some retirees have monthly health care plans costing over $1,500. Additionally, the St. Louis Newspaper Guild expects Lee Enterprises to attempt to cut health care benefits during the next round of contract negotiations for current members. The St. Louis Newspaper Guild represents over 300 news and advertising employees at the Post-Dispatch.
In 2008 Lee Enterprises CEO Mary Junck received a $2.5 million compensation package, and Lee CFO Carl Schmidt received $1.2 million in compensation. Lee is based in Davenport, Iowa and owns 53 newspapers across the country.
"For executives to enrich themselves while cutting health care for the elderly is morally repugnant," said Duffy.
According to the Guild, union members were promised company-paid health care for life. As a result, many retired before becoming eligible for Medicare. In many cases, health care premiums exceed company pensions.
"Lee is reneging on a promise made to men and women who dedicated their working lives to the Post-Dispatch," said Duffy. "That promise is explicit in union contracts."
The Guild is currently pursuing a lawsuit against Lee aimed at forcing it to pay the full cost of retiree health care.
Photo: PW/Tony Pecinovsky
TOWN HALL May 2 – Confronting the COVID Economy: Women Fight Back