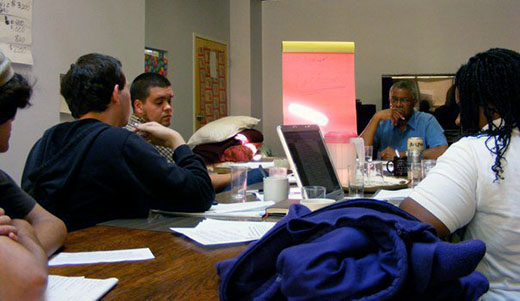 With the sounds and images of workers marching, sitting-in and protesting Republican attacks on collective bargaining and ideas like class struggle, corporate profits, solidarity and even whispers of a general strike in the air, it's no wonder that young activists are flocking to the Red School Bus Tour, sponsored by the People Before Profits Education Fund.
The first stop on the tour was Los Angeles in February, where over 50 students from the west coast participated in the three-day school. "Twenty attended the classes in person and 30 participated online," said Jordan Farrar, national coordinator of the Young Communist League. "It was awesome." Farrar, a native of Baltimore, traveled to LA to help organize the school.
A video of students talking about the school can be seen below.
"We did outreach at several community colleges and a few students came as a result" said Farrar. "And I was really surprised by the number who came online," he continued. The largest turnout was for the class on LGBT rights. It was amazing."
Classes at the school were on the "political time of day," capitalism, the labor movement, racism and immigration and LGBT rights. Discussion leaders were veteran activists and labor leaders from the Communist Party.
The next stop on the Red Bus Tour is New Haven, Connecticut, April 1st – 3rd at the New Haven Peoples Center. Activists from all over the east coast are expected. "We've been doing outreach to several youth organizations in New Haven," said Lisa, an organizer of the YCL school and conference, "There's a lot of excitement about it."
"At one outreach meeting, there was a big discussion about communism. We cleared up some people's misconceptions and expect a big delegation from the group," she said.
Hip Hop and spoken word artists, documentary filmmakers and other young artists plan to make presentations at the event. A slide show on the 17th World Festival of Youth and Students held last year in Pretoria, South Africa is also planned.
YCL members and other groups helping to organize the school in New Haven are participating in a March 30 march and rally, as part of the labor movement's April 4 protests around the country. "We're combining study and action," said Joelle Fishman, the Connecticut CPUSA chairperson. "It's an exciting moment."
For more information about the school write jfarrar@yclusa.org.
Photo courtesy YCL.