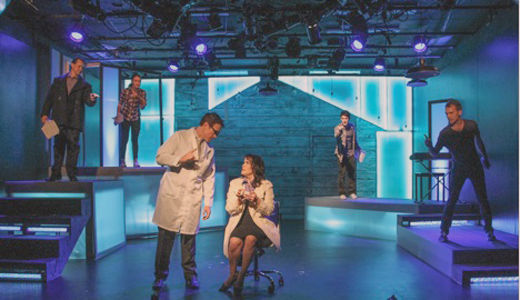 LOS ANGELES – Next to Normal, the musical about bipolar disorder and how it affects a family, first came to light in 2005 and achieved its professional premiere production in 2008. It went on to pick up three Tonys and the Pulitzer Prize.
The guest production by Triage Productions in association with Standing Room Only Productions currently playing at The Pico Playhouse in West L.A., an intimate 99-seat theatre, is a valiant throw at presenting a big powerhouse of a work – with six singing actors and an unseen five-piece orchestra – that in its former life toured major halls around the country. I admit this was my first exposure to the work.
It must have taken herculean courage for Brian Yorkey (book and lyrics) and Tom Kitt (music) to conceive of a musical about so much pain. One might only guess at the personal stories that led them to such a project. In a tight nuclear family of mother Diana (Michelle Lane), father Dan (Nick Sarando), daughter Natalie (Isa Briones) and son Gabe (Harrison Meloeny), everyone is just trying to cope as best they can. The coping, however, can seem like disinterest or even neglect to other family members. None of them are able to relate to the others in supportive ways. This seemingly normal American family is highly dysfunctional: Perhaps in the end something "next to" normal may be the best they can achieve – and could that not also be said of most families?
Two other characters (well, three) are played by two male singer/actors: There are two different psychiatrists, each with a different specialty and approach, both portrayed by Randal Miles, and the daughter's boyfriend Henry (Blaine Miller).
The performers are all excellent, with a special shoutout to young Isa Briones, who is entering her senior year of high school. Natalie more than anyone has borne the brunt of her mother's illness, as Diana has been obsessed by Natalie's older, deceased brother Gabe.
I found the lyrics only intermittently poetic. Oh, they rhymed, but without a great deal of dialogue the songs and recitative had to carry the exposition. The almost continuous flow of music – "through-composed" in academic language – makes Next to Normal almost an opera. The genre is somewhere manic of pop, psychologically heavy of rock, and a little off the country road. Everyone is miked, which is itself unusual in a small house, but perhaps that was required for balance with each other, as multiple voices often sing at once, and with the band.
Next to Normal plays like a hothouse drama, with the intensity of a raging two-hour family therapy session. But that's part of the problem: There was in fact no family therapy. Diana's illness is treated as a problem for this psychotherapist or the other to solve.
Three formal strategies are pursued. At first, Diana relies on her psychopharmacologist, who gives her a rainbow of pills of different colors, sizes and shapes, which actually makes for an amusing musical number. Medication makes her disoriented and listless, so she discards the pills to try an all-talk approach with a different guy (but same actor – all her shrinks are men). That goes south fast. In the end she is strong-armed into electroshock treatment, but this deadens her memory. She has a hard time recovering her personal and family history.
So what happened to the idea of "It takes a village?" Despite the dysfunction in the family, there are no group sessions for all of them to come together and share their experience. Nor is there group therapy for Diana with other bipolar patients. No community programs with restorative activities. No drop-in centers. As I say, a hothouse.
I kept asking myself, how do other countries with better medical outcomes than ours handle acute psychological problems like Diana's? Surely there must be some alternatives to the shuttle back and forth between drugs and electroshock? Diana's case is, of course, not criminal, but we do have a mental health crisis in the U.S. which because of the attention we pay to civil liberties, the large number of veterans with PTSD wandering about, and the easy access to weapons becomes a serious issue of concern to all of us.
Pharmacological treatment is the standard now, as talk therapy has become too expensive, time-consuming and inaccessible for most insured patients. We cannot discount the profitability of the drug regime either. Yet the science is inexact at best, and diagnoses are often squishy. This is not easy. The recent announcement by presidential candidate Hillary Clinton that she aims to incorporate long overdue mental health treatment into the national health care system is most welcome.
Thomas James O'Leary, director, promises "an emotional rollercoaster…an inspiring and touching, if not transformative, experience for audiences," and largely succeeds despite the questionable premises of the book itself. I found the conclusion, cautiously hopeful and ambiguous, rewardingly non-cathartic: This is not a case wrapped up with a neat bow at the end. But still, the next phase of Diana's journey is again another retreat into the hothouse.
The simple but effective scenic design is by Jeff Cason; Matt Richter and Andrew Schmedake's lighting design kept us wandering between real time, memory and demonic possession; busy sound engineer Fritz Davis helped us distinguish the all-important words through all the amplification.
Next to Normal is a guest production at The Pico Playhouse, 10508 W. Pico Blvd., Los Angeles 90064, and plays Fridays and Saturdays at 8 pm; Saturdays and Sundays at 2 pm through September 25. A Q&A talk-back will take place after two Sunday matinees: On Sept. 4 with Jeffrey Seitelman, psychiatrist, and Sept. 18 with Shirah Vollmer, psychiatrist. Advised for ages 13 and up. For tickets and information: www.n2nmusicalla.com or call (310) 204-4440.
Photo: Nick Sarando, Isa Briones, Randal Miles, Michelle Lane, Blaine Miller, Harrison Meloeny | John Dlugolecki