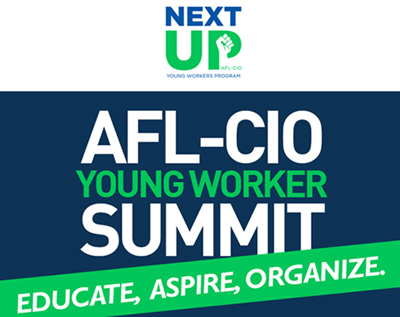 CHICAGO – The AFL-CIO's Next Up Young Worker Summit kicks off here Thursday, when more than 1,000 young union members, students, and community activists will meet to map out strategies to create an economy that works for young people. The society they envision, the young people gathering here say, is one that solves problems of crippling student debt, low and stagnant wages, discrimination in the workplace and a host of other issues faced by young workers.
The summit can be followed on Twitter with the hashtag #1uNextUp and on the Next Up Facebook page here. You also can text NEXT to 235246 for updates and see video reports from the summit here beginning Friday.
The conference, which runs through Mar. 22, will include workshops and training sessions on mobilization and activism, organizing to raise wages, win a voice at work and in political campaigns, local and state issues, gender equality, immigrant rights, veterans' issues, work-life balance and more.
The young activists also will take to the streets in a demonstration outside a McDonald's restaurant, calling for a $15-an-hour minimum wage, supporting the Retail Action Project's #ChangeZara campaign and canvassing for teacher Tara Stamps, a member of the Chicago Teachers Union running for an alderman's seat in Ward 37.
Scheduled speakers include actor Danny Glover, Rep. Keith Ellison, D-Minn., MSNBC contributor Dorian Warren, AFL-CIO officers-President Richard Trumka, Secretary-Treasurer Elizabeth Shuler and Executive Vice President Tefere Gebre-and Illinois AFL-CIO President Michael Carrigan.
The Peoples World will have reporters on the scene at the Hilton Hotel, where the convention is happening, bringing you up-to-date reports.
Photo: Next Up Facebook event page