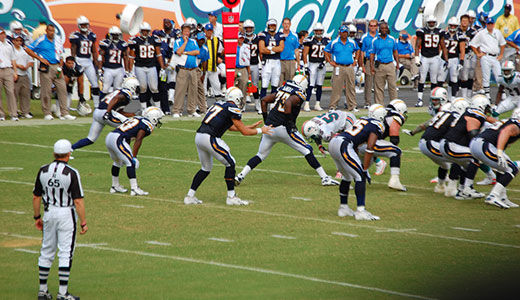 Sparks are flying between National Football League players and their union on one side and NFL owners on the other as the threat of a lockout looms for the 2011-2012 season.
The league's collective bargaining agreement expires in March and the players and owners must agree on a new set of rules governing what percentages of earnings will be spent on salaries, stadiums and other NFL costs.
Manny Herrmann, online mobilization coordinator for the AFL-CIO, wrote in an e-mail message that if a lockout occurs "players won't play, fans won't have a football season and local economies that rely on football will be devastated leaving more people out of work."
What it comes down to is one word: "Greed," he said.
It's estimated a lockout would impact 150,000 jobs and cause more than $140 million in lost revenue in each and every NFL city, some $4.5 billion across the nation. Stadium employees will be jobless, and police officers as well as people employed by sports bars, restaurants, hotels and others will all be affected in the event of a lockout.
"The NFL and team owners don't care what a lockout costs communities and fans – they only care about their own profits," notes Herrmann. "The NFL's set to make billions of dollars, even without a football season. But if they do that, players and fans lose."
He says the NFL system is rigged because owners have already set aside $900 million that should've gone to players' benefits, reserving the money to cover their costs for locking players out. They have also signed TV contracts that will pay out billions of dollars even if no football is played in 2012.
In order to save football next year, to save jobs, the AFL-CIO and supporters are urging people to sign an online petition demanding that the NFL not lock out its players.
Among other things, the NFL wants players to accept a longer season next year – an 18-game schedule instead of the current 16.
The union is looking for a raise and opposes an expanded schedule, noting players are concerned about the further strain on what are already short careers. An average football player will work for only three and a half seasons. Yet the health impacts from playing those seasons can include a lifetime of pain or discomfort and even brain trauma that studies show lead to depression and suicide.
Yet, while the owners want more games, they are offering less-generous health care and other benefits.
If both parties can't come to terms by March the owners will lock the players out of team facilities, meaning no NFL football until further notice.
The players say they will seek legal action against the league for lost wages and broken contractual promises. But federal law prevents a union from suing its employer during negotiations.
So the NFL Players Union is making a controversial move. DeMaurice Smith, Players Union executive director, has been on a two-month tour of team locker rooms, handing out voting cards and receiving unanimous votes in return to decertify the union. More than half of all NFL teams have voted to decertify from the Players Union, most of them voting unanimously.
The move raises eyebrows, but union leaders say they can only sue the NFL during this process if they are technically not a union.
"When the NFL and the owners have taken aggressive action against the players, or they have taken action to restrict employee rights, the union and the players have decertified to fight for those rights in the courts," George Atallah, assistant executive director of the Players Union, told Yahoo Sports. "The owners can't view players as their automobiles – if they break down, you can just replace them with somebody else," he said.
Both Smith and NFL Commissioner Roger Goodell have been to the White House to seek support in the event of a lockout.
As of Sept. 30, the NFL had spent around $1.1 million this year on federal government lobbying, more than triple the union's $340,000. And unlike the union, the NFL also has a political action committee, which made almost $600,000 in campaign donations in this year's elections.
Legal and sports analysts say there is little chance Congress would pass legislation that would affect the labor dispute. What's more likely is the threat of congressional involvement having some impact, they add.
Photo: Mr. Usaji CC 2.0