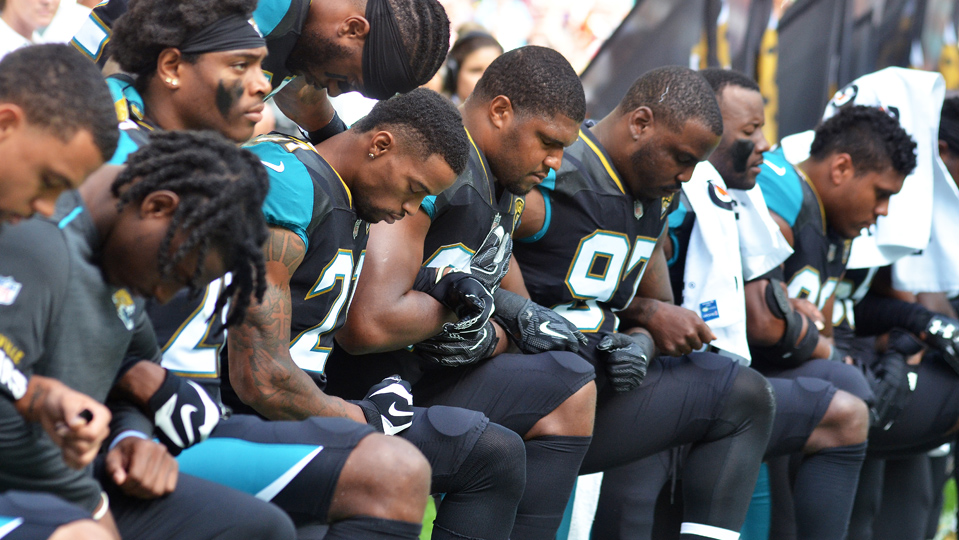 WASHINGTON — The National Football League Players Association (NFLPA) is strongly defending its members—the players on the league's 28 teams—in their battle with Republican President Donald Trump over freedom of speech and player safety.
Not only that, but in a rare show of unanimity, all the players are lined up—voluntarily, in meetings on September 22—against Trump. So did league owners and even NFL Commissioner Roger Goodell.
Trump's attitude that players "should just shut up and play" violates their rights and is disrespectful of them as U.S. citizens, says NFLPA Executive Director DeMaurice Smith.
The union won't win a popularity contest countering that "just play" attitude, Smith admitted, but "we make no apologies for defending our members, and we never will."
Trump started the fight in a campaign speech in Alabama, where he took time out from urging his followers to support an incumbent appointed Republican U.S. senator against a radical right wing former state Supreme Court Chief Justice who does not believe in the First Amendment to the Constitution—or in freedom of everyone to marry whom they want.
Instead, Trump digressed by saying the NFL owners should immediately fire players who kneel down or join hands during the singing of the Star Spangled Banner before games. And he also denounced rules that are supposed to make the sport safer, including rules to cut down on permanent degenerative brain damage from constant head blows the players suffer.
He charged the players are disrespecting the flag and the military, a type of love-it-or-leave-it unquestioning "patriotism" popular with his followers, many of them pro football fans.
The players, who are mostly African-American, are protesting police killings of unarmed African Americans and subsequent acquittals. The players are using the public platform of the NFL to jump-start the national conversation about race. In response to Trump's comments, players on every team and of every race joined hands, locked arms, knelt, or, in three cases, stayed off the field altogether.
At least one owner, Washington's Daniel Snyder, who donated more than $200,000 to Republican candidates and causes over the last decade—though not to Trump—joined them in the on-the-field protests.
Trump kept blasting the players in tweets the weekend after his speech and continued through September 26. NFLPA Executive Director Smith, a former defensive back just re-elected to his job, and union President Eric Winston of the Cincinnati Bengals fired back.
"The peaceful demonstrations by some of our players have generated a wide array of responses," Smith said. "Those opinions are protected speech and a freedom paid for by the sacrifice of men and women throughout history.
"This expression of speech has generated thoughtful discussions in our locker rooms and in board rooms. However, the line that marks the balance between the rights of every citizen in our great country gets crossed when someone is told to just 'shut up and play.'"
The players, Smith added, "are part of a legacy of athletes in all sports who throughout history chose to be informed about the issues that impact them and their communities. They chose—and still choose today—to do something about those issues rather than comfortably living in the bubble of sports.
"Their decision is no different from the one made by countless others who refused to let 'what they do' define or restrict 'who they are' as Americans," Smith said.
"No man or woman should ever have to choose a job that forces them to surrender their rights," he added, even though many legal scholars and worker advocates point out that the Bill of Rights usually stops at the workplace door.
And in a retort to Trump's comments about the rules, Smith declared "no worker or athlete should be forced to become less than human when it comes to protecting their basic health and safety." Studies differ, but medical specialists—other than those NFL teams hire and pay—agree the chance of brain damage from playing football is virtually universal.
Trump's statements "extremely disappointed" Winston. He called them "a slap in the face to civil rights heroes" and to "soldiers who spilled blood in countless wars" to uphold U.S. freedoms and values—freedoms for people of any race, ethnicity, gender or sexual orientation.
"The divisiveness we are experiencing…created gridlock in our political system, given voice to extreme, fringe beliefs and paralyzed our progress as a nation. Divisiveness breeds divisiveness," Winston said. He added NFL players can help unify the nation "in tough times."