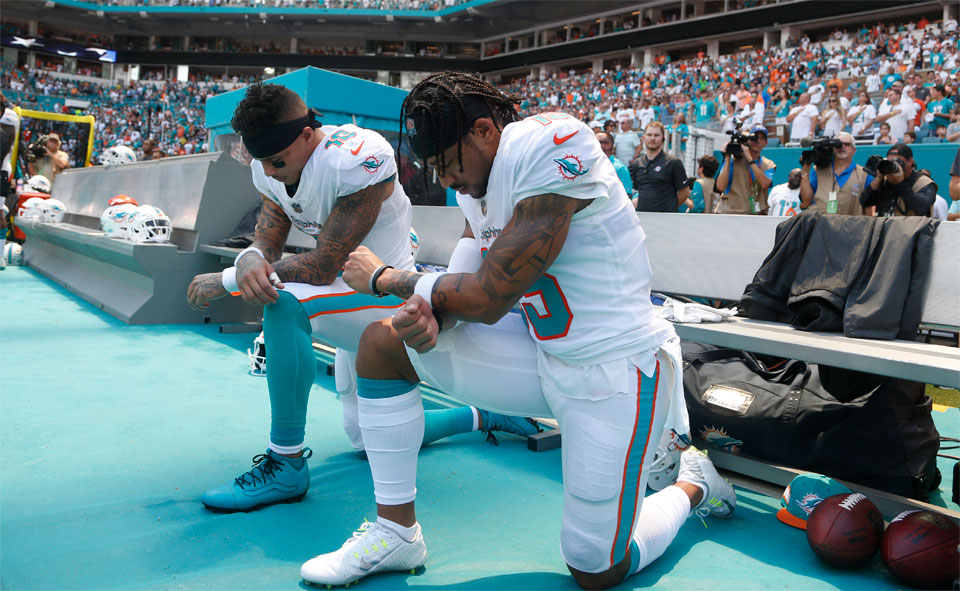 Miami Dolphins wide receivers Kenny Stills and Albert Wilson started their 2018 regular football season—facing the Tennessee Titans—by kneeling in protest during the national anthem. Dolphins defensive end Robert Quinn raised his fist during the song.
Stills and Wilson both kneeled throughout the pre-season and have made it clear they plan to continue protesting racism and police brutality on the field. Stills said he would consider an end to the direct action if former San Francisco 49ers quarterback Colin Kaepernick, who started the take a knee movement in 2016, and former 49ers safety Eric Reid were signed by a team.
Kaepernick and Reid have filed separate collusion grievances against the NFL, each alleging the teams conspired to keep them off the field.
Their act of solidarity was a powerful message to the league and fans who still believe it's "about disrespecting the flag."
"My Brothers @kstills and @ithinkisee12 continue to show their unwavering strength by fighting for the oppressed! They have not backed down, even when attacked and intimated. Their courage will move the world forward," tweeted Kaepernick (right). "Love is at the root of our resistance."
In the face of criticism, Stills insists it has nothing to with the military or law enforcement. He says he only wants police to be held accountable.
"It shouldn't be this complicated," Stills said to the New York Times. "There are people in this country who are saying there are issues we want to bring to light, can you help us make change? Instead of people saying, yeah, let's do this, let's make change, let's make our country a better place, it's like, no, don't do this then, this isn't the right place, you don't like the police."
San Francisco 49ers wide receiver Marquise Goodwin also raised his first during the anthem. Denver Broncos wide receiver Demaryius Thomas and linebacker Brandon Marshall stayed in the locker room.
Coming as no surprise was a tweet from Donald Trump (left), taking a shot at Thursday night's low ratings during the season opener between Philadelphia and Atlanta, and linking it to players who "refuse to stand for the anthem."
"Wow, NFL first game ratings are way down over an already really bad last year comparison. Viewership declined 13 percent, the lowest in over a decade. If the players stood proudly for our Flag and Anthem, and it is all shown on broadcast, maybe the ratings could come back? Otherwise worse!" read his tweet.
Obviously, Trump didn't watch the game. NBC aired the anthem Thursday night, and no players took a knee—including Malcolm Jenkins.
Jenkins, players coalition leader, said he wanted to move focus away from the anthem.
"I think there's a huge need for us to turn the attention to not only the issues but what players are actually doing in their communities to promote change," he said. "We're trying to move past the rhetoric of what's right or what's wrong in terms of the anthem, and really focus on the systematic issues that are plaguing our communities."
Low ratings could also be attributed to the 45-minute rain delay in Philadelphia.
Of course, knowing this would require Trump to look at facts, those pesky little things he's not too fond of.
With the arrival of the regular season, the NFL and NFL Players Association have yet to reach a settlement regarding the revised national anthem policy currently on hold.
According to NFL insiders, the league is not expected to implement a new policy on the national anthem this season, no matter how many discussions or meetings occur.
The new policy will be no policy—at least for now.