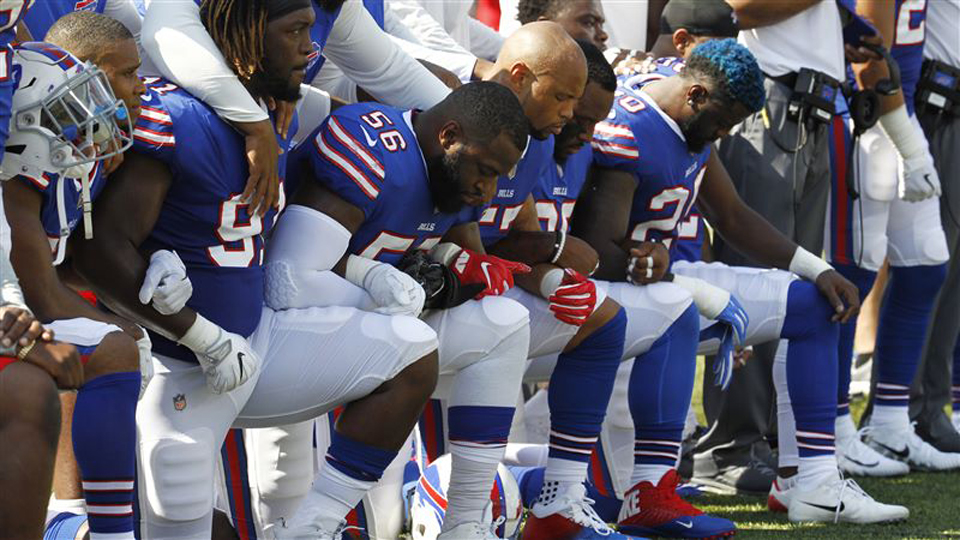 Of all the asinine decisions made by the National Football League over the years, last Wednesday's announcement by NFL CEO's and owners outlining a new national anthem policy—forcing players to either stand for the anthem if on the field, or giving them the option to stay quiet and away from the cameras inside the locker room—tops them all.
In one fell swoop, the NFL moved to silence player activism, while bending the knee and kissing Trump's golden ring—obviously a fake gold-plated ring for a fake golden president.
I spent all of yesterday pacing up and down the office, thinking of a way to start this story.
At first, I began to pen an eloquent eulogy for the NFL's funeral, but kept getting stuck on Rome, Caesar, and Pontius Pilate. Then it went to a hellfire-and-brimstone speech against the policy, calling upon some Old Testament wrath against Roger Goodell and the NFL's management team.
Finally, I gave up.
This is the world we live in.
Racism and oppression are accepted and normalized at the highest levels of political office, while the voices of all oppressed people are silenced and pushed back into the dark.
What a shame. We have become that which we claimed to stand against—fascism, extreme nationalism, isolationism, anti-immigrant—as "Americans" living the "American Dream." More like an American Nightmare wrapped up in "America First" rhetoric.
It is also a shame that the protections granted to us under the First Amendment of the Constitution do not extend into private enterprise—allowing the league to take such drastic steps.
Thankfully, this is where labor unions—the NFLPA in this case—come in and pick up those fights for our rights that were left out, even if always under constant attack by the political powers that be.
As for the forced policy, reactions varied widely across the league. Trump, as expected, cheered on the policy but took it a step further: "NFL players unwilling to stand for the national anthem should be barred from playing and maybe "shouldn't be in the country," said Trump Wednesday on Fox and Friends. "You have to stand proudly for the national anthem or you shouldn't be playing, you shouldn't be there, maybe they shouldn't be in the country."
Trump continued his "bigly" comments saying that the owners "did the right thing" and that it was we, the American people, who pushed this issue forward, not him—though his tweets read otherwise.
Adding insult to injury, Trump posthumously pardoned Jack Johnson, former African-American Heavyweight boxing champ imprisoned for violating the Mann Act in 1913 which made it a felony to transport a white woman across state lines for "immoral purposes." I'm convinced this was nothing more than a well-timed PR stunt, bordering on the "I'm not racist because I have Black friends" excuse.
Speaking of team owners, this is what some had to say:
New York Jets CEO Christopher Johnson said to Newsday: "If somebody [on the Jets] takes a knee, that fine will be borne by the organization, by me, not the players. I never want to put restrictions on the speech of our players. Do I prefer that they stand? Of course. But I understand if they felt the need to protest. There are some big, complicated issues that we're all struggling with, and our players are on the front lines."
Indianapolis Colts owner Jim Irsay: "I, along with Colts players and employees, remain committed to utilizing our unique platform to address social issues and community ills in a positive manner. The NFL's new anthem policy and corresponding statement reinforces that commitment and our patriotism should never be in doubt."
Philadelphia Eagles owner Jeffrey Lurie: "I have always believed it is the responsibility of sports teams to be very proactive in our communities. In this great country of ours, there are so many people who are hurting and marginalized, which is why I am proud of our players for continuously working to influence positive change. Their words and actions have demonstrated not only that they have a great deal of respect for our country, but also that they are committed to finding productive ways to fight social injustice, poverty and other societal issues that are important to all of us. We must continue to work together in creative and dynamic ways to make our communities stronger and better with equal opportunities for all."
The Players:
"He's an idiot, plain and simple," said Seahawks wide receiver Doug Baldwin Thursday in a news conference. "I mean, listen, I respect the man because he's a human being, first and foremost. But he's being more divisive, which is not surprising. It is what it is.
"But for him to say anybody who doesn't follow his viewpoints, or his constituents' viewpoints should be kicked out of the country, it's just not very empathetic. It's not very American-like, to me. It's not very patriotic. It's not what this country was founded upon. So it's kind of ironic to me that the president of the United States is contradicting what our country is really built on."
Philadelphia Eagles defensive back Malcom Jenkins: "What NFL owners did today was thwart the players' constitutional rights to express themselves and use our platform to draw attention to social injustices like racial inequality in our country. Everyone loses when voices get stifled.
"While I disagree with this decision, I will not let it silence me or stop me from fighting. …For me, this has never been about taking a knee, raising a fist or anyone's patriotism but doing what we can to effect real change for real people."
Eagles defensive lineman Chris Long: "This is fear of a diminished bottom line, it's also fear of a president turning his base against a corporation. This is not patriotism. Don't get it confused. These owners don't love America more than the players demonstrating and taking real action to improve it. It also lets you, the fan, know where our league stands.
"I will continue to be committed to affecting change with my platform. I'm someone who has always looked at the anthem as a declaration of ideals, including the right to peaceful protest. Our league continues to fall short on this issue."
Seahawks quarterback Russell Wilson: "I think we're focusing on the wrong things. … No policy is going to fix our problems that we have in America right now. It's not going to fix all the shootings that are happening. It's not going to fix all the racial tension, some policy for the national anthem. I think we're getting distracted a little bit about what that means. Now, I have family that have served, Ciara's dad, so I respect the military part of that and what that means and the freedom of that and what they give us. But at the same time, I think we need to be focused on how we can help our communities and how can we help our high schools, how can we help the minority communities, African American communities."
And finally, DeMaurice Smith, executive director of the union, the NFLPA:
"History has taught us that both patriotism and protest are like water; if the force is strong enough it cannot be suppressed. Today, the CEO's of the NFL created a rule that people who hate autocracies should reject. Management has chosen to quash the same freedom of speech that protects someone who wants to salute the flag in an effort to prevent the freedom of some who do not wish to do so from carrying out their rights. The said irony of this rule is that anyone who wants to express their patriotism is subject to the whim of a person who calls himself an 'owner.'"
"I know that not all of the NFL's CEO's are for this and I know that true American patriots are not cheering."
This fight is far from over,  and will likely escalate as all the pieces continue to move.
The crimes of the NFL keep stacking up.
And I call on "patriots" to act by fighting back against the league and systemic oppression within our local communities.
Because if we don't, are we then truly deserving to be called patriots?