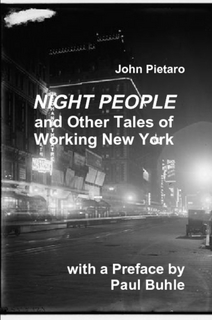 Night People and Other Tales of Working New York is a new collection of short stories and poems reflecting the struggles of average citizens and workers in New York City and beyond. Author John Pietaro draws from his personal city experiences and presents some very human characters that readers are sure to connect with. With an easily flowing style throughout the 121 pages, he reveals the daily grind of workers, empathizes with souls who are in need, and also confronts the city itself and what it means to live there.
Pietaro is a professional musician, writer, activist and union organizer, and has been on the front lines where his stories take place. These tales put the readers directly onto the streets of New York City. The daily experience of riding the subway to work is a recurring theme. From the mid-winter stillness of Coney Island and its Wonder Wheel, you actually feel as if you boarded the train and are holding onto the pole as you rumble towards Manhattan. The city may come across as cold and harsh, but definitely home. From afar, the writer proclaims, "New York City is not a collection of people and things, but one massive, wriggling organism." Up close though, these people and their struggles are very real. Pietaro explores the love/hate attitudes residents often have with their familiar surroundings, wherever home may be.
The individual stories are intense glimpses into personal lives. In a subtle noir fashion, you feel as if you eavesdropping on their dilemmas before they disappear around a city corner towards an unknown fate. A small slice of daily existence, but a powerful one. Pietaro's straightforward urban style is reminiscent of beat literature, with a clear progressive view. Readers walk along with a struggling writer who won't give up, a night waitress and her co-workers, and an overnight security guard who goes through the motions. "The Right Side of The Road" is about an African American woman who seems to question her faith in a fast-paced, unjust world. "On The Lost Boulevard" is a heartfelt tale of a homeless man attempting to stay warm on a bitter New York City night, as his mind recalls the failings of his past and how he got to this point. The story will cause some readers to pause, realizing that on any given evening this fate is reality for many. One story, "The Old Neighborhood," explores the prejudices that arise when the cultural and ethnic makeup of a residential area undergoes major shifts, sometimes with tragic results.
Pietaro's experience includes time spent as a social worker and an HIV/AIDS case manager. This is reflected in his poetry. "Outside," a short poem, cuts to the heart of anyone who has been personally affected by HIV/AIDS. A few words deliver enormous emotion. The author also captures nuances such as an unemployed man noticing another worker's photo ID tag, and recalling how he once thought his own was a nuisance until he no longer had it. Although the inner city is well represented, a few stories take place in upstate New York. A young jazz musician leaves Brooklyn for Woodstock, and a psychologist gets unexpected results from an act of kindness on Christmas Day. This is an eclectic collection that reflects the author's many experiences.
Night People and Other Tales of Working New York carries on the strong tradition of proletarian literature. The "proletariat" are the everyday workers of the world who must offer their labor as a means of sustenance. They are our neighbors, friends, and family. They are us. Leftist historian Paul Buhle contributes an informative preface that explores the long line of working class fiction. He notes that 19th century literature, at its most popular, was about working people, such as the novels of Charles Dickens. This tradition carried on into the 20th century with writers such as Richard Wright and Nelson Algren. Buhle praises John Pietaro for continuing the stories of working class folks into the new century.
Most everyone who reads this collection will relate to one or more characters and their struggles. Equally important, this book helps open eyes a little wider about our fellow human beings. It may change the way you observe people the next time you walk down a city street. A little book can do wondrous things.
Book information:
Night People and Other Tales of Working New York
By John Pietaro
2013, paperback, 121 pages, $11.67