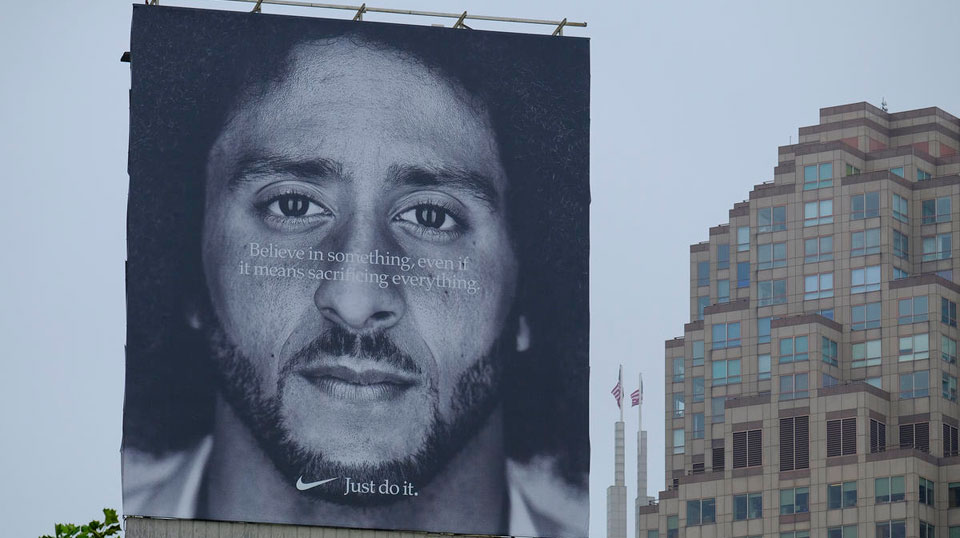 "Just as early industrial capitalism moved the focus of existence from being to having, post-industrial culture has moved that focus from having to appearing." – Guy Debord
Welcome to the spectacle of modern-day advertising—the fetishism of commodities as Karl Marx put it.
Our existence is now made up of constant streams of questionable information, false notions, and co-opted social justice movements.
Things that were once directly lived are now lived by proxy.
All this brings us to the partnership between Nike, Colin Kaepernick, the "take a knee" movement, and the fight for Black lives—some things are too good to be true.
While Nike's September 3 announcement of Kaepernick being the face of its "Just Do It" campaign drew immediate backlash from the conservative consumer base—many of them taking to social media, burning their Nike sneakers, cutting up their Nike socks and shorts in protest, and saw investors running off towards greener pastures, leading to a nearly three percent drop in stocks, the company stood by its decision.
"We believe Colin is one of the most inspirational athletes of this generation, who has leveraged the power of sport to help move the world forward," said Gino Fisanotti, Nike's vice president of brand for North America, to ESPN Monday, September 3. "We wanted to energize its meaning and introduce 'Just Do It' to a new generation of athletes."
Yes, Colin Kaepernick is an inspirational athlete and activist. The movement he started in 2016 has pushed us to take a hard stand for Black lives, against racism and police brutality, and will continue to inspire activists for generations to come.
There's just one catch: Nike's show of support for social justice movements, pithy soundbites to the media, and political alliance with progressive activists is by no means an effort to "do the right thing."
Marx observed in Das Kapital that within the capitalist mode of production, materials are evaluated not by the purpose they serve, but by their value in the market.
For Nike, this meant tapping into a new progressive consumer base.
"Nike knows its consumer base, which skews younger," said Art Hogan, chief market strategist at B. Riley FBR. "I don't think they just randomly decided to put this ad out, thinking, 'Let's commit to political-correctness suicide.'"
"People vote with their wallets, and the one clear winner in athletic apparel remains Nike," he continued.
Nike's market value has risen by $6 billion since partnering with Kaepernick, and Nike stock shares have rocketed up to 36 percent, making the company the top performer on the Dow's index of 30 blue-chip stocks according to a report by CBS.
So where is all this profit going? Into Republican pockets.
A new report from the Center for Responsive Politics, a non-profit, non-partisan research group, shows Nike employees and its political action committee have donated more than three times as much money to Republican candidates as democratic challengers for the 2018 elections–$424,000 to the Republican party, $122,000 to the Democratic party.
"During the 2010, 2012 and 2014 election cycles, Nike gave hundreds of thousands of dollars to Republicans, with 76 percent, 69 percent and 59 percent of their contributions going to the GOP in each of those cycles respectively. Nearly half of Nike's political spending has come from individual contributions made by co-founder Phil Knight and his wife Penny," read the report.
The Knight family also gave $1.5 million to Republican Knute Buehler in his race for Oregon governor against incumbent Kate Brown, a Democrat. It was the largest individual contribution to an Oregon candidate since the state began tracking donations electronically in 2006.
Compared to Nike's rivals, New Balance employees—primarily their owner James S. Davis and family—have given most of their political contributions to conservative outside groups and Republicans, while Adidas and Under Armour have donated more to Democrats. Since 1996, Adidas, German-owned, and its employees have only made $139,000 worth of political contributions with 71 percent of their money going to Democrats and 21 percent of it going to Republicans. Under Armour employees have given a total of $166,000 with 84 percent of it going to Democrats and 15 percent going to Republicans.
Makes you think twice about where to spend your money, doesn't it?