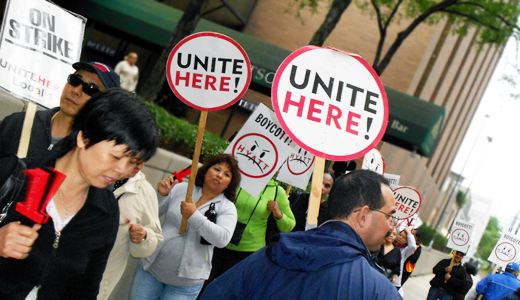 PHOENIX – The National Labor Relations Board's regional director in Phoenix has thrown the book – or, rather, the company employee handbook – at the Hyatt Hotel chain, arguing that massive sections of it are illegal.
In a mid-March filing, after he got the complaint from Unite Here and workers in Phoenix, regional director Cornele A. Overstreet said Hyatt is breaking labor law, chain-wide, by censoring workers' communications on social media such as Facebook and Twitter. A formal hearing on the case is scheduled to start May 2 in Phoenix.
The Phoenix case is important because Chicago-based Hyatt, owned by the Pritzker family – wealthy backers of President Obama politically – has run a huge nationwide campaign against Unite Here. That campaign includes illegal firing of veteran housekeepers from its hotels in Boston and sexual harassment by hotel management in one Hyatt in California. The handbook gives Hyatt leverage.
Overstreet also said Hyatt breaks labor law in the handbook by ordering workers to report colleagues who use social media in ways to "disparage" Hyatt or to "reveal confidential information." In short, the handbook orders workers to snitch.
And the hotel company also breaks labor law by the handbook's order that all workers are employed "at will," he added.
"I understand my employment is 'at will.' This means I am free to separate my employment at any time, for any reason, and Hyatt has these same rights. Nothing in this handbook is intended to change my at-will employment status. I acknowledge that no oral or written statements or representations regarding my employment can alter my at-will employment status, except for a written statement signed by me and either Hyatt's Executive Vice-President/Chief Operating Officer or Hyatt's President," the handbook says. Overstreet underlined the sentences that break labor law.
Overstreet says the handbook's bans on Hyatt workers' use of social media for various purposes are "overly broad and discriminatory." The social media case arose in Phoenix because local managers there enforced the handbook against their workers.
And he also singled out the unlimited management discretion in the handbook.
"Management reserves the right to determine when an associate's activities represent a conflict with the company's interests and to take whatever action is necessary to resolve the situation, including terminating the associate," the handbook declares. That, too, breaks labor law, as it is "overly broad and discriminatory," Overstreet says.
Photo: Blake Deppe/PW