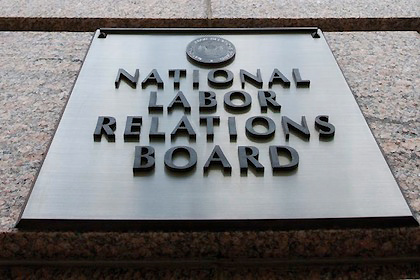 For companies, labor law-breaking may get more expensive – unlike what happened to Alice Keyes 17 years ago, and since then.
Then, Nortech Lumber of Roseville, Calif., retaliated against Keyes, an Operating Engineers Local 3 activist, by shifting her – despite her carpal tunnel syndrome – to an arduous, isolated job of having her pull nails from boards outdoors. And when she couldn't do that because of rain, Nortech found other back-breaking tasks for her.
The jobs only made her ailment worse, and Keyes had to take time off, and spend a lot of money on doctors, before she could return to work.
Keyes went to the National Labor Relations Board (NLRB) with a labor law-breaking charge against Nortech, and it ruled for her, two years later. The NLRB gave Keyes net back pay and ordered Nortech to give her back her original job, on lumber sorting lines.
But, unlike its judge back then, the board left her stuck with the medical bills.
Now, the board's general counsel's office – its enforcement arm – wants to change that scenario, and not just for medical bills, either.
In a July 28 memo, Associate General Counsel Anne Purcell tells regional offices how to file for reimbursement of other expenses, such as late fees for past-due mortgage payments or outlays for specific illnesses workers must pay out of pocket – expenses they get hit with when they lose jobs and health insurance due to company labor law-breaking. And she goes into detail about which expenses can be covered, and which can't.
"The board should not require the victims of unfair labor practices to bear the consequential costs imposed on them by a respondent's unlawful conduct," Purcell's memo says.
Covering more of an illegally fired worker's expenses – regardless of how much or how little – goes beyond labor law's standard remedy: Reinstatement of the worker with net back pay, which is what Keyes got 15 years ago when she won her case against Nortech.
Relief of the worker which labor law "empowers the board to grant is to be adapted to the situation which calls for redress," Purcell adds. She cites the Nortech case as an example.
Purcell's memo does not go whole hog for workers, however: If the injured worker loses her house while being jobless because she can't make the mortgage payments, the board won't order the company to pay her enough to recover the house.
But a board regional director or ALJ can order the offending employer to pay her late fees on the mortgage payments, if she manages to hang onto the house.
"If an employee suffers an economic loss as a result of an unlawful elimination or reduction of pay or benefits, the employee will not be made whole unless and until the respondent compensates the employee for those consequential economic losses, in addition to back pay," Purcell's memo says.
"For example, if an employee is unlawfully terminated and is unable to pay his or her mortgage or car payment as a result, that employee should be compensated for the economic consequences that flow from the inability to make the payment: Late fees, foreclosure expenses, repossession costs, moving costs, legal fees, and any costs associated with obtaining a new house or car.
"Similarly, employees who lose employer-furnished health insurance coverage as the result of an unfair labor practice should be compensated for the penalties charged to the uninsured under the Affordable Care Act and the cost of restoring the old policy or purchasing a new policy providing comparable coverage, in addition to any medical costs incurred due to loss of insurance coverage that have been routinely awarded by the board," it adds.
Paying the workers for the economic costs of being illegally fired achieves one labor law goal, Purcell adds. But it's not deterrence. The goal is "the (National Labor Relations) Act's remedial purpose of restoring the economic status quo that would have obtained but for a respondent's unlawful act." But added costs "can't be punitive" of the firm, either, Purcell says.
The new memo goes beyond a 1954 NLRB ruling that "the board draws a distinction between expenses directly attributable to a search for interim employment and other losses or damages incidental to the discrimination," according to a Boston College Law Review article.
"For example, where a claimant suffered a $200 loss on recently purchased furniture which she had to sell in order to accept a job in another state, the board refused to allow such loss as a deductible expense. Also disallowed as expenses are foreclosures of houses, automobiles, appliances and the like, resulting from a claimant's inability to maintain installment payments during the back-pay period."
In Keyes' case, Administrative Law Judge James Kennedy recommended Nortech pick up her medical bills, which were quantifiable, but not money for pain and suffering, which wasn't. The board hedged.
Citing two federal court rulings from the late 1990s, the NLRB said it would "not deny the requested reimbursement of medical expenses, but instead provided for the customary make-whole remedy, specifically leaving to the compliance stage of the proceeding the question of whether the employees incurred medical expenses attributable to the respondents' unlawful conduct. In the exercise of our remedial authority, we find it appropriate to follow the same procedure here."