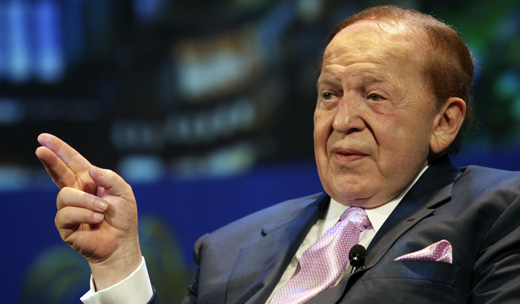 BETHLEHEM, Pa. (PAI)–The National Labor Relations Board has ordered the Sands Casino in Bethlehem, Pa., owned by GOP heavy hitter Sheldon Adelson, to bargain with the independent union its security guards voted for almost a year ago.
In its 3-0 vote on May 30, the board said management did not raise any issues not covered in its prior campaign against the unionization drive by the Law Enforcement Employees Benevolent Association (LEEBA), an independent union based in Catskill, N.Y. LEEBA won overwhelmingly among the approximately 130 officers.
Adelson owns casinos in Hong Kong and Las Vegas in addition to his small Pennsylvania casino. None of the 40,000 workers at any Sands casino are unionized.
And when Unite Here's largest local, #226 in Las Vegas, tried to leaflet visitors to his casino there eight years ago during an organizing drive, while its members stood on a public sidewalk, Adelson fought that issue all the way to the U.S. Supreme Court. He claimed the sidewalk was private property.
But Adelson is now more widely known as the mogul whose $10 million-plus bankrolled the SuperPAC that kept former GOP House Speaker Newt Gingrich's bid for the party's presidential nomination alive. Adelson is now turning his SuperPAC's giving to funding pro-GOP ads in the fall presidential race and the Senate race in Nevada.
The Bethlehem casino's management tried to raise a new issue before the board, that the union had "impermissibly delegated" its duties to Local 777 – the LEEBA-adopted name for the organizing effort in Bethlehem, taken from luckiest numbers at a casino. Sands sought a hearing on that, but the board turned it down.
"The respondent (Sands) admits, that on March 2, 2012, the union requested bargaining with the respondent. The respondent admits, that by letter dated March 6, 2012, the union was notified the respondent refused to recognize and bargain. There is no indication that any entity other than the certified union has requested, or will request, recognition and bargaining from the respondent," NLRB said. So, no new hearing is needed, it added.
Sands said it would appeal the board's ruling to federal court in D.C., further delaying bargaining. That disappointed the union, its leaders told media outlets.
"On July 22, it's going to be a year since we voted to get the union in," said George Bonser, the guards' lead delegate. "We were hoping to sit down and negotiate."
LEEBA membership coordinator Peter Luck added Sands "has the right" to take the NLRB's ruling to court. "But our members, at the same time, have the right to organize. At some point in this process it becomes frivolous. I think we're at that point."
Photo: Sheldon Adelson, chairman and CEO of The Las Vegas Sands Corporation in this Aug. 28, 2008 file photo. Kin Cheung/AP