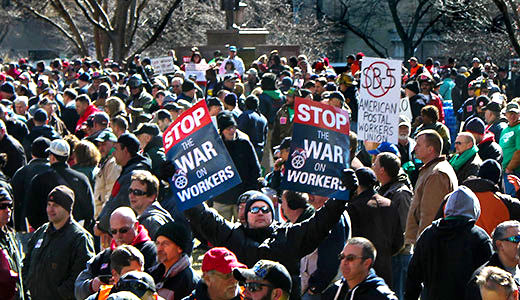 WASHINGTON (PAI) – Seeking to sidetrack Republican grumbling over what the GOP says is the pro-union slant of the National Labor Relations Board, Lauren McFerran, President Obama's latest nominee to an NLRB seat, pledged she'll bring a judicial attitude to the five-member panel.
The grumbling and responses came at a Nov. 20 Senate Labor Committee hearing on her nomination. Sen. Tom Harkin, D-Iowa, the panel's retiring chairman – and McFerran's current boss – said the committee would vote on her nod after Thanksgiving.
Obama nominated McFerran, now the committee's Chief Labor Counsel, to replace current NLRB member Nancy Schiffer, whose term expires Dec. 16. If Schiffer leaves, with no replacement, the board would be split 2-2 in partisan terms.
Democrats, led by Harkin, supported McFerran, asked general questions, or lamented that GOP obstructionism derailed a prior Obama nominee, Sharon Block. Republicans who attended, Sens. Lamar Alexander, R-Tenn., and Richard Burr, R-N.C., were another matter.
Each tried to get McFerran to commit herself on a specific hot issue. She politely declined.
Alexander – who will chair the committee when the GOP takes Senate control on Jan. 3 – raised the issue of whether student-athletes are "employees" organizable under labor law, as the board's regional director in Chicago ruled in a case involving Northwestern University football players. Alexander's against it, and says that making them employees would destroy intercollegiate athletics. The NLRB is currently considering the case.
Burr asked her opinion on whether big franchising firms like McDonald's are jointly responsible with their franchise holders -local restauranteurs – for obeying labor law.
NLRB General Counsel Richard Griffin decided earlier this year, in a case pro-worker advocates brought against McDonald's, that in many cases, the franchising corporation and the local franchise-holder are jointly responsible for obeying labor law at a franchise outlet. That could stop franchising in its tracks, Burr claimed.
"The job of the board is to interpret and implement the law as fairly and as efficiently as possible," McFerran said in prepared testimony. "My role model in this work" will not be lawmakers whom she served on Capitol Hill but Carolyn Dineen King, the former chief judge of the 5th U.S. Circuit Court of Appeals. McFerran clerked for King. Clerks are judges' top aides.
"King was a rule of law judge, first, last and always," McFerran explained. "She never wanted a particular outcome in any case. What she wanted us to do as clerks was to help her get the answer right. That is the attitude and approach I would take if confirmed to the board."
Photo: Andrew Samis/We Are Ohio