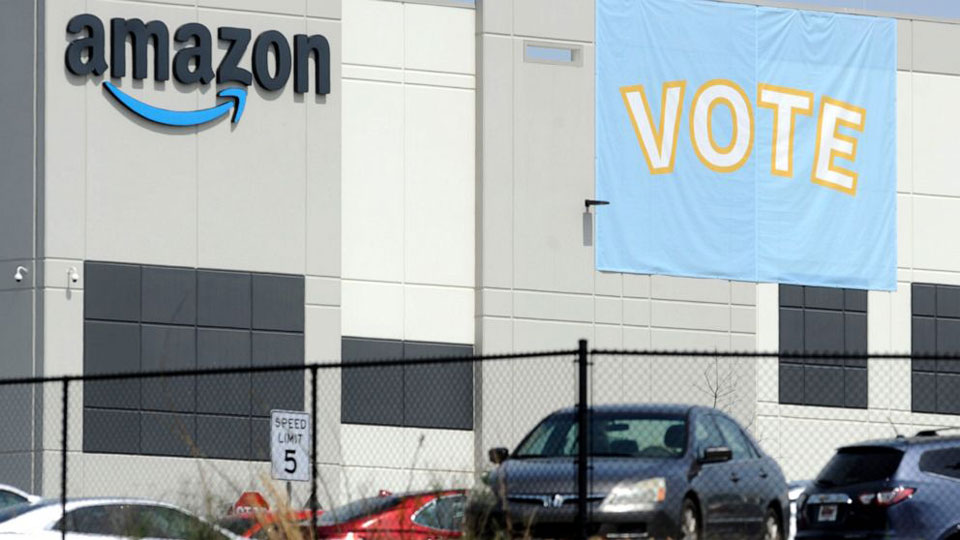 BESSEMER, Ala.—Amazon's labor law-breaking during the widely watched unionization vote at its giant Bessemer, Ala., warehouse earlier this year should lead to a rerun of the Retail, Wholesale and Department Store Union's election try there, a National Labor Relations Board hearing officer ruled.
Details of her decision have not been released, but RWDSU President Stuart Appelbaum announced its bottom line. Amazon promptly said it would appeal the ruling to the board's regional director in Atlanta. That office covers Bessemer and the Birmingham area.
"Throughout the NLRB hearing, we heard compelling evidence how Amazon tried to illegally interfere with and intimidate workers as they sought to exercise their right to form a union," he said.
"We support the hearing officer's recommendation the NLRB set aside the election results and direct a new election. As President (Joseph) Biden reminded us earlier this year, the question of whether or not to have a union is supposed to be the workers' decision and not the employer's.
"Amazon's behavior throughout the election process was despicable. Amazon cheated, they got caught, and they are being held accountable."
RWDSU's complaint to the NLRB, and evidence at a hearing in May, showed 23 company violations of labor law, including illegal threats to lay off 75% of the workers, cut health benefits, and even to close the warehouse. The firm, owned by Jeff Bezos, one of the three richest people in the U.S., spent millions of dollars a day on union-busting after RWDSU's drive began.
RWDSU also cited Amazon's successful pressure on outside agencies for aid against the union. In one case, Amazon got Bessemer authorities to change traffic light timing at the parking lot exit outside the warehouse so union advocates had less time to approach workers sitting in their cars waiting for the light to change.
And Amazon convinced the Postal Service to put a mail ballot drop box under a tent, emblazoned with the company logo and erected in the parking lot.
That prompted one tweeter replying to RWDSU's announcement to wonder how Amazon achieved that feat after Trump-named Postmaster General Louis DeJoy had yanked thousands of blue mailboxes from mostly Democratic central cities nationwide the year before, especially from majority-minority neighborhoods. The Bessemer workforce is majority Black.
Regardless of the ultimate outcome at Bessemer, where a multimillion-dollar company campaign—including illegal threats to close the 5,600-worker warehouse—beat RWDSU, the drive there has set off interest in unionizing among other Amazon workers.
Leading the charge: Workers at Amazon's warehouse on Staten Island, N.Y., where the firm illegally fired a worker Christian Smalls who led a brief lunch-hour walkout last year over company failure to protect workers from the coronavirus. New York Attorney General Letitia "Tish" James is probing whether Amazon broke state labor law by firing Smalls.
Amazon also fired fellow Staten Island worker Christian Bryson after he got into a dispute with a non-walkout worker. In December, an NLRB administrative law judge ruled that firing was illegal, too.
The national publicity also prompted a much larger union, the Teamsters, to announce a multi-year plan to unionize the giant warehouse, product distributor, and retailer.