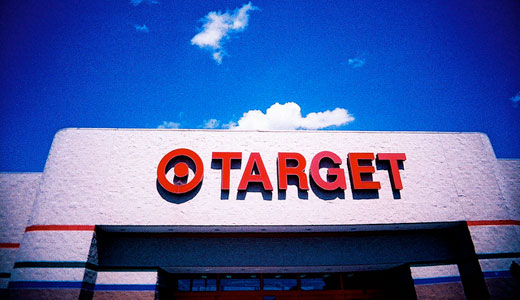 VALLEY STREAM, N.Y. – Saying Target illegally threatened to close its Valley Stream, Long Island, store if United Food and Commercial Workers Local 1500 won a recognition vote there, a National Labor Relations Board administrative law judge ordered a rerun election at the 268-worker store.
If the union wins the second election, the Valley Stream store would be the first of Target's 1,755 stores to be successfully organized. NLRB Administrative Law Judge Steven Davis' May 18 ruling also banned other Target labor law-breaking there.
Davis set aside the first vote, which Local 1500 lost last Jun. 17, 137-85. He said the labor law breaking was led by a management pamphlet with the threat to close. That illegally tainted the vote, he said.
"By distributing a leaflet to its employees in which it threatened its employees that its Valley Stream facility would close if employees chose the union as their collective-bargaining representative, the respondent (Target) has violated" labor law, Davis wrote.
There were also unlawful threats to discipline and fire pro-union workers and unlawful surveillance, among other unfair labor practices, Davis' ruling said.
"We have said from Day 1 that a neutral judge would find that democracy was denied to Target workers," Local 1500 spokesman Pat Purcell told local media. "Target needs to agree that it will no longer engage in these practices at this location."
The Valley Stream store has been closed since April. Target says it's renovating the store, but Local 1500 said that the closure is illegal retaliation for workers' support of the union and filed another unfair labor practices complaint with the NLRB's local office.
Meanwhile, Target is taking over Zellers, a Canadian retailer. Five of Zellers' 15 stores, one in British Columbia, and four in Ontario, are unionized by UFCW Canada. That union launched a public campaign to tell consumers that Target must abide by "successorship" clauses in the Zeller contracts – and Canadian provincial labor laws.
"Our position is that we are asking Target to recognize Zellers workers everywhere, whether a store is union or non-union, and at the very least to let them continue working at the store once it's converted, and to honor the wages, the hours, the benefits that they currently have," Kevin Shimmin of UFCW Canada said.
UFCW Canada has filed a petition with the British Columbian government demanding Target accept successorship rights there, and bargain with the union about the takeover. It plans to file a petition in Ontario, Shimmin added.
Photo: Kevin Dooley // CC 2.0