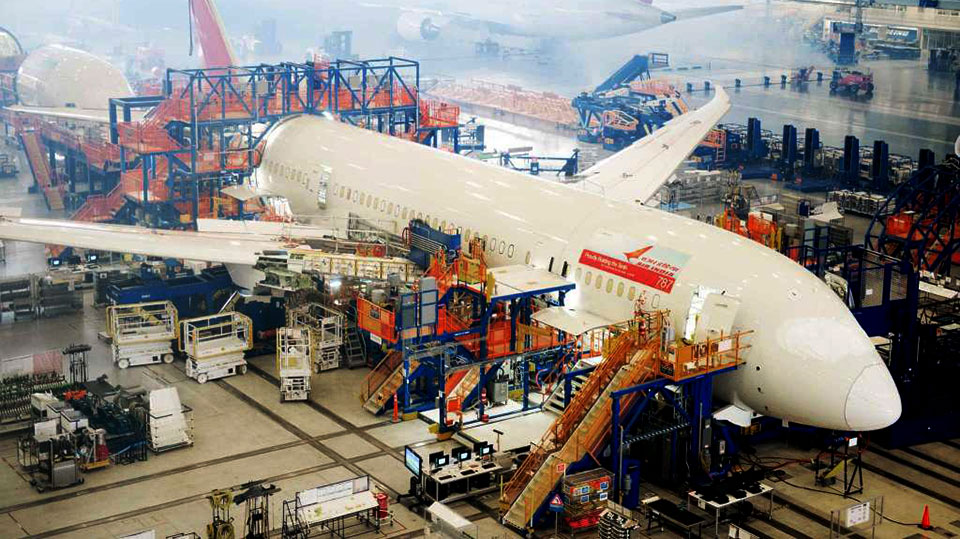 NORTH CHARLESTON, S.C. – The Machinists (IAMAW) have won yet another battle in their ongoing campaign to unionize the workers at Boeing's 787 Dreamliner plant in North Charleston, S.C. The National Labor Relations Board's top regional official decided to press charges against the firm for illegally retaliating and firing five pro-union workers there.
But the August 19 ruling by NLRB Regional Director John Doyle is not the end of the story. Now the whole case has been dumped into the lap of an NLRB administrative law judge, who will schedule a hearing on Boeing's labor law-breaking.
The illegal retaliation grows out of IAMAW's recent success in organizing the 176 flight line inspectors and technicians at the plant. They voted 104-65 in May 2018 to join the Machinists.
Machinists President Robert Martinez called Boyle's ruling "a landmark first step to victory for workers at Boeing South Carolina."
"The historic votes cast by the 176 Flight Readiness Technicians are not a collective vote against Boeing. It was a vote for the return of American prosperity. Unions are the best mechanism for protecting the interest of working men and women. When unions and business collaborate, the American economy prospers and all Americans benefit."
After pointing out Boeing "continuously and systematically ignored the law and trampled on the rights of its own employees in South Carolina," he demanded the firm reinstate the five and sit down to bargain a contract with the flight line workers.
Boeing should "end its scorched-earth anti-union campaign and get back to the business of working with the IAM and our members to build aircraft," Martinez said. The experienced workers who unionized with IAM help ensure the safety of the planes, he noted.
Boeing, however, shows no signs of agreeing.
Not only is it contesting Boyle's ruling, but the Charleston (S.C.) Post and Courier reported that even before Boeing fired the five, it put out an in-house announcement in North Charleston for applicants from other divisions there to take the inspectors' and techs' jobs.
"We applaud the NLRB regional director for following the guidelines of federal labor law and ruling in our favor," the five illegally canned workers said. "Our support for IAM representation should have never been reason to be unjustly fired. We would like to place this behind us. Now is the time for Boeing to do the right thing and allow us to return to work."
Boeing said it fired the five for various violations, including failure to report a bird strike in a Dreamliner engine during a test flight. Boyle dismissed those claims and the five workers called them trumped-up excuses to fire them because of their union activism.
The Federal Aviation Administration, which oversees airliner flight testing and safety, reported there was no bird strike.
One of the five, 27-year-veteran Richard Mester, is so pissed off that he's suing Boeing, too, individually, for slander, wrongful termination and negligent supervision, the Post and Courier reported.
Mester said Boeing's "bird strike" excuse for firing him followed "months of ignored red flags he claims to have raised about repeated safety issues he spotted" while the Dreamliners were built. They included loose nuts and bolts, disappearing tools and loose debris in planes.
More than 70 lawmakers, in a letter to Boeing, denounced the firings, which occurred just before the Christmas holidays in 2018. Rep. Andy Levin, D-Mich., a former union organizer, flatly called them illegal. The letter, drafted by Reps. Mark Pocan, D-Wis., a Painter, and Jan Schakowsky, D-Ill., demanded Boeing obey labor law, rehire the five and bargain with the union.
Boeing's firing of the five is part of a longer pattern of its hostility to the Machinists, especially taking advantage of union hatred among South Carolina state and local officials.
IAM kept trying to organize workers at North Charleston, even though GOP then-Gov. Nikki Haley vowed to keep the state union-free and appointed a known union-buster as labor commissioner. South Carolina is the least-unionized state in the U.S.
Several years ago, IAM had to stop a larger organizing drive at the North Charleston plant, which employs more than 1,000 workers, after organizers reported threats of physical violence against them.
Before that, Boeing moved much Dreamliner production to South Carolina, away from its main airliner plants in the Pacific Northwest, specifically to get away from IAM and its efforts to enforce its contract, the firm's former CEO openly said.
That hostility was illegal retaliation, the NLRB's then-general counsel, Lafe Solomon, the board's top enforcement officer, had to rule after mediation efforts went nowhere.
Solomon charged Boeing with labor law-breaking, and specifically retaliation against the Machinists, by moving the Dreamliner production. Sen. Lindsey Graham, R-S.C., exploded and subsequently filibustered Democratic President Barack Obama's NLRB and other nominees – forcing the change in the Senate rules that ended such talkathons.