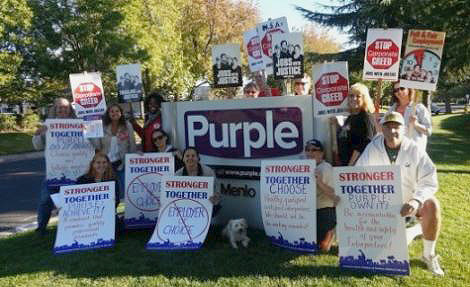 WASHINGTON (PAI) — Reversing an anti-worker ruling by a George W. Bush-named board, the National Labor Relations Board opened employer email systems to workers' communications during non-work hours, just like bulletin boards or other communications systems that labor law recognizes. The board vote was 3-2 on partisan lines.
The Dec. 11 Purple Communications ruling elated Bernie Lunzer, The Newspaper Guild-CWA president. TNG's Eugene, Ore., local was the victim of the Bush-named board's 2007 case, involving the Eugene Register-Guard. TNG brought the current case, too.
Upholding its administrative law judge's 2013 ruling, the NLRB majority opened employer email systems, in what it called "a narrow decision," in a case involving American Sign Language interpreters, Purple Communications and an organizing drive.
Email has now become such a critical component of communications – in and out of unions – that "employee use of email for statutorily protected communications on nonworking time must presumptively be permitted by employers who have chosen to give employees access to their email systems," NLRB Chairman Mark Gaston Pearce's majority opinion said.
"With this decision, the NLRB has taken a major step forward to make sure workers' rights to organize are protected in the 21st century workplace," Lunzer said.
The board majority warned its new email decision "applies only to employees already granted access to the employer's email system in the course of their work and does not require employers to provide such access."
And the board did not address e-mail system access "by non-employees," such as union reps, because – it said – neither the Guild nor Purple Communications raised the issue.
But if a company wants to ban emails, it can't play favorites, the majority warned. And since the employer uses email to tell workers about wages, hours and working conditions, it must let workers use email to communicate about those issues with each other, NLRB said.
"An employer may justify a total ban on non-work use of email, including…use on nonworking time, by demonstrating that special circumstances make the ban necessary to maintain production or discipline. Absent justification for a total ban, the employer may apply uniform and consistently enforced controls over its email system to the extent such controls are necessary to maintain production and discipline," the majority said.
That's "a high bar for the company to prohibit email usage," Lunzer commented.
Purple Communications "maintained an electronic communications policy limiting employee use of its email and other electronic systems to 'business purposes only' and 'specifically prohibiting' certain uses by employees.," the majority said. The NLRB's general counsel-the board's chief enforcement officer – and The Newspaper Guild "ask the board to overrule Register Guard and find the respondent's policy violates the National Labor Relations Act."
"We adopt a presumption that employees who have been given access to the employer's email system in the course of their work are entitled to use the system to engage in statutorily protected discussions about their terms and conditions of employment while on nonworking time, absent a showing by the employer of special circumstances that justify specific restrictions," the board majority said.
The board also made the ruling retroactive, though it did not say how far back that requirement would go. It sent the Purple Communications case back down to its administrative law judge to be retried under the new standard for email system use.
One of the two GOP dissenters, Philip Miscimarra, said workers don't have to use employer e-mail, but can take to Google, Twitter, Facebook, and the like, outside workplaces, for organizing and communications. They're more effective, too, he claimed.
"The majority improperly presumes limiting an employer's email system to business purposes constitutes 'an unreasonable impediment to self-organization,'" he wrote. "Given the current state of electronic communications, there is no rational basis for such a presumption. National uprisings have resulted from the use of social media sites like Facebook and Twitter, for example, even when governments used force to prevent such activities."
Photo: newsguild.org