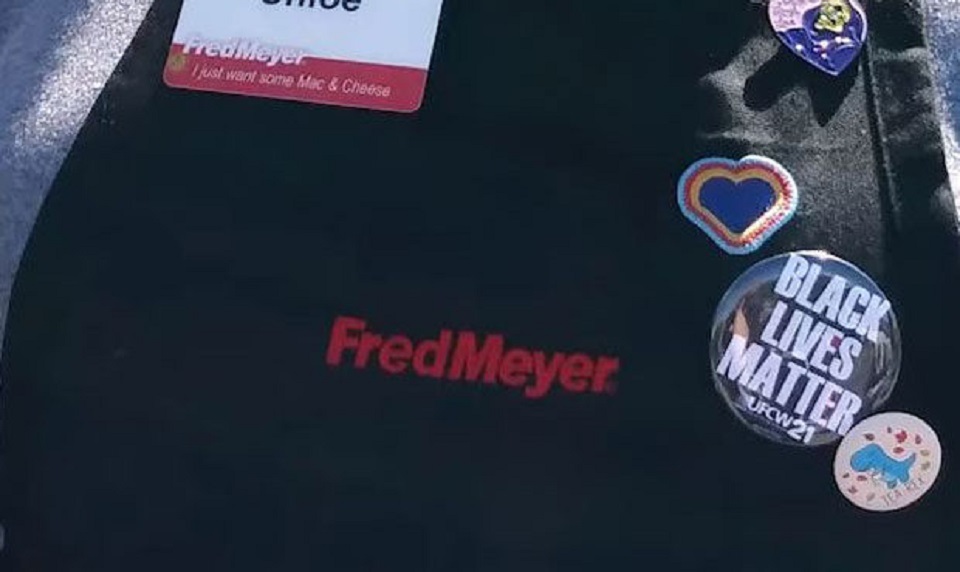 SEATTLE—Companies—in this case Fred Meyer and QFC stores in Washington state—can't cite dress codes to ban workers from wearing Black Lives Matter masks and buttons on the job and allow everything else. And they can't send "offending" workers home without pay, either.
So said National Labor Relations Board Administrative Law Judge Mara-Louise Anzalone in a case involving Teamsters Local 21 and its members against the firms, their parent chain, Kroger, and discriminatory enforcement of its dress code.
Anzalone's May 3 ruling, even though it involves just five Seattle-area stores and one union local, is important because it reinforces a nationwide NLRB principle limiting company manipulation of dress codes.
In so many words, the NLRB has ruled, firms can't use dress codes against one organization's insignia on a worker's uniform or clothes—such as banning union pins—but allow everyone else's.
And that rule applies not just to unionized firms, but all companies and all workers. Any discrimination violates workers' on-the-job labor law rights.
The case occurred at the start of the Black Lives Matter movement, which exploded after Minneapolis Cop Derek Chauvin killed unresisting unarmed Black man George Floyd in 2020 by forcing Floyd to the ground and kneeling on his neck with all his weight.
With Floyd gasping for air, Chauvin kneed Floyd for eight minutes and 45 seconds, killing him as three other cops not only looked on but prevented anyone from coming to Floyd's aid.
Millions of people from coast to coast took to the streets protesting the horrifying act of police murder of an unarmed Black civilian, while also denouncing other police murders of unarmed unresisting Blacks, such as Breonna Taylor in Louisville, Ky., killed in her bed.
The protests spread beyond the streets. In this case, workers in two Fred Meyer stores in Seattle, two others in Burien and Bellingham, Wash., and a Quality Food Center store in Seattle wanted to not only show solidarity with the BLM movement but inform customers about it, too.
Anzalone noted, in passing, that workers of all races agreed—and that an overwhelming majority of the workers were white.
Their method: Wearing BLM buttons or, more prominently, due to the coronavirus pandemic, personal protective black masks emblazoned with the letters BLM in white. The first officially confirmed cases of coronavirus in the continental U.S. were at a nursing home in Bellingham, Anzalone noted in her ruling.
When the BLM movement began, executives, up to and including the then-president of Kroger, told the workers they supported it and said so publicly. But on the store level, managers wanted to control BLM support—by providing wristbands which didn't mention it.
One white-on-black wristband read "Standing Together." The other was blue and listed "Kroger values: Integrity, Honesty, Diversity, Inclusion, Integrity, Safety and Respect," each separated by a small heart reminiscent of the Kroger-values heart symbol.
One manager testified "The wristbands were a compromise intended to offer a message 'that we were hoping everyone could get around' in a way that would not be 'polarizing.'"
And bosses invoked the Kroger company dress code against the workers and their BLM masks and buttons, a first, Anzalone wrote.
Before the BLM protests, workers testified "the dress code was widely ignored" and the company would breach it, too, for such events as Gay Pride Month or Seattle Seahawks football patches on game days.
But workers who refused to remove the BLM buttons and the masks were sent home and their pay was docked, Anzalone added. And the bosses didn't even bother to tell Local 21 what they did, much less bargain over it, as the union contract mandated.
All this broke labor law, Anzalone ruled. That includes the discipline of seven workers and their loss of pay. Anzalone ordered the firm to remove the discipline from the workers' files and repay them, too.
"Documentary evidence shows" the workers "were historically allowed to 'customize" their aprons and masks with self-selected images, slogans, and messages, and" the stores' "departure from this policy in the summer of 2020 to ban BLM and Local BLM buttons and masks represented a significant change."
The stores "argue they never permitted" workers "to display a 'political' message." Anzalone noted the stores' bosses let workers sport "proclamations akin to 'Black Lives Matter,' including pro-civil rights quotes and pro-LGBTQ+ messages.
"That managers found themselves debating workers over the difference between those messages and the forbidden BLM message is proof that respondents had an established practice of permitting messages reasonably considered similar in 'political' character and tone," Anzalone said.
We hope you appreciated this article. At 

People's World

, we believe news and information should be free and accessible to all, but we need your help. Our journalism is free of corporate influence and paywalls because we are totally reader-supported. Only you, our readers and supporters, make this possible. If you enjoy reading 

People's World

 and the stories we bring you, please 

support our work by donating or becoming a monthly sustainer today

. Thank you!