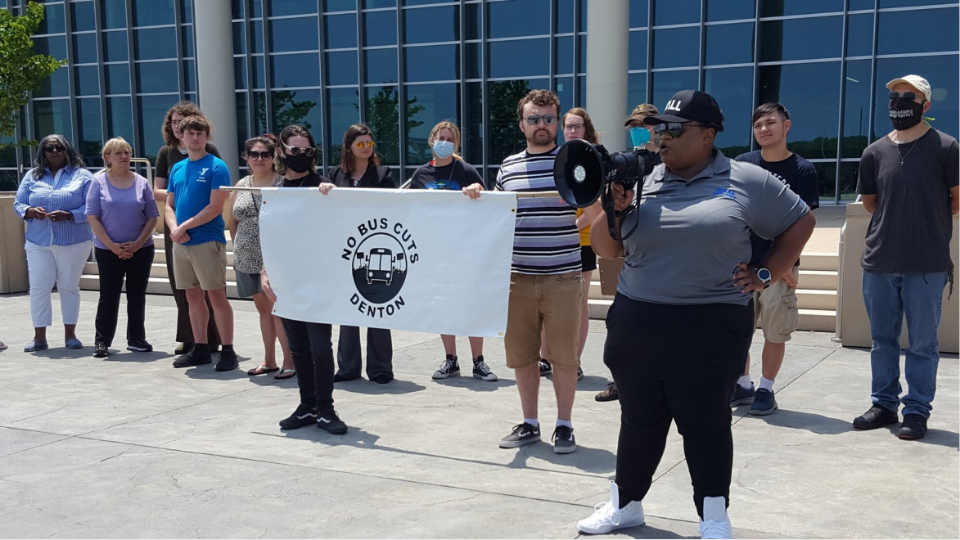 DENTON, Texas—Public transit advocates, union members, and bus drivers have banded together in this Dallas suburb to defend bus routes and union jobs from closure by a local government seeking to cut and replace the service with privatized "microtransit" rides.
The activists' campaign, No Bus Cuts Denton, emphasized at a rally on June 9 that the threat to public transit is not just a safety and accessibility issue but a workers' issue.
"You cannot support public transportation without supporting bus drivers, and I say that in the same exact way as education," former Denton City Council member Deb Armintor expressed at the rally. "Imagine someone saying, 'I'm a big advocate for public education, but I don't care about teachers and their jobs.'
"If you do away with buses, you do away with bus drivers," Armintor added. "Everybody who cares about public transportation should be not just caring about bus drivers' jobs, but fighting for bus drivers' jobs."
Denton County Transit Authority (DCTA), which carried out 2.5 million bus rides per year before the pandemic, is a small transit system for a modest-sized city, but it's an important one for the tens of thousands of college students at the University of North Texas and Texas Woman's University.
The activists' campaign explained that years of deliberate underinvestment, poor route design, and ill-treatment of drivers served as the basis for a scheme hatched by former mayor and DCTA official Chris Watts. It was seemingly a strategy to cut eight fixed bus routes and their drivers, who are members of the Amalgamated Transit Union Local (ATU) 1338.
In their place entered a "microtransit" service called "GoZone," provided by a New York City-based for-profit company called Via. This company is filled with a non-unionized workforce of independent contractors who drive rented vehicles. Riders hail drivers via a ridesharing app, similar to Uber and Lyft. The rental rides hit Denton's streets last September.
Activists pointed out that problems have emerged ever since, including reduced transit coverage and unreliable and less accessible rides. This has hit people with disabilities who use wheelchairs and low-income riders without phones or proper cell phone plans to call a microtransit cab the hardest. Then there's the $35 million in public funds which the DCTA board agreed to pay to Via, a private corporation, for a service which the public transit system already provides at a greater scale.
On top of that, the starting pay for GoZone drivers is $8 per hour compared to $17.80 for DCTA's unionized bus drivers.
In Denton, the typical bus carries 60 people per hour. If the name "microtransit" doesn't give it away, a Via GoZone van carries four people per hour.
"You cannot have mass transit carrying four people per hour, the numbers just don't work out," No Bus Cuts Denton member Kristine Bray, who runs the Denton Transit Posting Twitter account, said. "Part of the problem with public transportation in Denton County is that the people who are making the decisions on public transportation do not ride public transportation. They might try and take it once a year for a photo op, but they do not use it even for a week just to get around."
Public transit watchdogs have also called out Via for the use of "promotional" fares costing $0.75, the same as a reduced DCTA fare for seniors, teens, and persons with disabilities. This is below the standard local fare of $1.50. In other cities, such as Toronto, Ontario, that have introduced microtransit, that reduced fare didn't last, nor have the rides proven popular.
No Bus Cuts Denton demands that DCTA halt the route closures and bring GoZone in-house with unionized drivers in the ATU, which has already happened in Ohio, Nevada, and in Sacramento, Calif. The activists secured a partial victory by pressuring the Denton City Council to remove Watts from the DCTA board in October and save five of the eight routes on the chopping block—until September 2022, when the funding runs out. Those five routes carry out an estimated 8,000 rides per month.
In another move, the activists pored over the microtransit service's local safety record, collected video recordings and license plates of 45 of the vehicles, and then filed open records requests with the police departments of Denton, two neighboring cities, and Denton's two universities.
What they discovered surprised them. There had been 20 police calls involving GoZone vehicles in the span of just a few weeks. This included 11 crashes, one of which injured a University of North Texas student after a GoZone vehicle rear-ended her car, and a hit-and-run by a GoZone van that struck two students and fled the scene. It took the effort of these activists to track down the reports and compile them into one accessible place for the public, which can now be found on their website.
"Clearly, the people of Denton cannot trust either the DCTA or its GoZone contractor, Via, to tell the truth about safety," Joshua Hatton, a member of the Texas State Employees Union, told the City Council on April 5.
The campaign isn't the first time No Bus Cuts Denton has organized. Most of the people involved in the campaign are union members who formed the group Denton Worker in 2019 and belong to ATU, Teamsters, and Texas AFT United, among other organizations. These members created a petition, canvassed bus drivers and riders, and brought in labor allies. Many of them showed up at the June 9 rally outside the Denton County Courthouse, including the United Food and Commercial Workers Local (UFCW) 1000 and the Texas AFL-CIO.
"We support all of our bus drivers who should be making way more than minimum wage, having better benefits, and not be risking having their bus routes cut, their jobs lost, for a low-wage, Plan-C 'Uber' as having public funds diverted to private corporations," Tarrant County Labor Council Political Director Angi DeFelippo said.
"We can look at Chris Watts personally as the instigator in this circumstance," De Felippo added. "And we're standing with No Bus Cuts Denton to tell him to stand down, back the people who live in the city, support the people who work in the city, and support our bus drivers."
Denton has seen its population grow nearly 30% larger since the most recent census. But where other cities and states with growing populations try to expand public transportation to get people back and forth from work or to get their groceries or go to restaurants and bars, Denton is cutting back. Texas also lags far behind other states on public transit. The state spends an average of $1.08 per capita on public transportation, compared to $44 in the United States as a whole, according to Farm & City, a Texas non-profit organization focused on reducing traffic deaths.
No Bus Cuts Denton is giving their local bus system and their union drivers a fighting chance. That was clear outside the county courthouse on June 9 when the activists closed out with a chant: "Union busting is disgusting!"