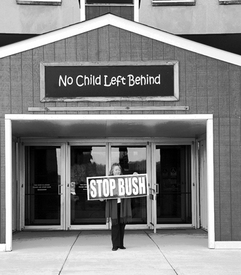 News Analysis
The day after President Bush's State of the Union address, the secretary of education, Margaret Spellings, presented a proposal to reauthorize the No Child Left Behind Act (NCLB), the administration's troubled education law.
Speaking at a charter school, Spellings said she is pleased but not yet satisfied with the NCLB's accomplishments. She then laid out the changes the administration would like to see in a reauthorized version of the law, including allowing school districts to ignore state-imposed caps on the number of charter schools and allowing districts to transfer, hire and fire teachers without regard to their contracts.
Another change would enact a voucher plan involving federal grants of up to $4,000 per student to help students shift from "failing" schools to private schools. The school district would also have to pass along its financial allotment for that student to the private school.
These proposals have been criticized by teachers unions, members of Congress, state legislators, school officials and the National Council of Churches.
Edward J. McElroy, president of the American Federation of Teachers, called the proposals "silly," adding, "I have a feeling they're setting up a straw man just to knock it down."
Sen. Edward Kennedy (D-Mass.), chairman of the Senate Education Committee, said he was "disappointed that the administration has proposed circumventing state law and siphoning crucial resources from our public schools for private schools."
Rep. George Miller (D-Calif.), chairman of the House Education Committee, called the proposal "a way to gut collective bargaining agreements." He added, "Private school vouchers have been rejected in the past and are still a bad idea."
Both lawmakers called for a substantial increase in funding for NCLB, often referred to as an unfunded mandate.
The National Education Association supports the stated goals of the No Child Left Behind Act — to improve student achievement and to close the achievement and skills gap that exists in this country between students of different races, incomes and language abilities. But the NEA has challenged the flaws in NCLB since its inception five years ago.
In July 2006 the NEA presented its "Positive Agenda" for the reauthorization of NCLB. It calls on Congress to shift its focus from labeling and punishing schools with a flawed one-size-fits-all accountability system to fully funding NCLB, using common-sense flexibility and supporting programs that will really improve student learning.
The Committee on Public Education and Literacy of the National Council of Churches USA is calling for major changes and full funding of NCLB. In a letter to Kennedy and Miller, the committee expressed its concern that the law, with its overemphasis on testing and scores, has undermined education in urban schools serving children living in concentrated areas of poverty.
The committee believes that the pressures of NCLB have resulted in the high dropout rates of high school students in these areas. It is also concerned about teacher burnout and the alarming rate of excellent teachers leaving urban districts and the profession.
The committee reflects a diverse membership from 10 of 35 denominations, including historic African American congregations. The National Council of Churches has a combined membership of 45 million worshippers in 100,000 congregations.
The 110th Congress is being asked to reauthorize NCLB, but serious changes are needed before such a move takes place, these groups say.
phillyrose623 @ verizon.net