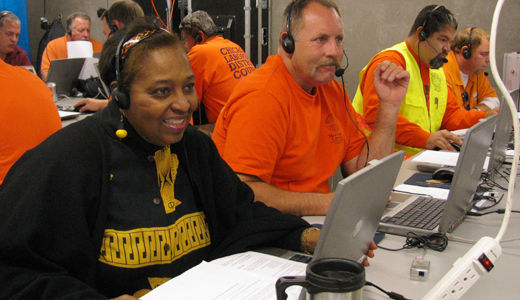 CHICAGO – By noon Oct. 29, union members were close to having called 500,000 people in Illinois about the Nov. 2 elections, here at what the Operating Engineers say is the nation's biggest, most state-of-the-art phone bank.
Laborers in orange shirts, African-American women who drive buses in Chicago, grocery workers, young engineers recently out of college, men and women who bag groceries, iron workers who lay beams 30 stories high, telephone operators and sanitation workers sat side-by-side calling their sisters and brothers in unions, urging them to come out Tuesday to prevent Republicans from taking over the Congress.
They wore headphones and sat in front of computers that were rigged up to call within a field of 100,000 union members who are frequent or usual voters. Only a day before, the phone bankers finished calling the 200,000 Illinois union members who are "sporadic" or occasional voters.
"This system is great," said Kim Rogers, a member of the United Food and Commercial Workers Union. "We use the latest technology here. A caller gets on and when the computers get someone on the other end, the call is put through. You keep busy and waste no time with people not being home, with answering machines, and all the other glitches that can stop you from reaching a lot of people."
Nick Kaleba, communications director for the Chicago Federation of Labor, proudly surveyed the phone banks he had worked to help initiate. "All of this is making a big difference. Because of it we will have union members casting real informed union votes. Workers should be proud of what they have done here. The corporations may have million$, but unions have the people."
Every person reached on the phones was asked to go out Nov. 2 and vote for Pat Quinn for governor of Illinois and for Alexi Giannoulias for U.S. Senator. Callers reported overwhelmingly positive responses from the people with whom they spoke.
The callers broke for pizza for lunch and for visits from two special guests Friday afternoon.
When Democratic Gov. Quinn came in he was warmly greeted and he went around shaking hands and thanking the callers. Two callers had him speak with the voters on the other end of their lines.
"I will never allow the minimum wage to be eliminated in this state," Quinn said to one person a caller had reached. The phone bankers cheered. His Republican opponent, Bill Brady, has called for elimination of the minimum wage.
When Richard Trumka, president of the AFL-CIO came in he told the union sisters and brothers on the phones: "You are making this the most expensive election they ever lost." The phone bankers roared their approval and applauded.
Asked how he felt about what his people were doing, Trumka said, "There's no one in many of those so-called campaign field offices paid for by secret corporate money. Good! And what do you see here? Tables full of phones operated by local people excited about what they are doing. That tells you a lot about the so-called enthusiasm gap, doesn't it?"
Photo: Enthusiasm runs high at Chicago union phone bank. John Bachtell/PW