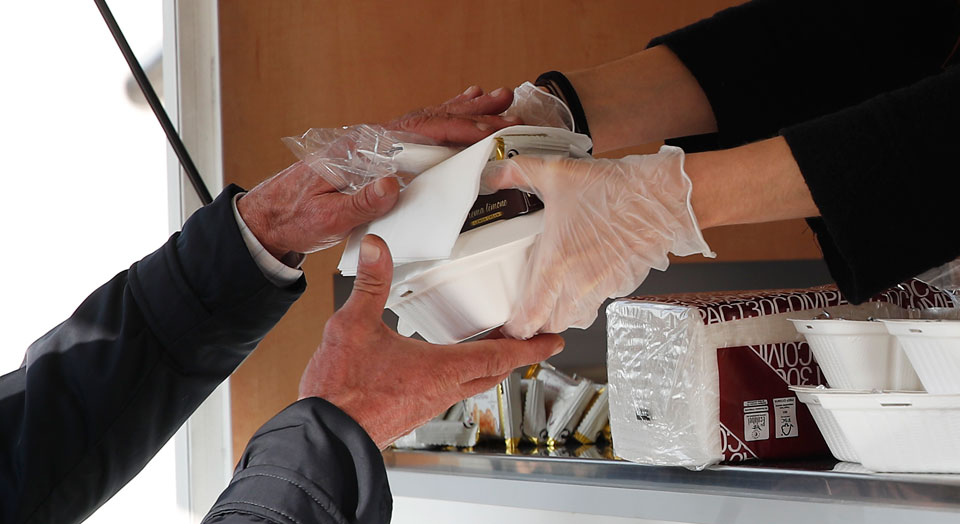 INDIANAPOLIS—"The goal of this proposal is to punish our already suffering homeless communities," photographer Wildstyle DaProducer says about a new measure being considered that criminalizes distribution of food and other goods to the unhoused and poor in Indianapolis.
The Indianapolis City-County Council is targeting mutual aid services under the guise of concerns for litter and potential violence. Sponsored by Councilors Zach Adamson, Kristin Jones, and Vop Osili, Proposal 256 will take effect in October, if passed. It imposes criminal charges and fines on anyone doing charitable distribution to 10 or more individuals on city property or public sidewalks without a permit.
Even if such a license is obtained, it can be revoked by the Office of Public Health and Safety (OPHS) if complaints are received from the public or any law enforcement agency. Prop 256 threatens a $250 fine for first time offenders and those with multiple violations will be fined $500.
Wildstyle, a photographer, videographer, and music composer who documents life, nature, hip hop, and community and all the points they may intersect. His work records the hurdles that unhoused communities already face in Indianapolis. He tells People's World that Prop 256 will "make a bad situation worse."
The councilors pushing the effort to criminalize helping others claim they are ensuring an "appropriate balance" is struck between promoting charitable activities and preventing litter and violence. Wildstyle predicts the opposite will happen.
"It doesn't actually help some of the business people's goals the way they think it will. As far as eliminating litter and making a safer downtown, it's going to create more desperation, possibly more violence, and definitely more misery." He argues, "It's not going to have its intended effects, not in the way some supporters think it would."
Prop 256 may, in fact, increase litter in the city. Currently, where mutual aid is distributed, there is access to proper trash and recycling disposal. For the entire city of Indianapolis and Marion County, there are only two designated OPHS charitable distribution sites exempt from this proposal—the old city hall and Babe Denny Park. Moving food, clothing, and other aid distribution to those locations will reduce access.
Wildstyle says the two approved locations come with other complications, too. The old city hall "is a parking lot," with "no trash cans, only a recycling bin that says 'No trash.'" The lack of infrastructure, Wildstyle says, creates an unsafe situation. "It has no restrooms, porta-potties, or washing stations. Nothing that actually supports charitable distribution for anybody."
The other location, Babe Denny Park, does have portable toilets but still no washing stations, and another issue is its location. "It's in the shadow of Lucas Oil Stadium and is surrounded by parking lots. So that location is completely inaccessible if a large event is going on at Lucas Oil. Not just Colt's games, but even the drum corps convention here over the weekend, [when] I went by, it was completely inaccessible."
Furthermore, the condition of the park is not well-suited for distribution. "The park itself is in poor condition. There's no love there anymore, it's not taken care of, just neglect."
This legislation is not new. Prop 256 was originally proposed in the fall of 2020 by Republican City Councilor Michael-Paul Hart as Prop 291. Wildstyle believes that although it was a GOP lawmaker initiating, "it was a gentlemen's agreement that some of our Democratic City Councilors wanted this too."
When Prop 291 failed miserably, councilors waited, deciding to represent it differently the next time, with a diverse team of Democratic councilors bringing it forward. "Ironically, this proposal is actually more stringent than the Republican's version," Wildstyle says.
Enforcement of Prop 256 will be paid for through tax revenue—"money that we desperately need to go into our communities," Wildstyle argues. "Indianapolis could achieve better results for the business people—a safer downtown, less litter, and overall better aesthetics—by doing their due diligence as city government to provide services to all its citizens."
Wildstyle says a letter he wrote to councilors asking what happens if a mutual aid distributor charged with violating Prop 256 doesn't pay a fine got no response. As he understands the ordinance, it essentially writes the Indianapolis Metropolitan Police Department (IMPD) a blank check when it comes to enforcement.
"The role of IMPD is whatever they want to play. They're the sole determinant of whether you've had an incident, which is poorly defined, if defined at all, in the proposal. IMPD can revoke registration status with one call to OPHS."
In 2021, Sgt. Eric Huxley of IMPD kicked the face of a handcuffed Jermaine Vaughn, who was battling homelessness at that time. According to Wildstyle, Prop 256 opens the door for more police violence.
"I have to expect that [judging] by previous behavior of IMPD, you may receive treatment like they delivered to an unhoused man last year. We have somebody who was making too much noise for their taste on the circle in the public place, [so] they arrested him and stomped him in the face."
The circle Wildstyle refers to is the Soldiers and Sailors Monument in downtown Indianapolis where many unhoused people stay because shelters kick them out each morning and they are not allowed to return until evening.
"This Proposal is also racist," says Wildstyle. Black Hoosiers already make up a disproportionate percentage of Indianapolis' homeless and incarcerated. Despite comprising 30% of Marion County's population, Black people make up 54% of Indianapolis' homeless. "They have trumped-up different issues. They've pretended like there's a violence problem when there actually isn't."
Eric Brooks, chair of the Communist Party of Indiana (CPUSA), tells People's World that "Proposal 291 was shut down by community pushback, and Proposal 256 must be beaten in the same manner."
Brooks says, "Our indigent neighbors are already facing unprecedented struggles via rising food and living expenses. Banning charitable distribution will inflict unmeasurable amounts of harm upon our most vulnerable communities."
A rally was held to build the fight against Prop 256 on Aug. 24 at Lugar Plaza in front of the City-County building. Icon, from CityDump Records in Indianapolis, his fiancée, and Wildstyle DaProducer donated and cooked brisket, mac and cheese, and collard greens for Indy's unhoused. "If this passes," Wildstyle says, "then we're going to have to go with civil disobedience. Make them escalate it and take it to the courts. It's unconstitutional."
Those interested in joining the struggle against Prop 256 can contact: mailto:info@indianacpusa.org.