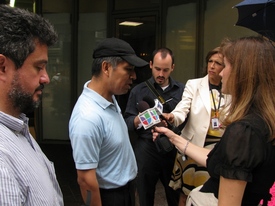 CHICAGO — "I have spent my whole life – since I was 17 years old – working at Pizza Hut. Instead of respecting my hard work, Pizza Hut has thrown me on the street with nothing," said Leonidez Contreras, now 33 years old.
Contreras is among over 200 workers in the Chicago area who have been fired by Pizza Hut since February after they were told to re-verify their eligibility for employment allegedly on the basis of "no-match letters" or face termination. The workers, mostly immigrants and Latinos, were given no notice and no opportunity to contest the information.
Their cause was taken up July 10 by picketers at a Pizza Hut in the downtown Loop. Workers and their supporters shouted, "No justice, no pizza" and passed out informational flyers to pedestrians. The action was one of 30 around the country organized to protest unjust firings and discrimination.
On July 9, Homeland Security Secretary Janet Napolitano officially dropped the Bush-Chertoff rules for Social Security No-Match letters. This rule obliged employers of workers who received such letters to fire them if they could not clear up the discrepancy identified in the letter within 90 days.
In 2007, a federal judge banned the Bush administration from comparing worker identification with error-ridden Social Security records and then to subsequently round up and deport workers and prosecute companies.
Pizza Hut is owned by the self proclaimed biggest fast food restaurant corporation in the world, Yum! Brands. The company also owns KFC, A&W, Long John Silvers and Taco Bell.
"These workers are being fired because they are only suspected of no-match or frankly targeted because they are Latinos," said Leone Bicchieri, executive director of the Chicago Workers Collaborative, the initiator of the protests. "Don't scapegoat immigrants – they didn't cause this financial crisis. They worked hard to make Yum! Brands very wealthy and now they and their families are suffering."
Some suspect the real motive for the firings may lie in the deepening economic crisis and its impact on the fast food industry. High unemployment has meant declining sales. Yum Brands may see an opportunity to shed its workforce of higher paid senior workers and also not have to pay unemployment compensation or vacation pay.
And in the case of Latino workers employed by Taco Bell in Madison, Wis., they charged the company with discrimination, including prohibition against speaking Spanish at work, lower wages for Latino workers, disparate treatment and assignments for Latinos and the use of epithets and derogatory language.
However, Napolitano also announced the DHS still plans to go ahead and require federal contractors to use the department's E-Verify system, which screens workers by checking their status against I-9 forms they must fill out for each worker. But labor and immigrant rights advocates say the E-Verify system has many of the same flaws as the Social Security no-match system.
With E-Verify, 'they're using databases that are also riddled with errors and will wind up costing a lot of authorized workers their jobs,' said attorney Nora Preciado of the National Immigration Law Center in Los Angeles.
In addition DHS announced plans to begin auditing the I-9 forms of 652 companies. The same kind of audit was carried out at American Apparel, the Los Angeles garment manufacturer resulting in the firing of over 1,800 workers.
"This has the same net effect as the workplace raids under the Bush administration," said Tim Bell of the Chicago Workers Collaborative. "Thousands of workers will loose their livelihoods." Bicchieri also expressed concern that Yum Brands and other corporations will now have the legal cover to fire immigrant workers.
In early June more than 200 organizations launched a national coalition to push for comprehensive immigration reform. Reform Immigration for America, includes the AFL-CIO, Change to Win, the National Council of La Raza, the NAACP, National Hispanic Christian Leadership Conference and the Asian American Justice Center. They say the new political climate and the progressive nature of the Obama administration favors a fair and just immigration reform that doesn't harm workers nor pits them against each other.
"Our nation's broken immigration system isn't working for anybody," said AFL-CIO Executive Vice President Arlene Holt Baker, "not for immigrant workers who are routinely exploited by companies, and not for U.S.-born workers whose living standards are being undermined by the creation of a new 'underclass.' Reform of our current system is an integral part of our efforts to eliminate enormous social and economic inequalities here and around the world."