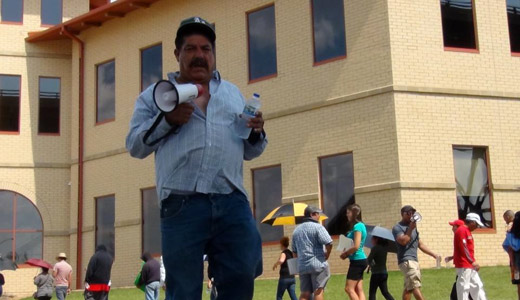 The AFL-CIO has endorsed a nationwide boycott of Palermo's Pizza (Palermo Villa Inc.) in response to the company's "blatant disregard of its workers' choice to form a union." The boycott covers Palermo's brand pizza, including "Classics," and private-label frozen pizza produced by Palermo's, including Costco's Kirkland brand.
Palermo's is a major frozen pizza manufacturer in Milwaukee. Workers there have been on strike since June 1 to protest unfair labor practices. After the workers last May asked Palermo's to recognize their union and bargain with them over serious workplace problems, Palermo's fired more than 75 workers.
Palermo's workers say they face serious health hazards, including amputation of fingers by machinery due to company-imposed speed-up. They have no sick days and many make little more than the minimum wage.
Palermo has paid $7,000 in fines to the Occupational Safety and Health Administration for safety violations, Cristina Neumann-Ortiz, director of Wisconsin's Voces de la Frontera, told the Milwaukee Business Journal. Over the past four years, Palermo has been responsible for three separate amputation accidents involving workers, she said. The company denies the OSHA fines represent a pattern, and claims it has no knowledge of any amputations.
But a worker named Cesar told The Nation otherwise.
Cesar said in 2007 he had complained to his supervisor for a week that the sealing machine he worked on wasn't functioning properly and he needed to pull the plastic out of the machine by hand. The company, as usual, was not responsive, he said.
"They don't want the lines to stop," he told The Nation. "They keep running the machines even when they're not working right, until the machine really breaks down, then they'll bring a mechanic in."
So when Cesar was pulling the plastic out of the machine, his finger got tangled in it, but the knife came down to slice the plastic anyway. He said his right index finger "was cut almost completely through, just hanging by my skin." His finger was reattached at the hospital, and he returned to work soon after. But today he is still unable to move the part that was severed, and on cold days it's particularly painful.
But it wasn't that injury that pushed Cesar to seek help from Voces de la Frontera. That came in 2008: He had a supervisor who regularly told workers, "Here, the only thing we do is as my balls say it should be done. And whoever doesn't like it, the door's right there, they can leave immediately."
"Those were always his words," said Cesar.
The efforts of the Palermo Workers Union to gain recognition and worker rights are being supported by the United Steelworkers as well as the AFL-CIO. In Wisconsin the efforts are backed by community and immigrant rights groups including Voces de la Frontera, and students from the United States Student Association.
On July 30, Palermo workers and immigrant rights youth group Youth Empowered in the Struggle launched a national campaign asking Costco to pull Palermo and Kirkland pizza from its shelves.
Costco is the largest retailer of Palermo products.
The July 30 event kicked off planned nationwide actions at Palermo retailers. The Palermo Workers Union says workers and students will be leafleting stores carrying Palermo products, asking businesses and consumers to support the workers' rights to respect, dignity and safety at work.
"The Palermo workers' struggle is a struggle of national significance in the wake of the recent (gubernatorial) recall election," Neumann-Ortiz told the Business Journal. "You cannot oppress people without any kind of resistance. The struggle of the Palermo workers is that reminder that even the most vulnerable and oppressed workers will resist and organize to win justice and rights in the workplace."
AFL-CIO President Richard Trumka said the federation's 12 million union families "are proud to stand with these Wisconsin workers who have bravely joined together for a voice on the job."
"Their courage and strength are a model for working people around the country whose rights are being violated and voices silenced," Trumka said. "We hope that this boycott will encourage Palermo to finally respect its workers who work so hard for them every day."
Photo via Slice of Justice Facebook page.