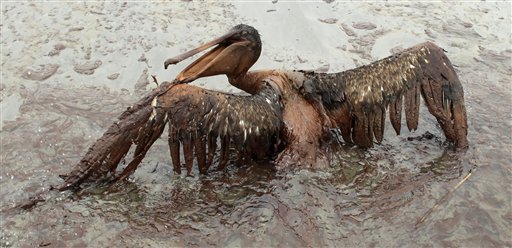 What do a NASCAR driver, NFL stars, Olympic athletes and pro hockey players have in common with you? They care about the ongoing BP oil spill and the Gulf Coast communities that are hurting as a result. And they see this crisis as a sign that our country must move away from fossil fuels to renewable sources of energy.
These star athletes showed their concern by traveling to the Gulf Coast this past week to visit members of the community and witness the damage caused by BP's oil spill. Joining with the Sierra Club, a number of athletes took a boat tour of the affected region. They left from Myrtle Grove Marina in Louisiana and went to Barataria Bay, Cat Island, and Bay Jimmy where some of the worst damage of the spill has begun to impact water and inland environments.
After the trip, they spoke with reporters by telephone and connected people's common concerns for healthy families and a clean environment.
Mike Richter, former New York Rangers goalie. said, "We need to support the Gulf Coast communities, get this oil mess cleaned up, and get our country off of oil."
Richter tried to explain his shock at what he saw. "Seeing this disaster firsthand," he said, "I was struck by the vastness of the problem. We have to get off of fossil fuels, oil in particular, now."
Athletes have a special role to play in helping to publicize the problem and its solutions, Richter explained/ "We understand the connection between the environment and health," he said. "We want everyone to understand these issues aren't just about the environment, they're about people, health, economy, and quality of life."
"This is not a Gulf Coast problem, it's everyone's concern. It's not a someday issue, it's something we have to deal with now," he added.
Leilani Munter, an ARCA/NASCAR racer and green energy promoter, emphasized the disaster should spark change in our thinking about energy. "I just really hope that the one good thing that can come out of this is that this is our clean energy wake-up call, and it's time for us to realize that the way that we're living on this planet is not sustainable," Munter said.
"The reality of what we saw today, this is 'drill, baby drill,'" the rising NASCAR star told reporters in a direct reference to the slogan chanted by former Republican vice presidential candidate Sarah Palin at her party's nominating convention in 2008. "This is what it's gotten us. It's time for us to move beyond that."
"In the wake of this disaster my greatest hope is that we will move towards clean renewable energy and my greatest fear is that we won't," Munter added. "America needs to check into rehab and end our addiction to oil."
Atlanta Falcons fullback Ovie Mughelli said that as an athlete with some notoriety he has a responsibility to help the kids who look up to him understand the situation in the Gulf and care about it. "Some kids not in the green movement might say, why should I care? It's not my problem. Let some rich people take care of it," Mughelli, who runs a foundation for kids that brings football and environmentalism together, thoughtfully remarked. "No. Kids who care least about the problem, sometimes, are the kids who are affected by it the most."
"All I can do is spread awareness, help bring resources to the problem, and hope that this is a wake-up call to move towards renewable energy away from oil and do right by our kids," Mughelli added. "It shows why we need a complete culture change."
Boston Bruins hockey defensive player Andrew Ference said, "Seeing the grass covered in oil and the birds covered in oil, smelling the oil in the air, was like experiencing a symptom of a greater worldwide problem. The fact is, our generation has all the technology and all the scientific knowledge to solve these problems. Now we just need the guts and the willpower to actually do it."
The trip came on the heels of ongoing Obama administration efforts to halt deepwater oil drilling in the Gulf of Mexico.
Photo: A brown pelican sits on the beach at East Grand Terre Island along the Louisiana coast after being drenched in oil from the BP Deepwater Horizon oil spill. (AP/Charlie Riedel)